Gemini Ganesanum Suruli Rajanum Movie

Photos
View More Gemini Ganesanum Suruli Rajanum Photos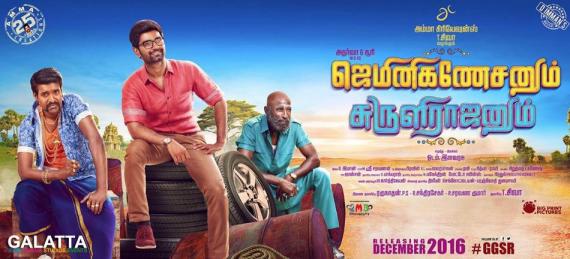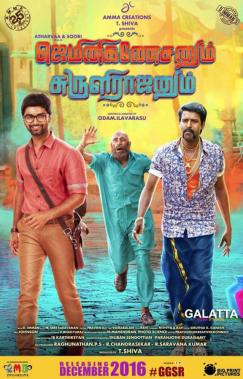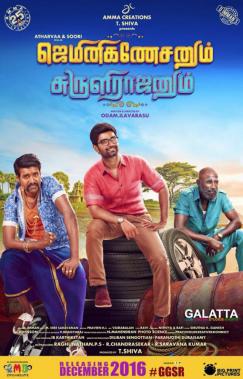 Gemini Ganesanum Suruli Rajanum Movie review
Once you read the title Geminiganesanum Surulirajanum, it will instantly strike the right chord in your mind. Gemini is a lover boy while Suruli is the king of comedy! While Atharvaa and Soori in no way try to mimic those real actors who are legendary, they have taken the essence from their movies to make GGSR enjoyable!
Directed by Odam Ilavarasu, the movie follows the romantic adventures of Atharvaa who often falls in love with almost all the girls he meets. He is more like a playboy but a decent one who simply stops with mesmerizing girls but wouldn't get physical. When he comes to Madurai in search of his ex-lovers, he teams up with Soori and Rajendran to roam places to find them all and give his marriage invitation.
While the script of Geminiganesanum Surulirajanum, produced by T Siva of Amma Creations will obviously remind you of the super hit Autography, the characters in the movie doesn't fail to notify it as soon as the film starts. Atharvaa continues to fall in love with Regina, Aishwarya Rajesh and many others with a justifiable message towards the end.
For audience who wants to finally get out of their stressful jobs and simply laugh their hearts out, the movie is a treat. Soori has some great one liners while Rajendran as always ensures you get tears in your eyes while laughing every ten minutes or so! The director Ilavarasu has come up with a youthful film with lots of romantic moments, cheesy dialogs and glamor. It is a super fit for teenagers and youngsters who would enjoy every romantic interlude whereas older family audience will not approve of it.
Atharvaa's handsome looks and his occasional naïve acting justifies the role of a playboy youngster who can't stop falling in love. Each heroine takes care of specific areas, with Aishwarya as the homely girl, Regina and Pranitha as the glamorous stars while Aaditi has very little role to play.
Music by D Imman is impressive in the background score but it does get repetitive after a point. The film's overall pace is likely slow in the second half as there isn't much story to carry forward but when the majority of audience love mindless laughter filled with romantic one liners and good-looking heroines, Geminiganesanum Surulirajanum will be a great weekend watch!
Thumbs Up
· Atharvaa's macho looks combined with his realistic acting makes it fun
· Plenty of beautiful heroines serve as an eye candy
· A movie perfectly made for youngsters who may love the romantic portions
· Comedy track that's part of the storyline
Thumbs Down
· Very little realism that makes the love stories of the hero seem childish and not so memorable
Verdict – Enjoy the romance drama with lots of laughter