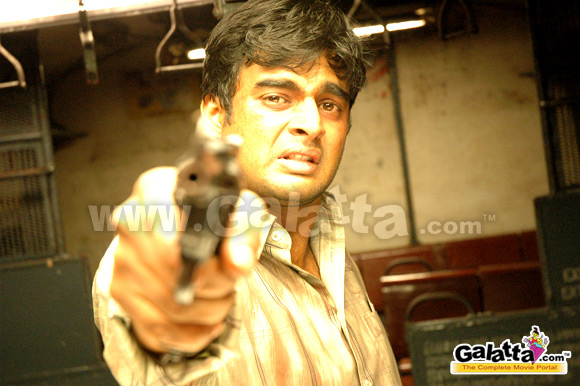 Evano Oruvan Movie review
Sridhar Vasudevan (Madhavan) is a middle-class family man employed in a bank. Sridhar is very idealistic, principled and recognises a deep sense of belonging with the society he is part of. He gets annoyed and flustered by illegal and semi legal activities happening around him. His wife persistently demands that he should be more 'flexible' and make more money, but Sridhar does not accede. He endures the illegal and semi legal activities around him because he anticipates a change in the mindsets of people. He feels that over time, they will become more honest, socially aware and willing to make small personal sacrifices for the greater good of all (like him).
Sridhar's wife Vatsala (Sangeetha) is a typical middle-class housewife and a caring mother of two children, Varsha and Varun. Societal imperfections and related problems matter very little to her. She is more concerned about her reactive husband, thinking about ways to save him from the effects of his angry outbursts and to steer him away from his impractical thoughts and deeds.
At a certain point in life, Sridhar faces a case of deceit that compels him to take action. Provoked by his deep anger and guilt, Sridhar decides to retaliate for wrings done to him, violently if required. When charged two rupees extra for a cool drink, he picks up a cricket bat and smashes the shop. From that incident onwards, Sridhar progresses, taking the law in his own hands and tries bringing about instant changes, wherever needed. A string of incidents occur; he thrashes the Area Counseller, the insincere hospital employees, water-supplier and many more.
Sridhar's anger goes beyond these incidents, targetting individuals who do not follow norms created for their own benefit. The director has presented Sridhar as a representative for every common man in today's society, who, even after seeing and going through such wrong things, tolerates them to avoid getting his settled routine disturbed. Because of his behaviour and approach, Sridhar is termed as a criminal, harmful to his fellow men.
Inspector Vetri Maran (Seeman) is appointed to shoot him in an arranged 'encounter'. Vetri Maran, an honest cop, inwardly feels justified by Sridhar's approach. He comes to a quiet agreement with the young man, personally approves his action, then arranges for the 'encounter killing'. Evano Oruvan is indeed a remarkable film and all those connected to movies owe a big 'Thanks' to Madhavan for bringing such a thought-provoking theme and director (Nishikanth Kamat) to Tamil cinema. Director Nishikanth Kamat has given the film in such an interesting format that it makes a great impact on the audience. This is a remake of the Marathi film Dombivli Fast, again directed by Nishikanth Kamat.
Madhavan's performance in the film is simply superb. Sangeetha has also given an impressive performance. Seeman's act and role is a very significant addition that provides an interesting twist to the theme.
Maddy's efforts for Evano Oruvan are special. He has distributed the film through Leukos Films, his new production company and has also written the dialogues for the film with director-turned-actor Seeman. His hard work has contributed a great deal to the film's appeal. The dialogues are sharp and precise. Camerawork by Sanjay Jadav is very natural; the music as well as the background score are appropriate for the film's theme.
Evano Oruvan is a barrier-breaking effort that sets an exemplary model for new-age commercial cinema.