About

Endrendrum
Charles (Sathish) moves into a house and finds that it is haunted by Diana's (Priyanka) spirit. Even as he falls in love with her, he tries to uncover the mystery behind her present state..
Endrendrum Movie

Photos
View More Endrendrum Photos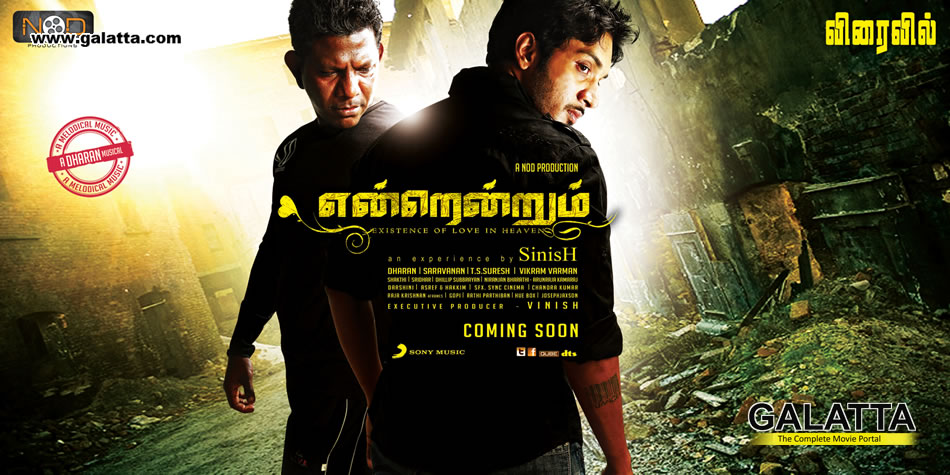 Endrendrum Movie review
Endrendrum is an out of the ordinary love story starring Sathish and Priyanka Reddy, directed by Sinish and produced by NOD Productions.
A young man Charles (Sathish) bereaved by his mother's death, moves to a house in Chennai. Still mourning for his mother, and living all alone, his life is filled with darkness. Accidentally, he discovers a letter in the house. This letter is for Diana (Priyanka Reddy). Suddenly, one day after drinking, he sees Diana shouting at him. She is angry with him for not keeping her house neat. He thinks it is just his imagination as he was drunk. Even Charles' friend Ganesh (Bala) initially dismisses these as mere imagination, but later asks him to go and meet a priest. The priest also doesn't believe Charles and tells it is just his imagination. Slowly, Charles realises that only he is able to see Diana, and on talking to her, finds out that what he is seeing is the soul of Diana. Diana is a teacher who is in a coma in a hospital, after meeting with an accident. Her soul has come to seek revenge for the state she is in, and asks Charles to help. Can Charles find out what really happened to her? How does he help her? Will Diana be able to recover? Watch Endrendrum on the big screens to know.
Director Sinish has taken a common revenge story, and given it a new setting and conceptualised it differently. Sathish is good in his performance as Charles, as is Priyanka Reddy as Diana. The supporting cast are good and the kids who played the roles of school students need a special mention. Dharan's music is one of the major plus points for the movie. His BGM is excellent. The visuals are very pleasing and the camera angles speak volumes of the cinematographer's talent. Though the director has used an innovative concept, the screenplay falls flat, and lacks the zing. There seems to be a lot of disconnect throughout the movie, and the overall treatment could have been better.
Endrendrum, made with a unique concept and strong technical values, could have been better if handled properly.