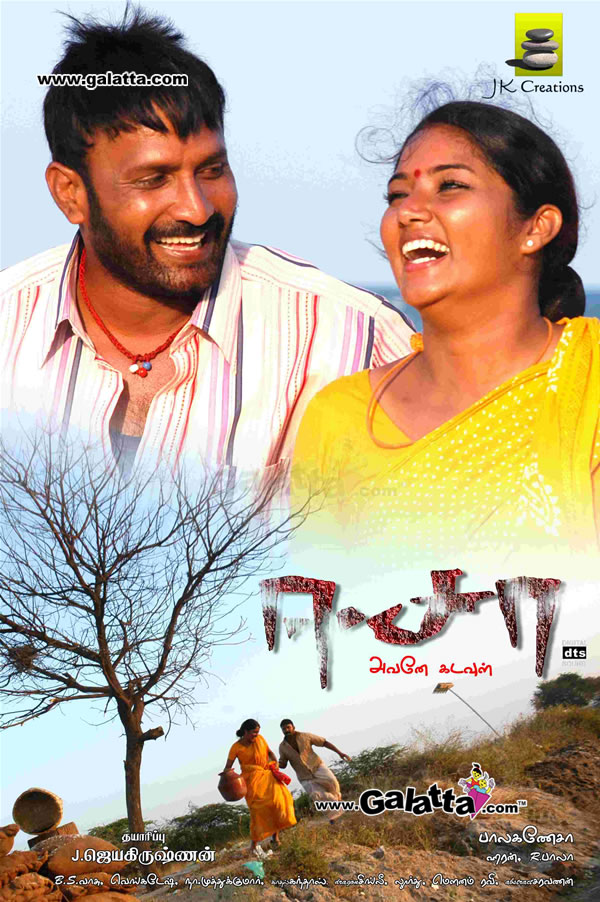 Eesa Movie review
Vignesh fires on all cylinders in Eesa, a movie apparently designed to give a new boost to his fledgling career. The angry-young-man image sits well on the actor in the character of a labourer (Sudalai) exacting revenge on the ones who wreaked havoc on his life. Sudalai's world crumbles down when his beloved wife (Lakshana at her delightful best) falls victim to the goons of the village.
Sudalai predictably hits the revenge mode and there is more than one score to settle within the sinister act that has been masterminded by the top brass of the village. Vignesh breathes the expected fire, taking his time to warm up, but when he explodes, his eyes convey his emotions in ample measure.
Lakshana, who is yet to become famous, is a scene stealer, quietly walking away with all the honours, letting her smile do all the talking. The chemistry of Vignesh-Lakshana enhances the storyline. The movie is further enhanced by the astute cinematography of Bala Ganesh and the background score of debutant Haran.
The director takes his own sweet time to build the characters, which has a dampening effect. The comedy track of M.S. Bhaskar and group falls flat, the amateurish ways sticking out like a sore thumb. These segments show the director in poor light, losing track of the proceedings when he ought to have sustained audience interest.
Surely a movie with such a serious theme could have done with better comedy. As a resultt, Vignesh has to shoulder the extra burden but the game trier has played his part to clinical perfection. Spitting venom with his eyes and endowed with a well-toned physique, Vignesh is well served by the no image factor. Much like a tiger let loose in a dense forest, Vignesh patiently finds his prey and completes his mission.
The story has no novelty but where the director scores, and heavily at that, is in the execution. The surprise element is well-maintained as the events unwind in a flashback mode.
Debutant music director Haran shows enough promise to become a future maestro. Two eminently hummable numbers – a duet by Harish Raghavendra-Bombay Jayashree and the remix song of the evergreen Yaradi Nee Mohini – display Haran's talent. Particularly awesome is the picturisation of ' Yaradi...', switching to the black and white era.
You have to hand it to the director for an honest attempt, but he could have done better with a better pace – too many loose ends in the script prove to be unwanted intruders.
How far the movie will resurrect Vignesh's career remains to be seen. On his part, the actor is at his irresistible best. Should the movie taste success, it in a large measure it will be thanks to to the admirable foil that Lakshana has provided.