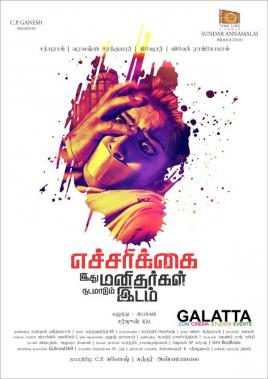 Echcharikkai Movie review
Echarikkai Idhu Manidhargal Nadamaadum Idam is a Tamil crime thriller film written and directed by Sarjun KM. The film features Sathyaraj, Varalaxmi Sarathkumar, Kishore, Vivek and Yogi Babu.
Kishore and Vivek Rajgopal after growing in painful circumstances kidnap Varalakshmi Sarathkumar for money. What happens after this criminal incident forms the remaining story of the movie Echcharikkai.
Kishore gets a vital role in Echcharikkai and has played smartly. Vivek Rajgopal has done a decent debut, his reactions are measured and has justified his role. Varalakshmi is the core of the story, but her characterization could have been made in a more impactful way. As usual, Sathyaraj stands out with his presence, innocent nature, and dialogue delivery in Echcharikkai. Yogi Babu appears hardly in three scenes, with a better scope, he could have provided some entertainment.
Sarjun KM's script is familiar and offers only a few different moments with sub-plots, but they also not so effective to the flow. Echcharikkai screenplay is partially engaging, there are some engaging elements in some portions, but the overall the grip is quite plain. Also the movie could have been crisper to have a satisfying hold, long-drawn out finale is a drawback too. Dialogues are fine, they are neatly written and placed aptly for the situations.
Background music of Sundaramurthy KS suits well with the progression and he has tried some unique sounds in RR apart from the template thriller one. Sudarshan Srinivasan's cinematography is pretty impressive, keeping certain plain angles aside, his dark place shots are realistic. Karthik Joseph could have easily cut shortened at least 15mins in the edit table to make things interesting.
Song placements are completely inappropriate and act as a spoilsport. The narration is straightforward and so the twists become simple to guess. Initially, few scenes feel unnecessary, but makes sense later on. Sequences in the first half where Sathyaraj and team resolving the case have come well. Climax is quite monotonous and there is a lack of clarity in the finishing.