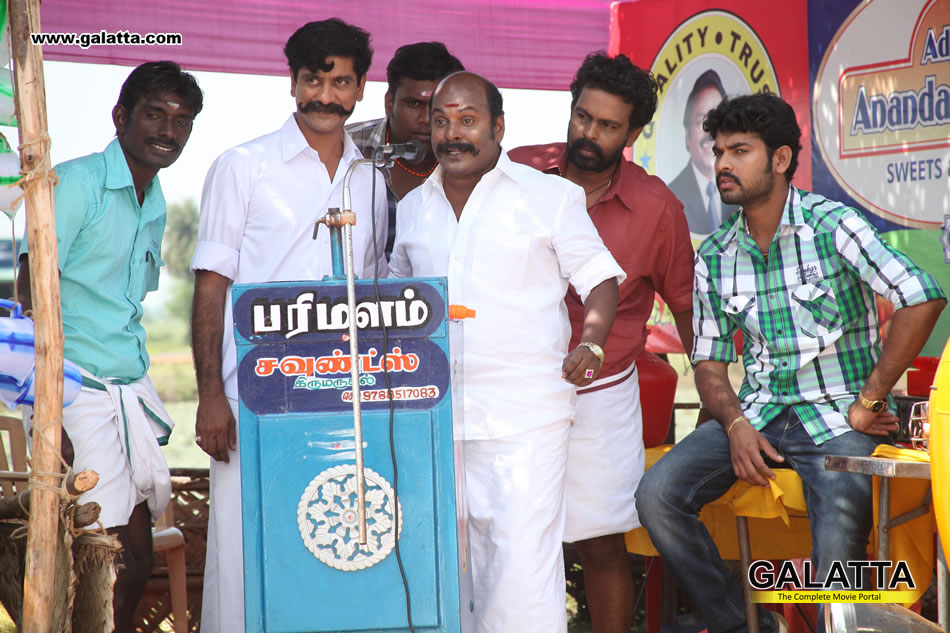 About

Desingu Raja
A love story with boy and girl from feuding villages.
Desingu Raja Movie review
Vemal and Bindu Madhavi are back in yet another comedy riot following Kedi Billa Killadi Ranga with director Ezhil's Desingu Raja!
Puliyur and Kiliyur are two villages at loggerheads with each other, and the head families of both the villages are sworn enemies, planning to wipe out each other's progenies... Everybody in one village wants to save their loved kid Idhayakani (Vemal), while the whole of another village wants him dead. Meanwhile, Idhayakani meets Thamarai (Bindu Madhavi) and falls for her. Only later does he realise that Thamarai is the daughter of his sworn enemy Seena Thaana Ambalam... Meanwhile, Suriya (Parotta Soori) - Thamarai's maternal uncle, wants to marry her and is hell bent on wedding her at any cost! With tension flying at all corners, and with each and everybody trying to fuel the tension prevalent in the villages, it is like a minefield everywhere! Will Idhayakani get Thamarai? Will the feud between the two families be resolved? What is the fate belying the two villages? Watch Desingu Raja in the theatres to know!
Vemal as Idhayakani is in his element in this rural get up! The show stealer of this movie is Bindu Madhavi... As Thamarai, the girl torn between her love and her family, she excels in her role! The crux of the movie is the strong comedy sequences running all through the movie. Singampuli, Singamuthu, Parotta Soori, Charms and the rest of the comedy pack form the backbone of Desingu Raja. Director Ezhil has made the maximum use of all the comedians and has ensured that despite a slow first half, the second half keeps the viewers in splits... The makers have redeemed themselves more than enough in the second half, for whatever they missed out on the first half. Though a few people might feel that the movie is heading towards a predictable climax, are in for a shock! The climax of Desingu Raja is something that is a breath of fresh air in Kollywood, in recent times!
Bindu Madhavi, Ezhil and the comedians ensure Desingu Raja is a must watch! Head to the theatres for a laugh riot! Desingu Raja is all set to ride high into the box office on a golden chariot!