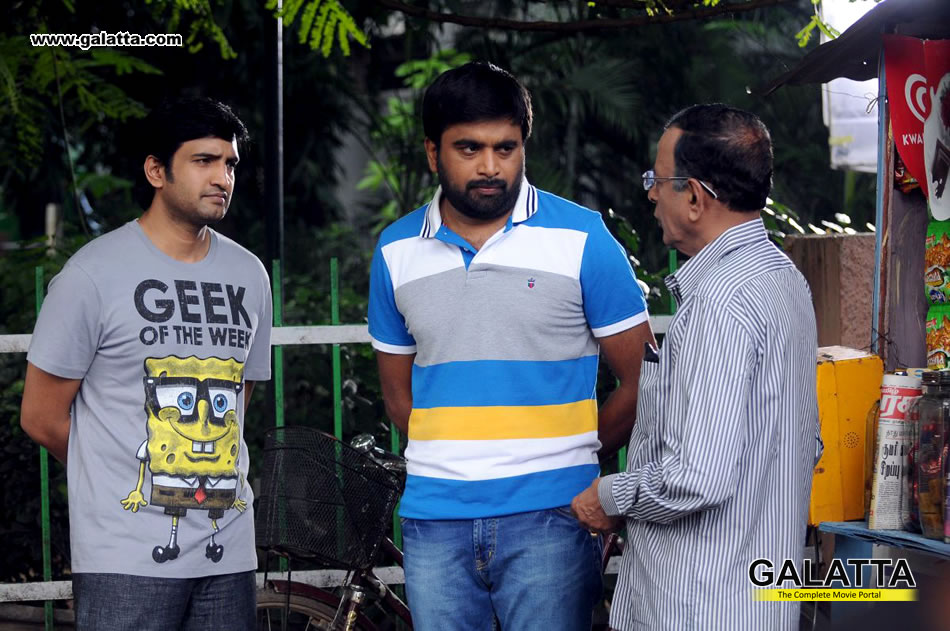 About

Bramman
The struggles of a cinema-crazy theatre owner.
Bramman Movie review
Bramman, directed by debutant Socrates - a former associate of Padma Bhushan Dr. Kamal Haasan, stars Sasikumar and debutant Lavanya Tripathi in the lead roles. With music by Devi Sri Prasad and produced by Sandalwood fame K. Manju and Mollywood fame Anto Joseph, this is the first time that Santhanam and Soori are seen in the same movie.
Now for the story of the movie...
Siva (Sasikumar) and Kumar (Naveen Chandra) are friends who share a love for cinema. Cinema has been a part of their lives all through their childhood. Siva continues to cherish his love even after he grows up, by leasing out his favourite theatre where he used to watch movies as a kid, however Kumar has disappeared from his life. But being in the movie business is no easy business. With the theatre running at a loss, Siva is not able to screen new movies. His family does not respect him due to his lack of a proper paying work. And his love with Gayathri (Lavanya Tripathi) - his brother-in-law's sister, is also doomed. Gayathri's family is not keen on the alliance as he does not have a proper job.
Kumar on the other hand, makes a very successful career as a director. He now plans to make movies in Tamil. When Siva comes to know about his friend's success story, he decides to meet him and ask him for help to renew the theatre. Since they have been separated as children, Kumar does not recognise Siva. But even in all this distress, due to a minor misunderstanding, Siva ends up signing a movie as a director.
Will things finally start looking up for Siva? Will he be able to save his theatre? Will he succeed in his love? Will he be united with Kumar? All this forms rest of the story. Watch Bramman on the big screens to know the answers!
Director Socrates has chosen a simple, feel good movie for his debut. The story, though with nothing new, has been given a fresh treatment. Sasikumar's casting needs a special mention. Sasikumar and his chemistry with Santhanam and Soori, is the highlight of the movie. Santhanam with his one-liners and Soori with his body language and voice modulations, keep the movie lively. Lavanya Tripathi has delivered a neat performance and with a little more effort from her side, will surely come a round in Kollywood. Naveen Chandra carries off his role with ease. Some parts of the plot are a little too cliched and Sasikumar's regular friend sentiment seems a little over-drawn. The screenplay could have been better with some more pace. Devi Sri Prasad's songs are a major plus to the movie, and keep the viewers humming. Cinematography is good, especially in the song sequences. The second half is more gripping than the light-hearted first half.
Sasikumar is the Brahma in this Bramman... Head over to the theatres, if you want to watch a feel good movie.