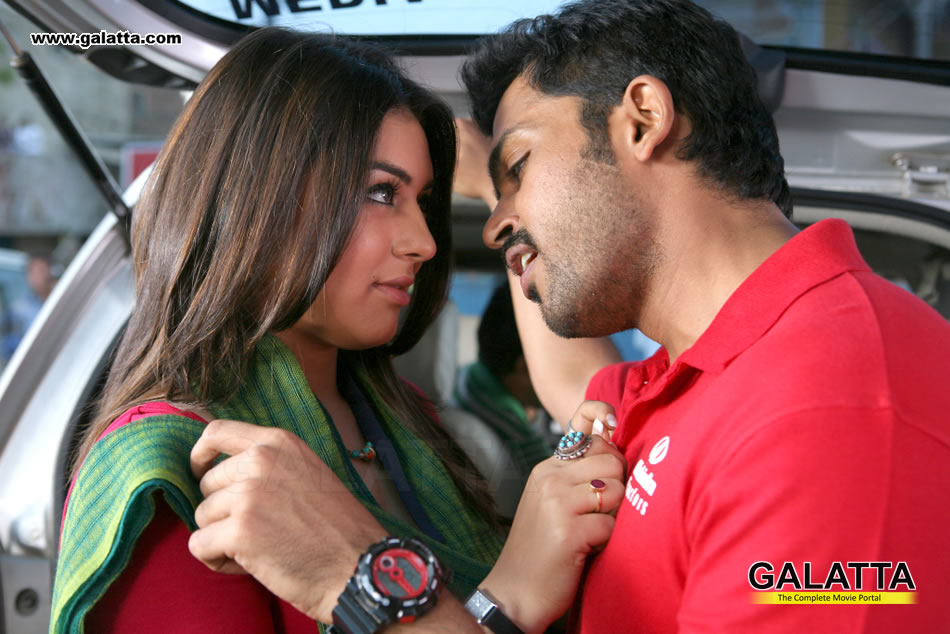 About

Biriyani
A drive on the highway lands two friends in serious trouble.
Biriyani Movie review
After a long wait, director Venkat Prabhu's delicious diet (or should we say feast) of Biriyani is here for us to relish!
Sugan (Karthi) and Parasuram (Premgi), friends from childhood, are employees at an automobile showroom! Their company is planning to start a new outlet at Ambur, and this new branch is to be inaugurated by Varatharajan (Nassar), one of the top 10 businessmen in the city. Meanwhile, Varatharajan and his son-in-law Ramakrishnan (Ramki) are embroiled in a granite scam, that is making the headlines. Priyanka Sharma (Hanska) is a TV reporter who is covering the news, and Riaz Ahmed (Sampath) is the investigating officer for the scam! At the inaugural function, Sugan gets to interview Varatharajan, who is so impressed by the young man that he is willing to offer his second daughter in marriage to him. However, the elder son-in-law Ramakrishnan opposes this.
Sugan, who took to enjoying a drink right from his 11th standard, has the peculiar habit of eating Biriyani at any costs after drinking. After enjoying a night out drinking with his friend Parasuram, the duo set off in search of Biriyani, and end up at a resort where they meet the spicy Maya (Mandy Takhar)! After a sizzling hot dance with this seductress Sugan passes out, only to awake the next day all alone inside his car, in a faraway ground! While trying to piece together the events of the past night, he can only remember upto meeting Maya! What happened after that? Meanwhile, a high-profile murder has been committed... Who has been murdered? Who committed the murder? What is Sugan's connection to this? What is the relation between Sugan and Priyanka? To get to know the answers to all of these and more, watch Biriyani on the big screens!
Venkat Prabhu comes to us 2 years after delivering the hit movie Mankatha, with this Karthi starrer! A lot of hard work and thought seems to have gone into the scripting of the movie. We get to see a totally new Karthi in Biriyani, all thanks to Venkat Prabhu and stylist Vasuki Baskar. The first half goes at a sedate pace, while the second half picks up speed with twists and turns! As is usual in any Venkat Prabhu movie, a host of stars including Jai, Sam Anderson and many others make cameo appearances and there is a wonderful surprise treat in store too!
Karthi, on the back of a string of failures, is bang on target with Biriyani! He dazzles as Sugan, and his wonderful comic timing is on display too. Hansika sparkles in her role and is pleasing to the eye. Mandy Takhar, as said during the promotions, is truly the spice of the movie. She sizzles in her seductress avatar! Premgi's comedy tickles the funny bone. Ramki makes a stunning comeback and is sure to have a successful second innings in Kollywood. Veterans Jayaprakash, Nassar, Sampath and Uma Riaz Khan breeze through their roles!
Sakthi Saravanan's cinematography needs a special mention! The man who has hit a century with this movie - Yuvan, holds centre stage! Yuvan's background score for the climax sequence keeps the pulse-racing. The editing duo of Praveen and Srikanth has come up with another ace. They have kept the movie slick and crisp.
Studio Green's Venkat Prabhu diet - Biriyani, is one savoury treat! Go grab your share!