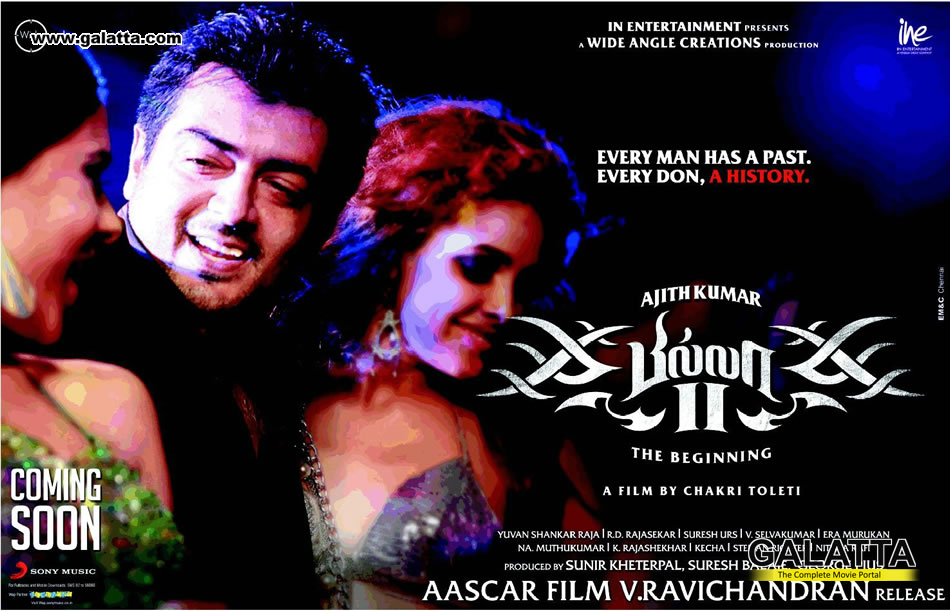 Billa-2 Movie Cast & Crew
Cast :
Ajith kumar,Parvathy Omanakuttan,Bruna Abdullah,Prabhu,Manoj K Jayan,Yuvan Shankar Raja,Vidyut Jamwal,Sudhanshu Pandey |
Production :
IN Entertainments,Wide Angle Creations |
Director :
|
Dialogues :
|
Lyricist :
|
Cinematography :
|
Story Writer :
|
Screenplay :
|
Music Director :
About

Billa-2
An ordinary man from the slums enters an underworld gang and becomes the most feared underworld don.
Billa-2 Movie review
Watching a film, first day first show is an interesting experience and when it is 'Thala Padam', should we have to say anything more! Coming to Billa 2, there is no doubt that this film is one of the most awaited ones in Kollywood this year. The Don strikes again! David Billa is back, not from the dead... not just yet...

Billa 2 also has the credit of being the first prequel in Indian cinema, a trend which is mainly followed by Hollywood. Ajith who played the dual role of Billa and Raja in the first part, which was a remake of the Rajinikanth starrer, has reprised his role in this prequel which is directed by Chakri Toleti. Ajith's attachment to the enterprise has created quite a manic frenzy right from the day it is launched. The film is produced by Wide Angle Creations in association with the Hinduja Group company IN Entertainment. The star cast also includes Parvathy Omanakuttan, Bruna Abdullah and Vidyut Jamwal in leading roles. The technical team consists of Yuvanshankar Raja (music), R.D. Rajasekhar (camera), Suresh Urs (editing) and Na. Muthukumar (lyrics). Without giving away much information, lets us take a look at what Billa 2 is all about!

What is it about? Billa 2 takes us to the very beginning of this man's life. How an ordinary man is thrust into situations that turn him into one of the most wanted criminals across the world.

The Story: David Billa (Ajith), a Sri Lankan refugee, reaches Rameshwaram and here when he sees the bad state of his fellow refugees, he begins to protest. Slowly he emerges as their leader which naturally earns the wrath of the police officials. At one such circumstances he meets Selvaraj (Illavarasu), a restaurateur during the day and diamond smuggler at night. Billa impresses Selva and begins to do business with him. From diamonds his interest slowly shifts to drugs and there he meets Abbassi (Sudhasan Pandey), Goa's drug expert! But Abbassi's close associate Kothi (Manoj K. Jayan) develops an insecurity. Through Abassi, Billa meets Russian don Dibatri (Vidyut Jamwal) in Georgia. In between we have Jasmine (Parvathy Omanakuttan), Billa's cousin and Sameera (Bruna Abdullah), Abbasi's girlfriend with whom Billa develops a liking. In the midst of capturing more markets Billa gets into trouble with Dibatri, Abbassi and Koti. But Billa stands tall with his close friend Renjith, demolishing his enemies one by one. So can Billa beat the Russian mafia expert Dibatri? Watch out in Billa 2!

The Thala factor: Ajith is one of those actors who never lets his stardom get to his head. In the last few years his star status has grown manifold but he is still the same level-headed man, wizened by the ups and downs in the movie biz. The Billa franchise has given him the opportunity to explore the darker-side of human nature, as opposed to the honest, upright mass image that his fans have attributed to him over the years. And once again he does it with ease. After Rajinikanth, he is the only mass hero who can pull off a negative role with ease. However after Mankatha, yet another villainous characters stereotypes the actor and of course we miss our hero Thala, who bashes the goons and fights for social cause.

Ajith has also performed some death-defying (especially the climax helicopter fight) stunts with ease which once again proves that he is true hero. Ajith's transformation into the character, and the metamorphosis of Billa, is sure to keep us riveted to our seats.

The Performance: Apart from Ajith, Yogjapi as Renjith has a meaty role in the film. He is there with Billa in all his journey and he stays loyal throughout. Parvathy Omanakuttan as Jasmine doesn't have much scenes to exhibit her talent however she does her job perfectly. Sexy siren Bruna Abdullah is strictly for the glamour quotient. Manoj K. Jayan steals the show as one of the villain and of course this is nothing new to him. Rahman appears in a blink and miss role while Krishna Kumar, Sricharan ahve done their parts well. Sudhanshu Pandey plays the handsome-smart villain. And finally here we have Vidyut Jamwal, the good looking bad boy who is hot property in tinselville right now! First seen in the Bollywood flick Force opposite John Abraham, Vidyut then played supporting roles in Telugu flicks Shakthi and Oosaraveli. And with Billa 2 he has jumped directly into the big league in Tamil cinema. He plays the role of Russian don, his dubbing (with an Russian accent) is interesting but lacks clarity.

The Techniques: Billa 2 is actually an interesting idea! Thinking of making a prequel is something new not only in Kollywood but also in Indian cinema. So kudos to Chakri Toleti for his wonderful effort . But the film resembles us of Al Pacino's 1983 cult classic Scarface, which created a new trend in world cinema. At many places, Billa 2 has shades of Mani Ratnam's Nayagan, Rajinikanth's Thee and Amitabh Bachchan's Agneepath. The screenplay could have tweaked a little to avoid the lag and loopholes. R.D. Rajasekhar's camera works are neat and stylish while Suresh Urs has edited it perfectly. Yuvan's background scores are good but his racy numbers are misplace. And of course the Billa BGM rocks. The best part is the running timing which is just 129 minutes!

Verdict: In deed a treat for Ajith fans!