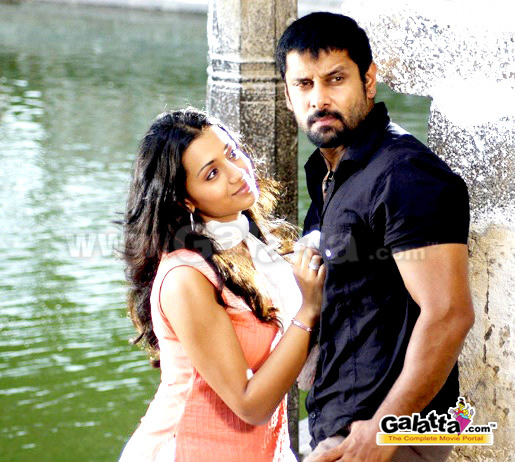 Bheemaa Movie review
For the makers, artists and technicians who have worked for Bheemaa, and for eager fans of Chiyan Vikram, all of whom have been eagerly awaiting its grand release - the long wait is over. Now, as the movie joins the Pongal blast, it's celebration time for all of them! Does Bheemaa meet fans' expectations? Vehemently, YES!
Chinna (Prakashraj) and Periyavar (Raghuvaran) are local gangsters who operate separate rowdy groups with a power war between them. Chinna was Periyavar's loyal follower before he was expelled from the group by the then-mighty Periyavar. Chinna does not forget Periyavar's insults and Periyavar now feels challenged by Chinna's growth that interferes with his hegemony.
Sekhar (Vikram) relocates to the city from Rameshwaram. With the single-minded plan to join Chinna, he bravely kills two men who are on Chinna's hit-list. Curious, Chinna enquires from his close aide (Thalaivasal Vijay) about the bold and baffling killer. Soon Chinna and Sekhar meet each other. Sekhar's flashback reveals the reason for his actions.
In the flashback, Sekhar reveals that Chinna, then a budding rowdy in Rameshwaram, had attacked a goonda who was insulting Sekhar's father (a police constable). While leaving the crime scene, Chinna had handed over the weapon to young Sekhar. Since that day, Sekhar idolized brave Chinna and wanted to follow his footsteps. Chinna immediately appoints Sekhar as his chief subordinate. With Sekhar by his side, Chinna attains great strength, and rights Periyavar's wrongs. Sekhar also unites Chinna with his childhood sweetheart Padma (Lakshmi Gopalswamy).
With blind devotion, Sekhar carries out his allotted agenda of terrorizing, beating and killing. Gangster politics flare up when Sekhar kills Periyavar's sons and some of his key men. The Commissioner of Police (Ashish Vidyarthi) is the leader of 'Operation Bheemaa' aimed at stopping the two gangster groups terrorizing the city. The Commissioner has a 'shoot at sight' order against all members of these groups.
Sekhar's life takes a sudden turn when he meets Shalini (Trisha). After a string of chance meetings, Shalini and Sekhar begin to like each other. Shalini wants to marry Sekhar at once. But Sekhar sees his profession and family as major minus points. Soon, a decisive moment arrives.
While escorting Chinna to a meeting, Sekhar, smitten by Shalini, gets distracted. Feeling guilty, Sekhar confesses his mistake and gives up his job, but not for long. His devotion to Chinna drives him back to Chinna's camp. Sekhar waits for the right moment to quit the life of crime to enable him to unite with Shalini. Before that, he has to vanquish Periyavar and his men, has to intelligently elude the wrath of his own group, and also has to survive the police encounter.
Does Sekhar fulfill his desire to lead a quiet life with his dear Shalini? Does this film have a 'happy ending'? What happens in the final climax? Find out when you watch remarkable Bheemaa on the silver screen!
Bheemaa is a gangster film, dealing with underworld life, but it has a new grittiness and edge to it. It is difficult to imagine any artist other than Vikram in such a powerful role. Vikram breathes life and credibility to the character Sekhar and portrays its contemporary overtones convincingly. We get to see Vikram with a tough look - close-cropped hair, dense beard and small ear studs. His physique and body language communicate the character he portrays - vibrant, tough and unpredictable.
Prakashraj's involvement and acting are glowing, as ever. Raghuvaran appears on screen after a hiatus! He pulls off his role with his usual coolness, to the degree of likeability. Ashish Vidyarthi's performance is impressive. Trisha is glossy and lovely. The highlight of her role is well-delineated when, with her charming romance and a strong poise, she tames the beast,