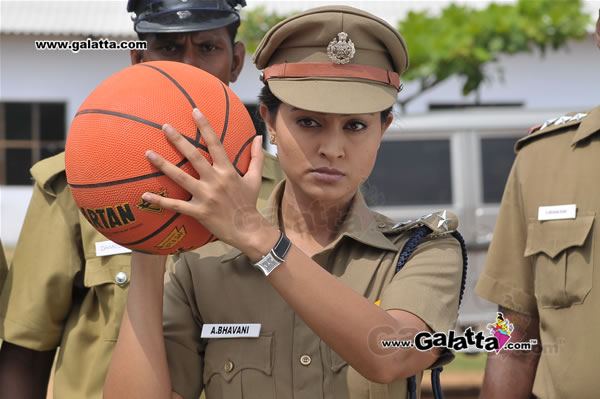 Bhavani IPS Movie review
In general, Tamil Cinema doesn't give much scope for actresses to perform stunt sequences. But in spite of such restrictions, certain actresses have managed to perform stunt sequences and create a special place for themselves. One such lady is Vijayashanthi, the lady super star of the South! She is the energetic lady cop of Southern films who can bash goons singlehandedly. She is always remembered for her versatility including acting, dancing and fighting skills.
It was Vyjayanthi IPS that gave Vijayashanthi the much-needed break in Tamil cinema and now, smiling beauty Sneha is trying her hand for the first time at action with Bhavani IPS. A remake of Vijayashanthi's cop movie Vyjayanthi IPS (1990) which fetched her the National Award for the Best Actress, Bhavani IPS is simultaneously made in Telugu and Tamil by director Kicha.
Bhavani IPS stars Sneha in the role of a trigger-happy cop. Sneha has performed daredevil fight scenes in this film, which also has Kota Srinivasa Rao, Ponnambalam, Manobala, Sampath, Delhi Ganesh andVivek in the cast.
THE PLOT
Bhavani (Sneha) is an extremely brave honest IPS officer who can hammer multiple goons singlehandedly. After handling many cases successfullyin Hyderabad, Bhavani is transferred from Hyderabad to Tirunelveli on special request. Interestingly, Tirunelveli is under the control of a local don Sivalingam (Kota Srinivasa Rao). Sivalingam is involved in many illegal activities like prostitution, smuggling and 'katta panchayat'. The rest of the story is something which you can easily guess. Bhavani takes on Sivalingam, which leads to many interestingly events. At one point, Sivalingam's men attack Bhavani and she is seriously injured. Later, Bhavani gets terminated from the IPS because of a severe leg injury. How will Bhavani take revenge on Sivalingam? That forms the rest of the story.
THE PERFORMANCES
Sneha has put in lots of effort for the film, which is quite evident on screen, but she lacks the spark (especially during the fight sequences) which Vijayashathi had. (Sneha smiles better than she grimaces in anger.) The rest of the star cast, including Kota Srinivasa Rao, Ponnambalam, Manobala, Sampath and Delhi Ganesh have done their jobs well. Vivek appears in a few scenes but fails to evoke laughter. The opening song and Sampath's dance song comes as a speed-breakers. Music by Dhina could have been better. K. Bhupathi's camerawork and Manu's art work is just average; story, screenplay and direction are handled by G Kicha.