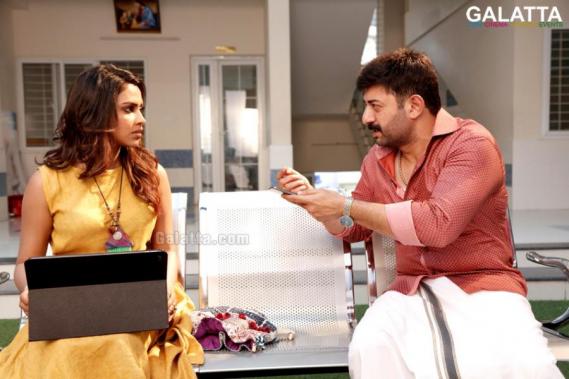 Bhaskar Oru Rascal Movie review
Bhaskar Oru Rascal is a Tamil comedy drama film written and directed by Siddique. Bhaskar Oru Rascal movie is a remake of his own Malayalam film Bhaskar the Rascal (2015). Bhaskar Oru Rascal film features Arvind Swamy, Amala Paul and Baby Nainika in lead roles.
The story starts off showing businessman Bhaskar (Arvind Swami), who involves himself in extracting money from others through violence and is seen living with his father (Nasser) and son Aakash (Master Raghavan).
One fine day, when Bhaskar decides to pay a visit to Aakash at his school, an ugly fight ensues and Bhaskar rises to the occasion. It is here that Aakash's classmate Shivani (Baby Nainika) is impressed with Bhaskar's valiant and righteous efforts.
Shivani's mother Vinitha (Amala Paul), a widower, is introduced, who is not all for resolutions through violence. As time flies by, Vinitha and Bhaskar go through few bad experiences until their children see the best in each of them and decide to bring them together.
The film then takes a surprise twist where we are introduced to Vinitha's husband and the story takes a big turn from this point on.
From a narrative perspective, Bhaskar Oru Rascal takes quite a lot of time to establish its core characters which leads to testing our patience. Director Siddique has attempted to make a story that appeals to family audiences and comes extremely close to achieving his objective.
On the performance front, Arvind Swami and Baby Nainika stand out among the entire team whereas Amala Paul has attempted to portray the role of a caring mother, but falls short on some levels. Nasser's role is a cakewalk and while Master Raghavan doesn't go overboard and performs as required for his role.
Technically, Amresh Ganesh's songs are enjoyable, but he needs to make drastic improvements in the background score department. Vijay Ulaganath's cinematography is simple and he is complimented equally well by editor Gowri Shankar.
Bhaskar Oru Rascal had all the elements of packing in a solid family film, but the shortcomings in the screenplay have only led to the downfall of the film overall.
Thumbs Up
A fun role for Arvind Swami
Baby Nainika rises to the occasion
Thumbs Down
Old story wrapped in a new package
Background score not up to the mark
Predictable plot
Long duration