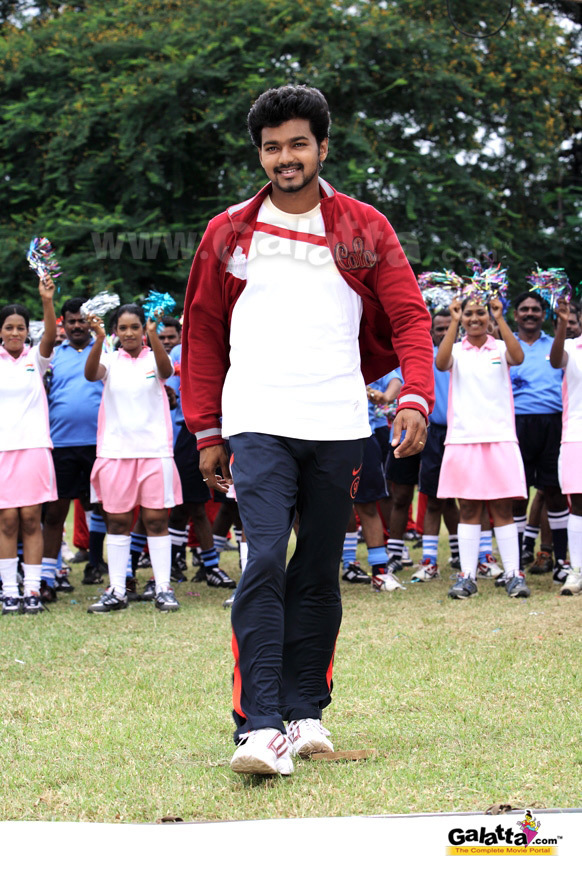 About

Azhagiya Tamil Magan
Two doubles - one honest, the other crooked - fight to win the hand of a rich girl.
Azhagiya Tamil Magan Movie review
Vijay is back with a bang after Pokkiri. The actor has managed yet again to give a complete entertainer that will please the masses. The biggest strength of the film is its humour and debutant director Bharathan has managed to bring it all together in the movie very well.
ATM may not be appreciated by everyone, but Vijay's fans will definitely be pleased with their Ilayathalapathy.
Guru (Vijay)is a management student. He is also a champion runner. He lives with his friends (Santhanam and Sathyan) in a rented house owned by former sex- bomb Shakeela (Shakeela in a cameo as herself!). He is a good guy and very popular among his friends and neighbours. A darling of his parents who live in a village near Madurai.
Guru falls in love with Abhinaya (Shriya), a rich girl and daughter of a tycoon (Ashish Vidyarthi. Abhinaya too takes a liking for Guru due to his good nature. The couple faces some initial opposition, but the parents agree for their marriage.
Suddenly Guru starts seeing things the immediate future! The doctors say he has Extra-Sensory Perception (ESP). This boon turns out to be a bane when he has two bitter experiences.
What makes things worse is when he has a premonition of he killing Abhinaya. This disturbs him very much and he breaks his relationship with Abhinaya and moves to Mumbai.
This point in the movie marks the entry of Vijay no.2 Prasad. A financier, Prasad accidentally meets Abhinaya when he comes to Chennai. Abhinaya mistakes him for Guru. This misunderstanding leads to the two getting engaged.
Meanwhile Guru feels that something bad is about to happen to woman of his dreams. He returns to Chennai to rescue the damsel in distress.
The scenes between Vijay and Shriya are lot of fun. Shriya has a very good role and the actress has done a very good job of it. Her role is at par with Vijay's and she passes with flying colours.
Santhanam as the hero's side kick is a surprise package. He has excelled in his part.
Vijay as Guru and Prasad has yet again proved his penchant for comedy. But it is the negative role that surpasses. May be Vijay should try his had at a complete black character.
Rahman's musical score combined with amazing picturisation makes the songs a treat. Sadly, Nee Marliyn Monroe... an item number picturised on Vijay and Namitha in Phuket islands has faced the censor scissors! Camera work by Balasubramanian is stunning. But holds the film back a bit is it running time of nearly three hours. A little more time spet on the editing table will make the film faster paced and fun. Also passing off Hyderabad as Chennai is kind of a dampener!
Having said that, ATM is a complete mass entertainer and Vijay is truly the Azhagiya Tamil Magan of Kollywood!