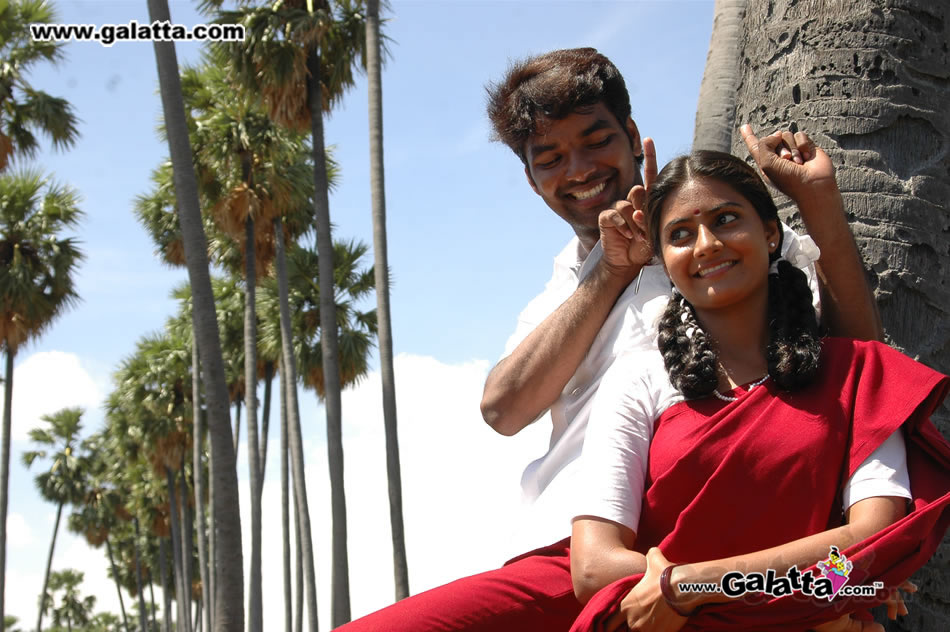 Aval Peyar Tamilarasi Movie review
Debutant director Meera Kadhiravan's Aval Peyar Tamilarasi, produced by Moser Baer Entertainment and Blue Ocean Entertainment, is a genuine attempt to make a good cinema that can stay in our hearts! Set in the backdrop of Tamil culture's ancient entertainment form Thol Pavai, it is more heroine-centric with a strong storyline and develops almost on the lines of a number of Malayalam classics in 70's and 80's. So, for normal Tamil movie buffs, Aval Peyar Tamilarasi would be a bit dragging due to the lack of mass masala ingredients, but they would surely love it for its artistic value.
Aval Peyar Tamilarasi begins with Jothi Murugan (Jai), travelling in an Omni bus and his voice over about his past and love for a girl whom he has been searching desperately for several years. Then the movie turns into a flashback mode in which we see that he lives in a remote village in Nellai district with his grandfather Chelladurai (Theodre Bhaskaran), a local landlord.
From his childhood, Jothi is attracted to Tamilarasi (Nandhagi), part of a family of puppeteers led by Siva Rao (Veera Santhanam) who travel from one village to another. Since the villagers shift their loyalty to other forms of entertainment like circus and cinema, the puppeteers are left with no other option than moving out. However, Jothi comes to the rescue of Siva Rao and family by asking his grandfather to give them material support. Jothi and Tamil become inseparable.
Things get complicated when Tamil Arasi emerges as the district topper and gets a seat in a Pune college, while Jothi fails the boards. Struck by love, and unable to handle it, Jothi does a rash act which changes all their lives forever. She leaves the village. Jothi sets out to make amends, and searches for her, and it is eight years before they meet again. What happens next forms the climax.
PG Muthiah's camera is the major highlight of the film. Vijay Anthony's pleasing number ' Kuchu kuchu goods vandiyile' is well choreographed. The art work of SS Murthy in recreating a village and the puppeteers is brilliant. Jai and Nandhagi have done a decent job, but they should have been a little more lively and expressive to get their onscreen chemistry better. All in all, Aval Peyar Tamilarasi is a near-classic film and watch it in that perspective.