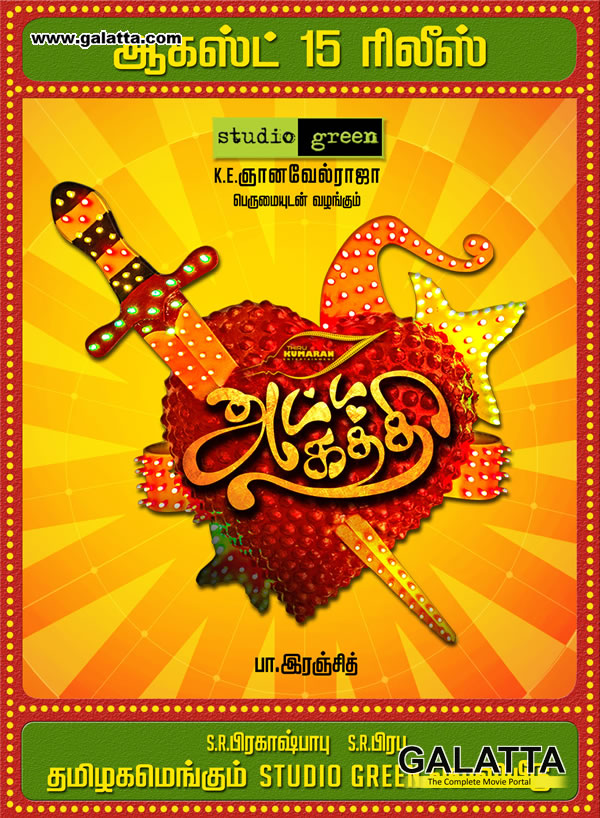 Atta Kathi Movie review
We have seen many movies set in rural as well as urban settings, but Attakatthi, set in a village on the outskirts of Chennai, brings about a very fresh perspective! Director Ranjith has gone all out to ensure that his maiden venture is one that all the people will enjoy! Everybody will be able to relate to atleast one scene in Attakatthi, to some incident in their lives.
Attakatthi is the nickname of the hero Dhinakaran (Dinesh). The movie revolves around the happenings in the life of Dhinakaran, the way he goes about life with a happy-go-lucky attitude, and the sole aim of falling in love and marrying. With a lot of bravado and the worst of luck, Dhina tries wooing girls, and when he thinks all is going well, he gets rudely awakened to reality. But, unfazed by all this, Dhinakaran religiously follows the rule that if one love turns to be one-sided, he should just drop it and move on to the next girl! Surrounded by like-minded but sensible friends, Dhina is the typical roadside romeo, for you!
As an awkward teenager, Dhina meets and falls big time for the heroine Poornima (Nandita). When she spurns his love and calls him brother, our Attakathi, also forsaken by his friends, joins a new gang, and with the passage of time, turns into 'Route Thala', a prestigious protector of college students, along a specific bus route! With his life taking a turn toward violence, Dhina again crosses paths with Poornima, who re-enters his life, and the two get very close! Do the two fall in love, and get together in the end, forms the rest of the story!
Fresh treatment, steering completely away from stereotypes and cliches, a breezy and funny storyline, make Attakatthi a wonderful watch! A humour loaded first-half makes one feel that the second-half is comparitively slower, but the movie does not sag at any point, and the perfect casting has ensured that the viewers get to enjoy every minute of the film! Dinesh as Attakatthi, Nanditha as Poornima, his friends, his parents, Attakatthi's lady-loves, all of them are just brilliant! Ranjith and Dinesh steal the show! Dinesh has shown that he is capable of emoting wonderfully, and gets full marks for his acting! Ranjith should be commended for taking up a breezy subject for his debut, and showcasing it in a pleasant way!
The music by Santhosh Narayanan is very hum-worthy, and the Gaana songs have added to the flavour of the movie! 'Aadi Pona Aavani', and 'Nadukadalula Kappala' remain on the lips of the viewers, well after the movie is over! Director Pa. Ranjith has gone the extra mile to ensure that all the characters and locales gel into the storyline, and nothing jarrs the feel!
Produced by CV Kumar of Thirukumaran Entertainment, Attakatthi is a winner!
Reviewed by Mohan K.