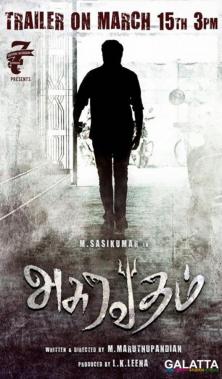 Asuravadham Movie review
Asuravadham is is a Tamil action thriller film written & directed by Maruthupandian, produced by Leela Lalitkumar. Govind Menon scored music for this film starring Sasikumar and Nandita Swetha.
Sasikumar is stubborn to take revenge on the villain right from the first scene. How he succeeds in the process forms the crux of the story.
It was a relief to see Sasikumar in a subtle role after a long time. He doesn't have much dialogues, hence his character becomes a mystery till the end. He has got good scope to perform and he has utilized it neatly.
Characterization of the villain is pretty matured and his acting is terrific. He has enough amount of screen presence to ride over the story. He easily creates an impact to the flow.
The approach is different, also the presentation looks raw and realistic from the beginning. Opening sequences are interesting and creates a curiosity for the rest of the movie.
Proceedings are too sluggish and in fact one thin moment is stretched till the interval, hence there's a huge lack of connectivity to the storyline. The slow paced narration also tests the patience.
Family portion happens to be the key in the whole script. But unfortunately their screen space is very little, so the impact remains only at the ground level. We don't get to feel the emotions or realize the sadness of the characters.
Holding up the mystery element till the climax spoils the intensity during the travel. Over a point, the movie becomes somewhat predictable as the writing is weak.
Background music acts as the main pillar of support for the movie. It sticks to the correct proportion for the situations.
S.R.Kathir's camera work is brilliant, he has clearly captured the night shots and apt to the film's dark mood. Dhilip Subbarayan's stunt sequences meets well with the reality, so the movie doesn't lift the heroism quotient at any point.
The progression isn't gripping as some sequences are repetitive, and dulls out the viewing experience. Editing could have been better as the treatment fails to work when the current situation is forced to get revealed later.
Other than the hero and villain, none of the supporting characters are powerful. Also there is a slight disconnect in the flow at some parts. Few artists are left over abruptly without proper justification.
Thumbs Up
Sasikumar's refreshing subtle presence
Villain's powerful characterization
Realistic approach to the story
Thumbs Down
Progression is very slow
Main revenge plot is familiar
Weak supporting characters
Core content doesn't provide a solid impact