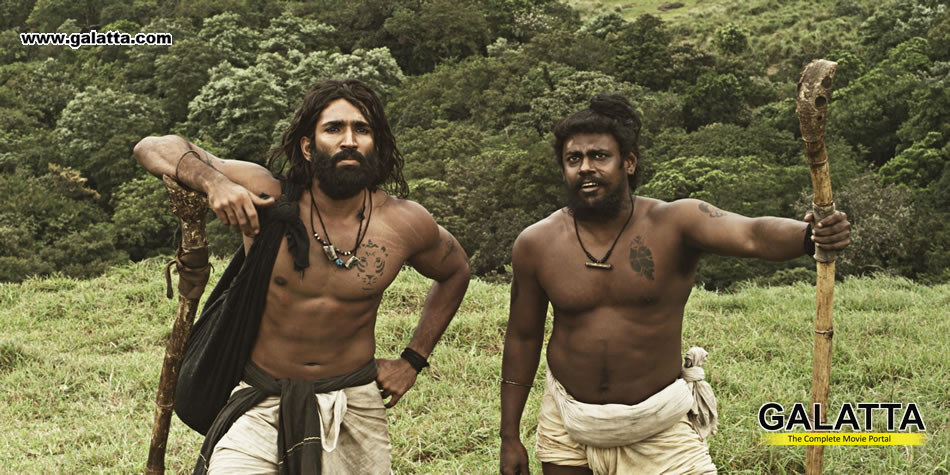 Aravaan Movie review
Every since its launch, Vasanthabalan's Aravaan has been rated as one of the most awaited films in Kollywood. Fresh from the success of Angadi Theru, Vasanthabalan started shooting for Aravaan in April 2010. But due to financial crisis and other technical problems it took almost two years for the film to see the light. The film is based on one chapter from Su. Venkatesan's novel Kaaval Kottam, which depicts the history of Madurai during 1310-1910.

In earlier days every village used to have its own security guards called as Aravaans. They are named after the son of Arjuna, who sacrificed himself before Goddess Kali for the victory of the Pandavas in the Kurukshetra war in Mahabharata. And Vasanthabalan's story revolves around one such Aravaan. The film has a huge star cast which includes Aadhi, Pasupathy, Dhaniska, Archana Kavi, Karikaalan and Singampuli. Bharath, Anjali and Shweta Menon have also made special appearances in this historic flick. The movie is produced by T. Siva under the banner of Amma Creations. The technical team includes Siddharth (camera) Praveen-Srikanth (editing) and Vijay Murugan (art direction).

Another major highlight of Aravaan is its music composed by singer Karthik!

What is it about?

Set in the mid 14th century the film narrates the story of Aravaans in Kotayur, Tamil Nadu. Kombodhi (Pasupathy) is the leader of Kombadi Koothu, a group of thieves which steals money and gold for the village people. Interestingly Kombodhi and his men also have certain rules and regulations which they strictly follow. One day guards from a neighbouring village attack Kotayur! Reason? The queen's precious necklace has been stolen by someone who is believed to be from Katoyur. Finally the queen's men make a deal with the village people; if they give back the necklace they will be awarded with 100 bags of rice. Obiviously Kombodhi and his men start their mission. On the way they find out that the culprit is Varipuli (Aadhi), an orphan who can complete any big mission single-handedly. Impessed by his skills Kombodhi brings Varipuli to his village and also returns the necklace to the kingdom. Within a few days Varipuli develops a great bonding with Kombodhi and his men. Meanwhile Chimtti (Archana Kavi) develops a liking for Varipuli.

When Kombodhi takes his sister's proposal to Varipuli, he reveals that he is already married! Meanwhile a group of men attack Varipuli and take him. So who exactly is Varipuli? Watch out in Aravaan!

THE PERFOMANCE AND TECHNIQUES

Rugged look and dark makeup is nothing new to Aadhi and as usual he excels in Aravaan too. Every since his debut Aadhi has been mastering the art with every film that he does. His body language, physique and dialogue delivery skills are perfect for a 14th century warrior. It is also said that the actor developed an eight-pack abs especially for this film; the hard work reflects clearly on screen. Another major character in Aravaan is Pasupathy who plays a meaty role in the film. There is no doubt that Pasupathy is a seasoned actor and one of the best actors in the industry today. In this film he has also tried his hands at dancing. Archana Kavi is sensual, Dhansika is perfect for the role while Singampuli is hilarious. Bharath, Anjali and Shweta Menon have done their parts well too.

The main highlight of the film is that there are no unwanted characters; kudos to Vasanthabalan for a making such an intense drama which no other filmmaker has attempted till date. The dry and rustic locales are well captured by cinematographer Siddharth; Singer Karthik, who makes his debut as music director, is impressive and his background score is perfect for the story. Praveen-Srikanth's editing works and Vijay Murugan's art direction need a special mention too.

Overall if you are fed up of regular commercial drama, Aravaan is a perfect watch for this weekend!