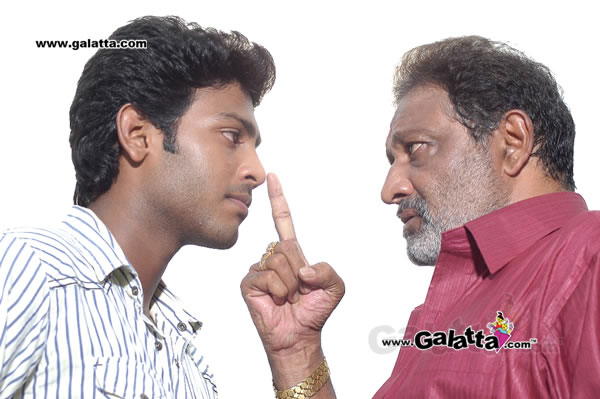 About

Appavi
A college student doubles up as a vigilante and fights the corrupt political system becoming the demi-god of the common man
Appavi Movie review
R. Raghuraj directed Appavi, filmed with a cast of newcomers, explores patriotism and the current state of our nation. The movie broke a record when it created the longest Indian flag stretching to 1115 feet, which was used in one of its songs. Let's analyze the other impressive elements apart from an Indian flag that stretches the length of four Boeing 747s.
Bharathi (Gautham) is a refined collegegoer and a gem among his peers, while in secret he is a daring vigilante who executes corrupt politicians, bureaucrats, terrorists and anyone who harms the general public. Bharathi's marks his crimes by recording his victim's confessions of wrongdoing in their mobile phones and circulating these as MMSs before executing them. A wannabe MLA with hidden wealth, a corrupt minister and a terrorist are executed on camera and their videos are circulated among the general public. The police are baffled, corrupt politicians and bureaucrats fear for their lives, while the common man celebrates the MMS killer, whose actions are an antidote for their resentment towards inefficient and corrupt government functionaries.
In his normal life, Bharathi tops in his academics and discipline, which makes him the heart throb of his college mates. His college mate Ramya (Suhani), daughter of a powerful politician Susa (Mahadevan), falls for him and tries to woo him, but in vain. Ramya's father Susa is so powerful that he moves ministers and bureaucrats like chess pieces, becoming the MMS killer's ultimate target. Bharathi's mother Sriranjini (Manimeghalai) is a headstrong IAS officer, who enforces her duty without bowing to political pressures. While Bharathi wages his secret war against corruption and nepotism, his mother wages the same battle, armed with the bureaucracy.
As the Bharathi's MMS murders increase, the fearful politicians and bureaucrats hand the case over to a sincere officer. They appoint Bharathi's mother Sriranjini as they believe her persistence will bring the MMS killer to conviction. Now begins a triangular game of action, with Bharathi hunting down corrupt politicians while they target Sriranjini for her honesty and she tries to capture the MMS killer (Bharathi)
Director R. Raghuraj's Appavi is a sincere attempt to highlight the issues that cripple the development of India. Though Raghuraj's effort is laudable, his presentation of the theme is lamentable. Appavi has held on to an overused formula in Tamil cinema while tossing reality out of the window. The whole movie revolves around the protagonist Bharathi and the quest to project him as a character who could do anything under the sun. It makes us ponder that if they had introduced him as a superhero, the whole movie would have been more believable.
The screenplay has huge gaps and the sensible parts greatly resemble many good old movies. An armed group of henchmen daily escort Susa's daughter Ramya to her college; their task is hack off anyone's arm who shakes hands with her and gouge out anyone's eyes who looks at her with lust. Bhagyaraj, who makes a special appearance with his signature acting, and Mahadevan as Susa are the only characters who show professionalism on screen. Appavi, a thought-provoking theme is badly made with little connection to reality.
Petson Peter