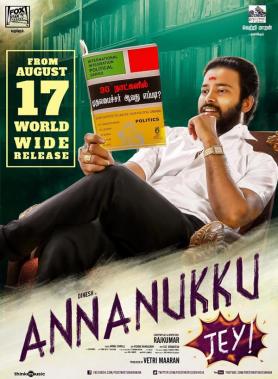 Annanukku Jay Movie review
Annanukku Jai is a Tamil political comedy satire film directed by Rajkumar. The film stars Dinesh and Mahima Nambiar in the leading roles and it is produced by Vetrimaaran.
Dinesh is an innocent youngster who lives a routine life in his village. Due to certain circumstances, he becomes a Politician. What happens after that, forms the remaining story.
Dinesh has given a neat performance without any dull moments, his mannerism in the second half uplifts the momentum. Mahima Nambiar has played her role well. Radha Ravi has done a vital role in the film and his characterization connects well with current Politicians. Mayilsamy has done matured father role with typical sentiments.
Debut filmmaker Rajkumar's writing is solid, he has structured a simple one line with matured socially relevant situations. His screenplay is good, staging is neat and conflict is also handled well with proceedings being entertaining. Dialogues are a big addition to the plot, political lines are quirky and easily relatable. The direction is very decent, he has brought in only the necessary elements on board.
Arrol Corelli steps in into commercial cinema for the first time, his songs are fun and foot-tapping. Passionate work has also gone through the lyrics writing process. Background music perfectly rides along with the flow and treat the audience with no dull factor. The cinematography is simplistic without complicating, rural factor replicates nicely with the camera man's lighting idea. Editing has to be appreciated as the film runs less than 120mins, one of the reasons for the engagement.
The love track in the initial stage is a fun and time-pass one. The movie is approached in a realistic manner which enlightens the watching experience. Stunt choreography is different and a fight scene in the second half is surprisingly comical. The track travels on the straight line with impressive elements, but bringing in the heroine portions towards the end puts the flow on hold. Take-off at the beginning could have also been a bit faster.