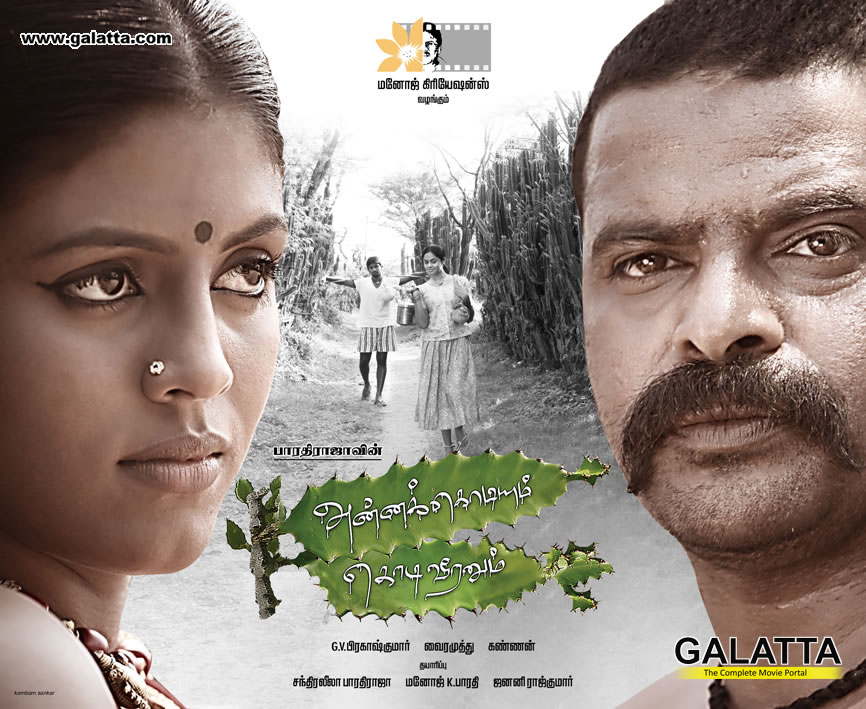 Annakodi Movie review
After quite a gap, ace director Bharathiraja is back to doing what he does best - creating magic on celluloid! As is his passion, this time too he takes us on a ride through the lesser-known country sides of our state, with the classic manvasanai to boot, in Annakodi! This time, he has gone one up, and set the story in locales surrounding 3 villages - Uralpatti Kidaripatti and Kaariyapatti. Bharathiraja has again introduced a new actor with this movie, Lakshman Narayan, who plays the male lead - Kodiveeran!
Kodiveeran (Lakshman) is a simpleton who herds goats and is the son of a shoe maker. Annakodi (Karthika) hails from a family belonging to a higher caste, in a neighbouring village! Annakodi is a bold and free spirited girl, who falls for Kodiveeran, and gives him the courage to accept the love, despite he being from a lower caste! Sadayan (Manoj Bharathiraja), is the village head's son, and a cruel moneylender who ends up grabbing the houses and lands of his debtors, and also takes away their women, claiming them to be the interest for the debt. Sadayan has set his eyes on Annakodi, but she keeps rejecting his advances, and even goes to the extent of insulting him repeatedly.
On Annakodi's advice, Kodiveeran and his father come to her house to ask her mother for Annakodi's hand in marriage. She is outraged at being approached by a lower caste family, and gets the father-son duo beaten up, and arrested by the Police on false charges! However, tragically, Annakodi's mother dies in an accident, and Sadayan forces Annakodi to marry him, as her mother has taken a lot of loans from him. With Kodiveeran in prison, and their love in jeopardy, Annakodi is subject to a lot of torture - both physical and mental. Will Kodiveeran be able to free himself from prison, and free his beloved? Will Annakodi break free from Sadayan's abuse? Can the lovers get back together again? Watch Annakodi to know!
Karthika has made an amazing transformation from the stylish journalist in Ko to the no-makeup but pretty and perky village belle Annakodi! She is one of the biggest plus points of the movie, as she has a meaty role, and has played it very well! Lakshman has played his part well, but the fact that he is a debutant, shows! Manoj, as the evil Sadayan, impresses mightily! The rest of the cast are so apt that they look like they were just going about their normal life, than acting in a movie! The captain of the ship - Bharathiraja, shows his class! GV Prakash's songs are another big plus for the movie! Sabesh-Murali's background score adds up well to the rural setting. A normal first-half and a second-half with a lot of twists and turns is how the movie pans out! The romance and manvasanai flavour of Bharathiraja holds strong throughout Annakodi, but the movie does not sustain its hold over the viewer throughout its length!
A movie by the master sure holds a lot of expectations, but Annakodi could have done more, to live up to the expectations!