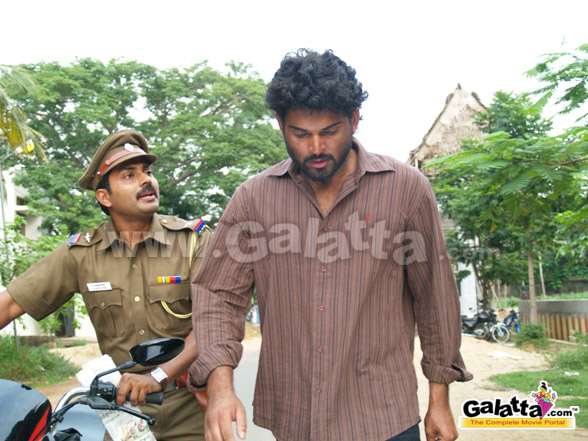 Anjaathe Movie review
Krupa (Ajmal Ameer) and his sister Uthra (Vijayalakshmi) live in cramped police quarters with Krupa nursing ambitions to join the police force. His friend Sathya (Narain) is least worried about his career and spends his time getting drunk, enjoying life. Uthra, who secretly loves Sathya, is worried about his youthful indolence, careless attitude and lack of will to succeed in life. She wonders if this drunkard will ever realize and reciprocate her feelings for him. Will he ever come up in life and proceed to marriage or will she be forced to let her love die without blooming? Equally terrifying is Krupa's fierce obsession - a career in the police. Will Krupa's obsession kill him even before he realizes his dream?
Daya (Prasanna) and Logu (Pandiarajan) are ruthless criminals who kidnap girls from affluent families; after claiming the ransom, Daya rapes them before discarding them like used gloves. They are least bothered about this disgusting pattern of their lives; both are so selfish and self-centred that they could happily eliminate each other for personal gain. Daya and Logu do not like Sathya's shrewdness and his interference with their affairs. Daya decides to eliminate Sathya before embarking upon the next kidnapping.
Destiny brings them all together. Krupa fails in his Police entrance exam; Sathya, with a sudden change of mind, attempts the test; surprisingly, he gets through. For some odd reason, Krupa ostracizes and avoids Sathya for his own failure and friendship changes to grave enmity. Krupa, torn by his illogical hatred and in serious debt to Daya, mindlessly falls into the vicious trap set by Daya. He orders Uthra to bring the borrowed money and agrees to meet the menacing Daya at an appointed venue. Little does he know about Daya's latest project. Before he realizes it, Krupa is stuck in a complex and compromising situation. There he meets Sathya, not as his friend but as a Sub-Inspector on duty. Will Sathya put an end to Krupa and their friendship then and there? When he acts, will he swing towards friendship or duty?
Mysskin's plot and the intensity of his imagination is so intense that all the characters in the movie enter the audiences' hearts as soon as the movie commences. Mysskin has indeed done it again; he has captured an affecting realism in Anjaathe. The story creates horror when there is a choice between friendship and duty. The only negative aspect is the slow-paced sequences that put a brake on the screenplay.
Prasanna, Narain and the new hero Ajmal Ameer score through their astounding performances. Special congrats to Prasanna for his bold attempt in appearing as a villain. Vengeance burns in those expressive eyes. Narain's character can be recognized from real life and it is the one that interacts with all the other characters. He has underlined the transformation from an irresponsible young man to a cop with his powerful performance. Vijayalakshmi's role appeals as original and touching. M.S. Bhaskar, Livingston, Ponvannan have done well in the pivotal characters given to them. Pandiarajan has an important role.
The film also boasts of about 25 new faces. 'Bomb' Ramesh plays the role of Kuruvi, a character similar to Gana Ulaganathan, appearing throughout the film. Stunts by Action Prakash and camerawork by Mahesh Muthuswamy are outstanding.
Music by Sundar C. Babu is appropriate for the theme. 'Kannadasan Karaikudi' and 'Kathazha Kannala' remain on the listener's lips. The film has reaped the benefits of spot editing, with Sadagopan Ramesh on the location using Apple Final Cut Pro machine which shows the edited version in minutes.
Mysskin's Anjaathe has pinpointed the path to success and audiences have already begun to anticipate his next venture.