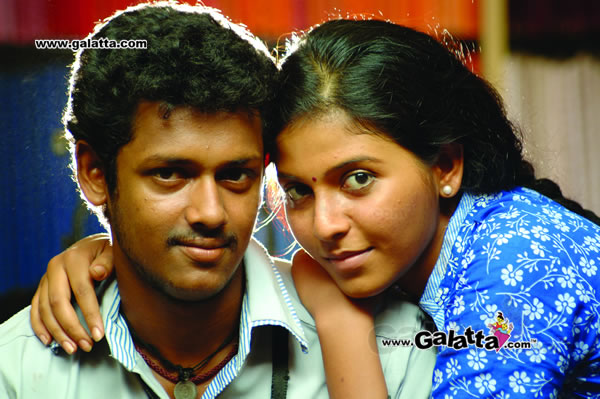 About

Angadi Theru
The story on the lives of a salesgirl and sales boy of a popular saree store in Chennai.
Angadi Theru Movie review
Welcome back to real, solid film-making! In this era of shallow, fraudulent movies with non-existent plots, here is a definitive movie with a moral framework, one that works and keeps your attention riveted. Angadi Theru, straight from the heart, comes from Vasantha Balan, a director who understands the nuances of making a realistic film with well-etched out characters and strong screenplay.
After creating waves with his Veyyil, Vasantha Balan is back with his next venture Angadi Theru with a slew of new faces in the lead roles. This film is the story of hundreds of ordinary youngsters, just out of their teens, who come to Chennai with many dreams but end up leading mechanical lives. If you want to watch a movie which pulls your heart-strings, makes you emotional and touches your soul, this is it. Narrating the common man's struggle and sufferings, the true story of many families, this beautifully-made movie is shot in various scenic locations in Tamil Nadu. It takes a great deal of guts and enormous research to produce a realistic story; even after that, the risks attached to making it watchable and successful are truly many. Truly Ayngaran International is to be lauded for this film!
What is it about?
The story begins with a bang! A beautifully picturised song shows the protagonists sloshing their way through the rain-drenched streets of Chennai at night, searching for a place to sleep. Their search ends at a pavement where many workers are sleeping. Suddenly, a lorry rams into another vehicle and then runs over the labourers in a horrifying, bloody accident. The scene shifts to the hospital where a policeman asks a victim about his family. The flashback begins!
Jothilingam (Mahesh) is a bright boy and tops in his Plus Two exams. Due to sudden death of his father, Lingam (as he is called by everyone) is forced to work to support his poor family. He ends up getting a job in a swanky textile shop at the crowded Ranganathan street in T. Nagar, Chennai along with his friend Marimuthu.
Kani (Anjali) is employed at the same shop. After some initial unfriendly encounters, love eventually blossoms between the two. Hundreds of young girls and boys are forced to work here under terrible working conditions. An almost machine-like lifestyle, a pathetic mess where everyone practically attacks his inadequate and tasteless food and the equally bad accommodation make their lives miserable. The rest of the story is about how the protagonists survive in these harsh conditions and what happens to them when fate is even more cruel? The film has many twist and turns with a brilliant climax!
Violation of human rights, pitiable work conditions and sexual molestation as punishments are depicted in the most realistic way. Romance between co-workers, hilarious love poems, blind vendors, a physically challenged worker and his faithful wife -- all these will stay in our hearts forever.
Newcomers are the asset of this film. Debutant Mahesh has given a neat performance but needs to improve in his expressions. Anjali of Kattradhu Thamizh fame and Marimuthu are other pillars of support. Music is scored by Vijay Antony and G.V. Prakash. Richard M. Nathan, who had worked with K.V. Anand, makes his debut as cinematographer and has worked in tandem with the mood of the film.
With a sad but beautiful ending a very powerful storyline, Angadi Theru is one of the best-made recent movies with a touch of class. If you have a taste for good cinema, Angadi Theru is a must-watch movie.