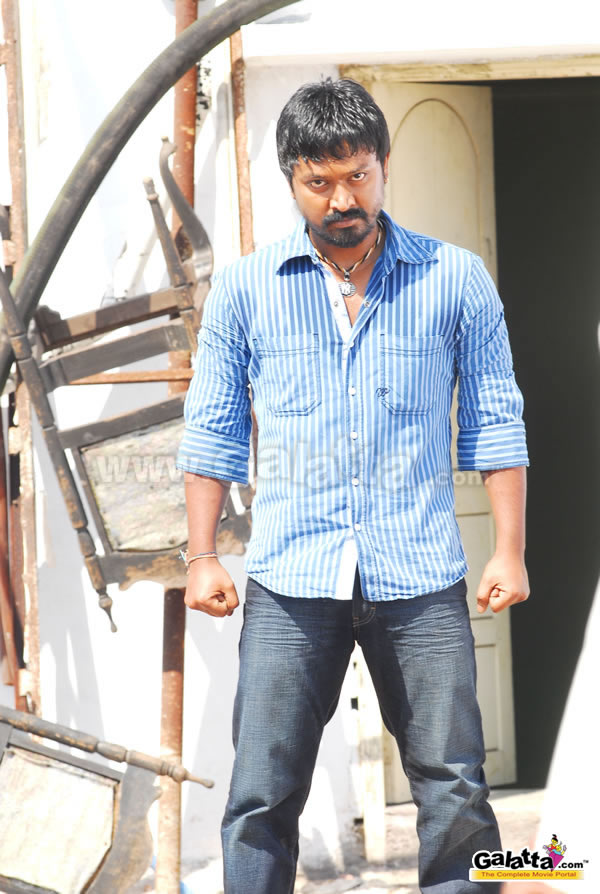 Alibaba Movie review
There was a time when movie heroes represented ideal beings, embodiments of only the good things in the whole world, virtuous demigods. Recently, a sudden change has come over the characterization. At par with the changing times and trends, today's heroes display more realistic characters, often with feet of clay. No stringent rules guide their actions; in fact, they break rules invariably to suit the time and need. Yet, amid all these changes, they continue to remain fighters and crusaders of justice. In all respects, the monotonous stereotypes have ceased and given rise to a refreshing and diverse race. Alibaba's hero belongs to the latter kind.
Vetrivel (Krishna) and Subramani (Prakashraj), the father-son duo, along with their partner Jeeva, form a trio of robbers engaged in casual and petty thievery. Subramani is a level-headed smart individual who guides the gang. His precious advice serves as the guiding light for the other two performing amateurs. "Whenever one goes for a break-in, the best way to get out of the spot without being traced or caught is to put the blame on an innocent onlooker present in the spot. Every situation is blessed with a susceptible onlooker whose looks and demeanour announces his vulnerability and the challenge lies in spotting him correctly," is one of Subramani's best nuggets of wisdom.
Vetrivel meets his sweetheart Janani (Janani), a bank employee, while he is on one of his assignments. On the other hand, Narayanan (Thilagan) and Minister Sandhana Pandian (Radharavi) are crooks engaged in staging a porno scam on the Internet. Narayanan arranges to abduct pretty teenage girls, rapes them, takes obscene shots of these girls and publishes the porno video clips on the Internet. Narayanan's son-in-law Rajasekar (P.G. Menon) is the Commissioner of Police. When Vetrivel and Narayanan's cases come under his investigation, Commissioner Rajasekar traces the origin of the crime to his beloved father-in-law. Coming to know about his smart moves, the cunning father-in-law murders his son-in-law and buys the Commissioner's deputy Thiagarajan (Azhagam Perumal) too for a smart sum. In the bargain, Narayanan tries to make Vetrivel as the common victim, guilty and punishable for both the crimes.
Meanwhile, robber Subramani breaks into the Deputy Commissioner's house. Narayanan's men thrash Subramani, almost to death. However, Subramani's professional instincts smell the impending danger awaiting his son Vetrivel. On his death bed, Subramani promptly leaves a clue for Vetrivel. Meanwhile, Vetrivel who does not decipher his father's last cryptic words, gets caught in the police net. However, he manages to escape from custody. Along with his lover Janani's help, how he unearths facts, files and evidence and exposes Narayanan's dealings leads us to Alibaba's action-filled climax.
Direction and script by Neelan Sekar (director Vishnuvardhan's assistant) are different and have a lot to be admired. With a clear understanding and a view to match the story's strength as well as treatment, Sekar has added an enthralling dimension to each of its characters.
Alibaba is the debut film for Krishna, son of producer Pattiyal Sekar and brother of director Vishnuvardhan. Indeed, he has used his launchpad very effectively to impress his identity as the leading lad. As an easy-going, fun-loving thief, Krishna's character as well as his matching performance piques audiences' curiosity. Prakashraj hits yet another jackpot through his role in Alibaba. Heroine Janani, P.G. Menon, Radharavi, Azhagam Perumal comprise the rest of Alibaba's stellar cast. Of the villainous lot, veteran Thilagan is potentially forbidding.
Dinesh Kumar's camera follows the all the roller-coaster action in the story with an astonishing potency and verve. 'Neenda Mounam' in Vidyasagar's music is a gem.
In addition to