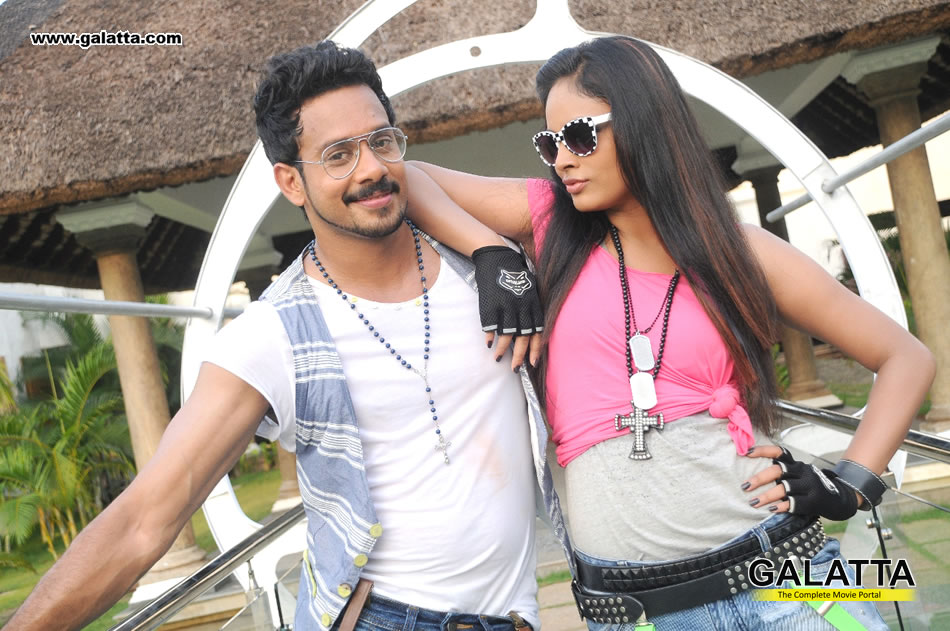 About

Ainthaam Thalaimurai Siddha Vaidhya Sigaamani
Actor Bharath's 25th movie, starring Nandita as the female lead, with music by Simon. An out-and-out comedy movie.
Ainthaam Thalaimurai Siddha Vaidhya Sigaamani Movie review
Ainthaam Thalaimurai Siddha Vaidhya Sigaamani (ATSVS) is actor Bharath's 25th movie and stars Nandita as the female lead. Written and directed by LG Ravichandar, the movie has over twenty comedy artistes in it. Produced by Pushpa Kandasamy and S. Mohan under the Rajam Productions banner, the movie has music by Simon (who has earlier composed for Bharath's Ainthu Ainthu Ainthu - 555).
Sigamani (Bharath) hates going to school after one of his teacher's beats him, and his wealthy parents (Premi and Kadhal Dhandapani) also support him in his decision of not wanting to study. Sigamani grows up to be a Siddha medicine practitioner - the 5th generation practitioner in his family. But, unfortunately, he does not have any education and does not know to read or write or even count. Sigamani has four friends (Soundararaja, Kottachi, Badava Gopi and another guy) who always cheat him and live off his money and Sigamani doesn't even realise that. He is now running his family Siddha hospital along with other fellow medical practitioners Palpandi (Karunakaran), Sivakarthikeyan (Imman Annachi), Soori (Manobala) and others. Despite repeated attempts, marriage broker Vijay Sethupathi (Singampuli) is unable to find an educated girl for the uneducated Sigamani. Finally, Sigamani decides to take things into his own hands and with his friend Palpandi goes to an engineering college and stands outside waiting for the love of his life. Here it is that he gets to see Nandhini (Nandita). Convinced that he is going to marry an educated girl in Nandhini, Sigamani starts following her and meets her father Silambam Chinna Durai (Thambi Ramaiah) and is mistaken to be an allopathic doctor with an MBBS degree. Sigamani does not bother to correct the notion that he is not an allopathic doctor. However, Nandhini herself has a secret of herself. Sigamani's greedy friends plan to expose the truth to his in-laws and break up his marriage - Will they succeed? Sigamani's good heart in helping a person escape from gangsters makes him their enemy. How does Sigamani escape from all his enemies and their plots? What is Nandhini's secret? How does everything end? Watch ATSVS to know the remaining.
Director LG Ravichandar has taken a very light-hearted script but with a message to set the stage for Bharath's 25th movie. From his beefed up look for his last movie 555 Bharath has toned down and turned into an unassuming village lad for this movie. He has believed that humour is the subject that reaches the audience the best and turned to it for his 25th. Bharath's performance is good. Nandita as the rural belle is good. The star of the show is Thambi Ramaiah. His role as Nandita's father and Bharath's proud father-in-law is outstanding. All the comedy artistes - Karunakaran, MS Baskar, Manobala, Imman Annachi, Charms, Badava Gopi, Mayilsamy, Madhan Bob and the rest crack up the audiences with their comedy. Kannada star Komal Kumar as Dr. Sathish Kumar has made a very good debut in Kollywood.
Simon's music is good and the 'The Elarai' song which was a fusion of foreign artiste Yabama Jo and our very own Gana Bala, was very good. The other songs are also noteworthy. PG Muthaiah's cinematography is good as is the stunt choreography by Hari Dinesh and dance choreography by Dinesh and Robert masters. Vijay's editing keeps the movie going at a fair pace. The comedy sequences lack some punch at times, but the overall good humour is maintained throughout the movie. The space that each comedy actor has been given needs a special mention.
Ainthaam Thalaimurai Siddha Vaidhya Sigaamani is a very good choice for quite a few laughs and Bharath has chosen wisely for his 25th!