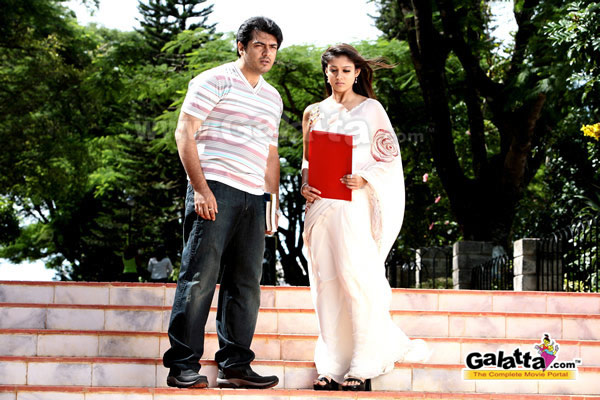 Aegan Movie review
First Word:
Most moviegoers worldwide want to be entertained when they step into a theatre. So do our Tamil audiences. If a movie fails to entertain and delight them, it rarely has a 'hit' tag attached. Here comes a movie which purely entertains - especially the fans...!
Who's In It?
The king of opening Ultimate Star Ajith, fondly called as 'Thala' is back again after the blockbuster hit Billa with Aegan. His first and the only release for the year, it has been in the limelight since production. Ayngaran International, the market leader in overseas film distribution has stepped into the shoes of a producer along with actor-turned-producer Arun Pandian for Aegan. Raju Sundaram makes his debut as a director and has also written the script which seems to be inspired by Farah Khan's Main Hoon Naa starring Sharukh.
Aegan has Ajith and Nayantara romancing once again on screen after their successful combo in Billa. The pair shares a much better chemistry as the lead pair in Aegan. The movie also stars Suman, Nasser, Jayaram, Suhasini, Navdeep and Poi Solla Porum Piya. Yuvanshankar Raja has composed music for Aegan, making it a hat trick with Ajith. The cinematography is taken care of by Arjun Jana, an assistant to P.C. Sreeram and Nirav Shah. Stunts are by Stun Siva. Anu Vardhan has designed the costumes for Ajith.
What's It About?
Commissioner Nasser and his department are hunting for evidence to nab pharmaceutical tycoon John Chinnappa (Suman) for his life-threatening adulteration in medicines and other illegal activities. Ramprasad (Devan), Chinnappa's closest friend and partner in crime, turns approver and is on his way to testify against him in court. Along with the policemen protecting him, he is attacked by Chinnappa's men but manages to escape. The Commissioner, frustrated about the security measures of his men, hands over the task of finding and arresting Ramprasad to his son Siva (Ajith), a brave and honest CID officer. To carry out this mission, Siva is ordered to join a college in Ooty disguised as a student where Ramprasad's daughter Pooja (Piya) is a student. The Commissioner plans to arrest Ramprasad when he visits his daughter.
After enrolling as a student, Siva tries to become friendly with Pooja and her gang to know where her father is hiding. In the meanwhile, he also gets to romance Mallika (Nayantara), a professor at the same college. The twist in the tale comes when Siva comes to know that he is an orphan, finding this bitter truth from his long-lost mother (Suhasini) and his brother Narain (Navdeep). The remaining plot revolves around how he finds Ramprasad, who then leads him to Chinnappa.
The Performance
Ajith is at his best when it comes to his looks in Aegan. Anu Vardhan has created wonders with her costume design in Billa and she does the same here, in a more fashionable way. It has been a while since we saw Ajith doing comedy in his movies; in Aegan, his comic scenes with Jayaram, Kochin Hanifa and Nayantara are quite enjoyable, specifically when Thala sings his popular melody 'Unnai Partha Pinbu Naan' from Kadhal Mannan to romance Nayantara. Thala's dance steps for the songs and his style in the action sequences are applaudable. Ajith's charisma and his presence are felt in every scene. Ajith has justified his words in his interviews when it comes to entertaining his fans. The first half of the movie is mainly targeted at satisfying his huge fan following.
Nayantara has proved once again that she is the hottest among the femme fatales of Kollywood. Male audiences will be thrilled by her outfits. She is here to stay as the 'dream girl' of the men for long. Jayaram, as the principal of the college, brings in a few laughs along with Sathyan. Nasser, Suhasini and Kochin Hanifa have played their roles with ease. Sreeman, as the side-kick of Suman, gives an impressive performance.