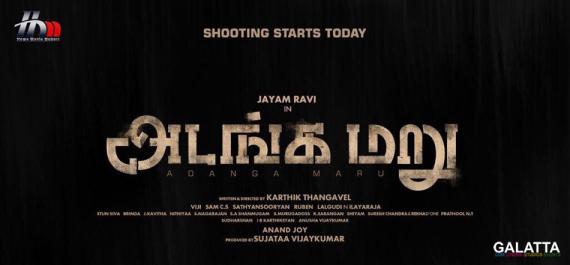 Adanga Maru Movie review
Jayam Ravi as Subhash is a Police constable who is trying his best to become an IPS officer. He takes up a criminal case and handles it genuinely, what happens when the corrupted system puts pressure on him forms the story.
Jayam Ravi yet again proves that he is tailor-made to play cop roles with an apt physique and strong dialogue delivery. Raashi Khanna appears for a few scenes, her portions were a bit funny and a relief too. Other than the lead pair, there are plenty of popular artists who have got only less noticeable roles. The characters are either over dramatic or over cinematic. The meter for the villains are not correctly fixed and so the emotional impact is kind of flat.
The songs of Sam.C.S are not so impressive except for Saayali. His background gives a mixed feeling, the theme track is ultimate but the repetition drained the overall effect. Camera work is topical, the angles are clear and the colors are apt for the mood. Ruben's editing is decent, there are no damages from his side. Stunt choreography is heroic and the rope shots could have been avoided to present the film in a more convincing manner. VFX shots lack quality and there is no neat appeal.
Director Karthik Thangavel has taken a much-needed social issue, he has scripted it decently. The film takes off after the first thirty minutes commercial compromise. The staging is fine as the flow gets interesting with some intense sequences and the break-point leave us on a high. But, the issue starts after that as the filmmaker has tried to incorporate too many things. The filling goes overdose and the impression is only on the mid-level. The execution could have been neater and smarter in many areas, especially in the second half.
A few scenes are powerful, mainly due to the sensible and solid dialogues. There are plenty of logic loopholes which tones down the effect of the conflict. Mass situations are regular and the force-fit factor is a little high. The revenge saga in the latter is violent and a few ideas could have been chopped. Certain sequences are long and drag quite a lot. The technology usage drained out the believability factor and it was difficult to connect with the progression after an extent. The killing-game concept towards the end was amateurish.