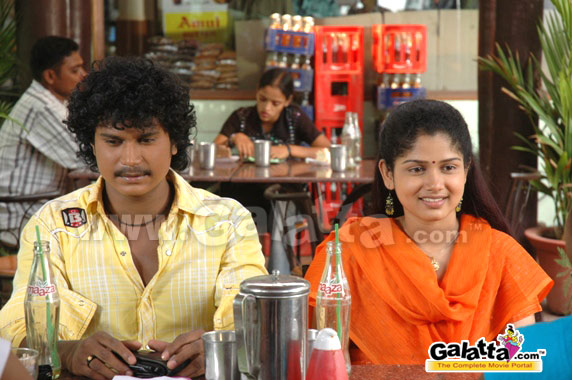 Aarupadai Movie review
"I began to write poems when I was about fifteen. In those days, I was highly influenced by folk music and consequently, I used to pen more on that genre. No one knew, even my mother, that I recorded all my intellectual fragments in a diary, which I have even today! When I graduated, I started to re-gather yesteryear memories and imaginations to improve my old works that seem to convey no intelligible meaning! I spent hours to put sensible dimensions on them, but in vain. And today in my thirties, I've completely stopped touching the diary, which can have no use, but be treasured in a corner among the rough papers in my literary workshop." -- An unknown author.
We hope that after several years, director K.B. Sarvatheerthavan may feel the same sense of regret about his latest movie Aarupadai, starring newcomers Guru and Asha in the lead! As the children always lack a comprehensive vision on their up-and-coming creativity, Aarupadai too misses the basic elements of filmmaking; be it in direction, script, music, cinematography, background score, presentation and the performance of the artists.
Produced by R. Chinnasamy Gowndar, Kovai Dharman, P. Chinnadurai and Kovai Samy under the banner of CD Films, Aarupadai was initially touted to be a suspense thriller with 'an English film feel'. The director reportedly waited more than eight months for the hero Guru to grow his hair and have a different hairstyle. Moreover, the director has been struggling to complete the film, which was dragging non-stop due to injuries suffered by almost all the crew members, starting from the cinematographer, stunt master, hero, heroine, director and the producer. Of course, we appreciate all these; still, the filmmakers have tried come up with a genuine venture even at the cost of personal injury.
In fact, Aarupadai has all ingredients of a potential blockbuster: action, comedy, sentiment and glamour. But when it comes to the execution of these ingredients, the crew has created a negative rather than positive impression among the audiences! Let's take some instances. What will you think if you find more than seven out-of-focus scenes right in the first half of a commercial film? When the comedy is something understood by the makers only? When actors deliver dialogues without understanding their meanings and associated emotions? When you can't hear or understand the lyrics in the songs? When the romance between the lead actors does not elevate any celestial feelings or at least smiles on our faces? Questions like these continue!
At some points, it seems the filmmakers have no concern over the quality of the film which they want to market! Sexy sirens Malavika-Laksha team's item numbers do not help the film in the midst of this chaos. All in all, Aarupadai is a typical example of the inexperience of all men in and behind the screen. Aarupadai is all about Guru, a photographer who tries to save his girl friend from the sexual appetite of his boss. The story develops on how Guru kills his boss in an effort to save his love interest and becomes a victim of some adverse circumstances.