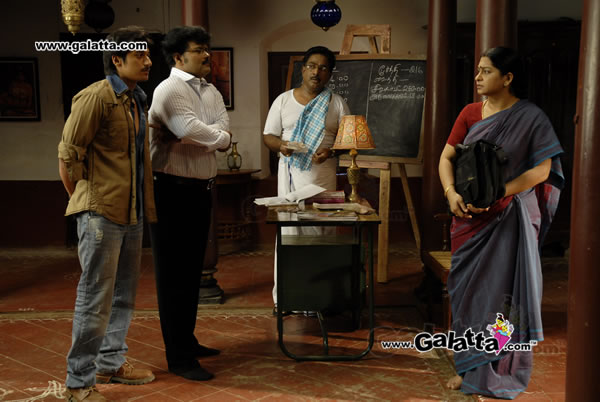 Aarumaname Movie review
It is a challenging task to make a film with newcomers and present it satisfactorily before audiences who apparently have a predetermination to accept only the pranks of their favorite heroes or so-called established actors! Director Sudheesh Sankar (assistant of director Sethu Madhavan) and producer K.S. Rajan have taken a financial risk to come up with Aarumaname, starring debutants Deepak and Nicole in the lead roles - and, hopefully, their risk has paid off! Aarumaname is one of the decent entertainers released in 2009 and has all elements of a mass thriller with masala in the right quantity and quality!
Aarumaname revolves around Vaithai (Deepak), a school dropout working as an auto rickshaw driver in a village near Tirunelveli. His father Arunachalam, a retired mathematics teacher, is not happy with Vaithai, who is diametrically opposite to his elder brother Murthi. Murthi is well-known as an engineer with a clean reputation, working in the PWD. The film begins with Vaithai's clashes with Ananthi (Nicole). Unaware that Ananthi is the younger sister of the unscrupulous RR brothers Ratnavel and Rajadurai (owners of RR Builders) who are constantly trying to bribe his brother Murthi to get his approval for a five crore project, Vaithai (predictably) falls in love with her as the story unfolds.
A twist in the story comes when Samikannan (Thalaivasal Vijay), Murthi's officer assistant and family friend, forges Murthi's signature on the project documents given by RR Builders and approves the project in their favour. He then hangs himself due to guilt feelings. Due to pressure from his father, Murthi is then forced to marry Samikannan's only daughter Thenmozhi. After six months, Murthi is unexpectedly murdered by an unidentified group and Periasami (Kanja Karuppu) happens to be the only eyewitness. Fearing for his life, Periasami goes missing.
A major turn occurs when Vaithai comes to know that his brother Murthi had another wife Kathambari (Karthika) and a child, who are now alone and uncared-for. After some flashback scenes, Vaithai brings Kathambari to his house, ignoring opposition from his family; he also has to face allegations that he has married a lady who already has a child. Irked by these rumours and Vaithai's silence, Ananthi splits from him and agrees to marry another. How Vaithai finds solutions and clear this chaos forms the rest of the film.
Though the story is clichéd and predictable, the director has paid adequate attention to the script to create unexpected twists and turns at the right places, especially during the last hour, thus keeping the audience involved and interested. It shows his capability as a good storyteller. However, more comedy would have only helped.
The key plus point of the film, of course, is hero Deepak, who looks super and promising. He acts with ease in all portions: romance, dance, stunts and sentiments. If he makes the correct choices, no doubt Deepak could soon be among the leading heroes of Kollywood!
Actress Nicole looks pretty and splendid in her girl-next-door image; Karthika is impressive as Kathambari; other cast members have done justice to their respective roles. Sreekanth Deva's songs, especially 'Chittiram pesuthedi', 'Aro ariro' and the fast number 'Yaro yaro yaro' are striking and his compositions gel with the ambiance of the flick. In spite of some petty bloopers here and there, Aarumaname is a good start for director Sudheep Sankar and Deepak. In short, Aarumaname gives one the happy feeling of watching a good movie after a long time!