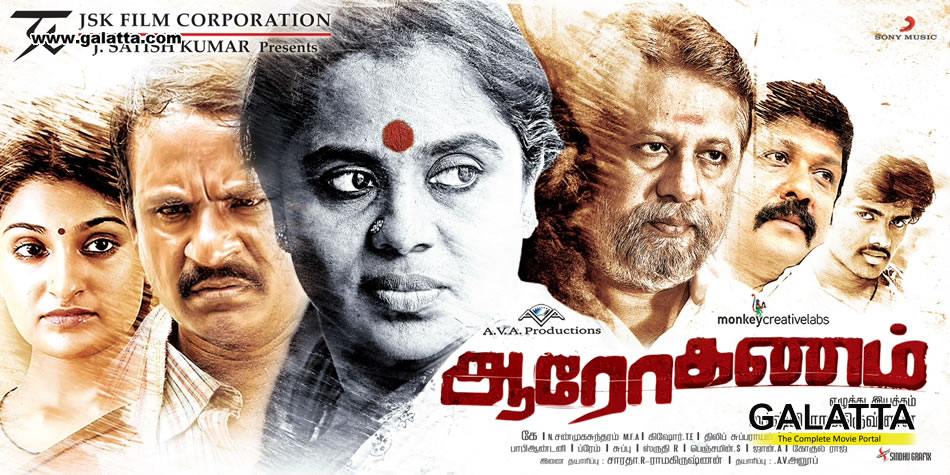 Aarohanam Movie review
Lakshmi Ramakrishnan's debut directorial venture Aarohanam has already created a lot of buzz in the industry even before its release. Produced by Anoop on behalf of AVA Production, and co-produced by Monkey Creative Lab, Aarohanam has Sampath, Jaiprakash, Viji Chandrashekar, Uma Padmanabhan, Raji Vijayasarathi, along with newcomers Viresh and Jai Kuheni in lead roles. Those in the industry, who have watched special screenings of the movie have showered high praise on it, and veteran director K. Balachander is said to have been blown away by the movie! As the movie does not boast of a huge star cast, the distributors, J.S.K. Film Corporation, have decided to release the movie at the perfect time, October 26th!

Nirmala (Viji Chandrasekhar) is not the regular tear-eyed sacrificing mother. She is bold and daring; and of course she had also raised her two children single-handedly without the help of her husband, who abandoned the family to marry another woman. But Nirmala has a problem, she gets angry very soon and if she gets so, she forgets what she does. Nirmala's daughter is all set to get married in few days, her son is in higher secondary. At this point, the lady goes missing...

Meanwhile parallel another story progresses, Sany aka Sandya is a business tycoon and she is on her way with her friend (Uma Padmanaban) for the website launch of her company. And accidently she hits (with the car) a woman....

So the rest of the movie is all about the search for Nirmala by her kids, which is laced beautifully with many flashbacks. And along with all this director Lakshmi Ramakrishnan has manage to insert the concept of bipolar disorder in an interesting way. It is said that the entire film was shot with a Canon EOS 5D digital camera; it was completed in 20 days. Though the film gives a documentary touch, the director has managed to tell a story without loosing its essence. Music by K is apt with the story while camera works by Shanmugasundaram and Kishore's editing are perfect.

If you are bored with the regular masala flicks, try watch some good cinema, i.e. Aarohanam.