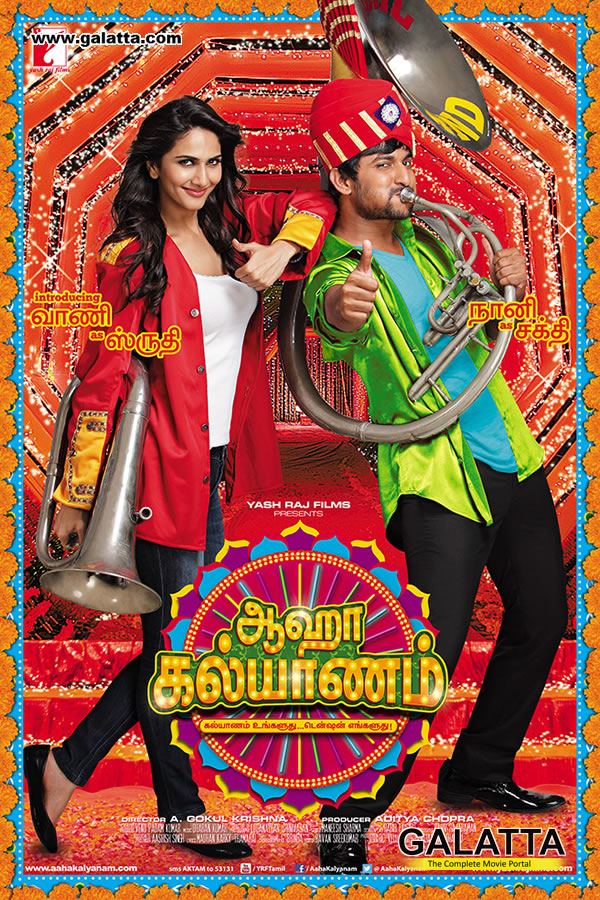 About

Aaha Kalyanam
Partners of a wedding-planning firm face problems when they fall in love.
Aaha Kalyanam Movie review
Yah Raj Films first foray into the south - the much awaited film Aaha Kalyanam starring Nani and Vani Kapoor has hit the theatres. Aaha Kalyanam is the remake of the Bollywood hit film Band Bajaa Baaraat. Gokul Krishna is the director of this Tamil - Telugu bilingual film.
Shakti (Nani) is a college student who doesn't have much clarity on what to do in life. Shakti falls for Shruti (Vaani Kapoor) at a friend's wedding. In the process of wooing her, he figures out that she wants to be on her own and start a wedding planning company. Shakti joins as her partner. After a lot of hiccups, they hit it off well and start a wedding planning company titled Getti Melam. The company starts doing very well and they become a big brand name in the wedding planning market. A small personal incident makes Shakti and Shruti part ways. Each of them start competing against each other by starting their own business. What happens next and how they come to peace forms the crux of the story.
Nani is a very natural performer and it shows again in this movie. He has acted immensely well as a casual guy without any big ambitions. Vaani Kapoor does have a meaty role in the film and she definitely has a long way to go. Gokul Krishna has done a very good job despite being a debutant. Most of the scenes are a direct lift from the original, and some dialogues here and there catch the audience's attention. The cinematography by Loganathan Srinivasan is a visual treat. The colorful weddings on screen are very eye catching. Dharan Kumar's music adds flavour to the film.
Overall, Aaha Kalyanam is Nani's show all the way. Good chemistry, vibrant weddings and Nani's performance make the film Aaha indeed!