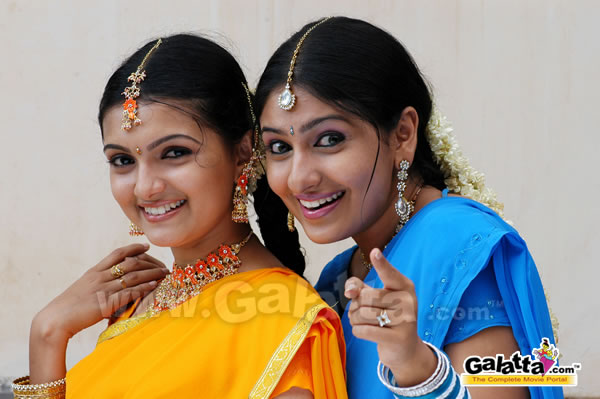 A Aa E Ee Movie review
AVM's A Aa E Ee, a remake of the Telugu film Chandamama, is a refreshing film. Director Sabapathy Dakshinamoorthy has made some suitable changes in the script to suit Tamil audiences. With young actors in the lead roles and a lovely comedy theme, the film could turn out to be the first hit of 2009!
Subramanian (Prabhu) is a rich landlord with a sprawling house, farmlands and property, leading a happy life in his village with his younger daughter Easwari (Charanya Mohan). Easwari is a lovely, fun-loving girl and everyone's favourite. Subramanian is always helping villagers and also practises Ayurveda. His elder daughter Anitha (Monica), who stays in the city, comes back to the village. Subramanian is indeed happy that she has come back and decided to stay with him. When his friends suggest it is high time to settle her wedding, Subramanian, though he considers her young for marriage, accepts the counsel and searches for a suitable groom. Finally, he chooses Ilango (Arvind Akash) son of a local resident Vedhacahalam (V.M.C. Haneefa) and the wedding is fixed. Though Vedhachalam is known for his bad habits and his undisciplined lifestyle, Ilango is a gem. While everybody else appreciates the match, Anitha is upset and unwilling to marry him. Why? She meets Ilango secretly and confides in him. What is the secret? The secret is revealed in flashback mode.
Akash (Navdeep) is a happy -go-lucky, adventure-loving VJ who presents a reality show in a TV channel. Akash sees Anitha while he is working and invites her to participate in his show. Though Anitha is irritated by his casual attitude, she begins to understand Akash's true nature. Slowly, the understanding develops into a friendship; Anitha revels in his company and falls for his charm. They enjoy each other's company one evening and get drunk; Anitha predictably becomes unconscious. The next morning, Akash informs Anitha that when they were both drunk, he had become intimate with her. Anitha is shocked and asks Akash to marry her. To Anitha's shock, he refuses. Without knowing how to convince him, Anitha rushes back to her village.
Now back to the present. When Ilango comes to know this secret, he immediately fabricates a reason, postpones the wedding and travels to Chennai. He meets Akash and after learning his version, brings Akash with him to the village. What happens next? What did Akash tell Ilango? Does his story correspond with Anitha's or is there a twist in Akash's narration? What does Akash do? Does he cancel the wedding? How does he propose to help Anitha? Do sparks fly between Akash and Easwari? What happens on the wedding day? Is Subramanian convinced or is he against the youngsters' wishes? A Aa E Ee travels on a completely enjoyable comedy track till the climax.
Hats off to all the actors! Each one of them steals the show with appealing performances. Prabhu is absolutely cut out for the role of a caring yet understanding father. His charm is the highlight of his character. Arvind Akash has offered a mature performance as one of the heroes; his character has a perfect proportion of energy and emotion. Navdeep suits his part. He too has done a good job. The two heroines impress equally but for different reasons; Monica co0mes across as a responsible girl whereas Charanya Mohan is the talkative one. Manorama appears in yet another high-impact character; V.M.C. Haneefa as Ilango's father and Kanja Karuppu as his friend make a mark through their comedy.
The film has no dull moment at all! Srinivasan's dialogues and Aruldoss' camerawork are big assets to the film. The title number 'Aa Ee in Vijay Antony's music is good.
Kudos to AVM Kumaran and Shanmugam for making a striking comeback through such a quality and wholesome