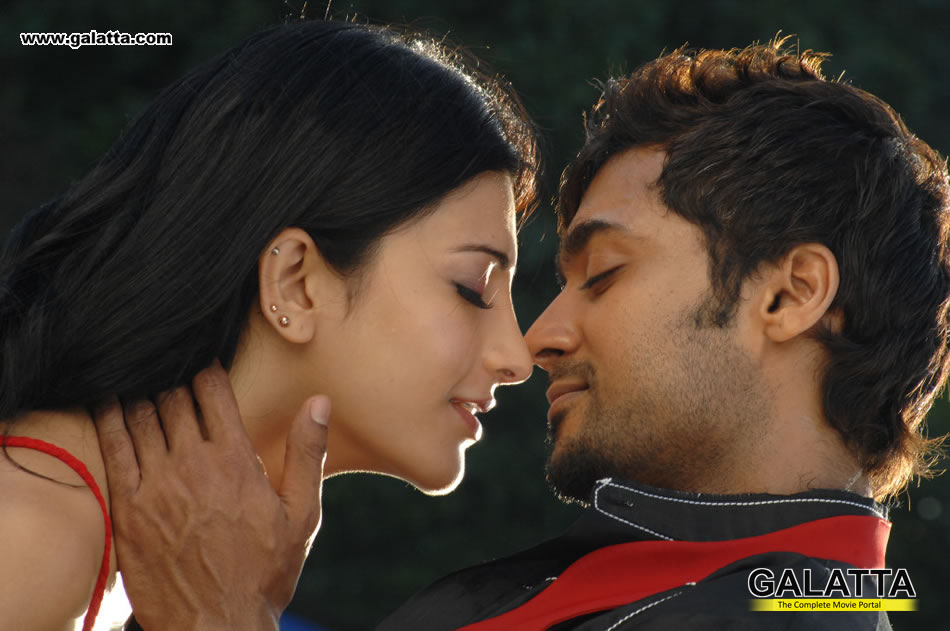 About

7 Aum Arivu
A young Genetic Engineering research student and a circus artist is on a mission to save India from a Chinese bio-war meanwhile they find out that an ancient secret about Bodhidharma!
7 Aum Arivu Movie review
And here comes the D day finally; the review of Suriya's much awaited 7 Aum Arivu, only on Galatta.com.
After weeks of flashy trailers and posters, expectations have already reached sky high for this sci-fi flick, thanks to the innovative promotional activities by director Murugadoss and Suriya. The film, produced by Udhayanidhi's Red Giant Movies, is made with a whopping Rs 84 crores, the highest budget film in Suriya's career till date. 7 aum Arivu, which has cleared the Censors with a clean U certificate, is releasing with more that 1000 prints across the globe. In Tamil Nadu alone, the film will grace in more than 400 screens. Suriya and Murugadoss have always maintained that 7 Aum Arivu will be a world class Tamil film and it will stand apart; so have they fulfilled our expectations? Read on...
Suriya's Bodhidharma look and history behind this Tamil prince who is being workshiped in many Shaolin temples is already a talk of the town. Moreover 7 Aum Arivu will also mark the Tamil debut of Shruti Haasan, daughter of veteran Kamal Haasan. Apart from all these, the film also brings back the super hit trio, Suriya-Murugadoss-Harris, after the blockbuster Ghajini. Considering all these facts, its no wonder that the film has received tremendous pre booking response; infact almost all the theatres are fully booked for the next five days.
What is it about?
7 Aum Arivu is the story of Bodhidharma (Suriya), a young prince from Kancheepuram who traveled to China and preached martial arts which led to the creation of Shaolinquan.
It's about a young Genetic Engineering research student Subha Srinivasan (Shruti Haasan) who comes with a sensitive research topic which leads to many troubles.
Then there is Aravind (Suriya), a talented circus artist who falls in love with Subha.
And finally we have Dong Lee (Johny Tri Nguyen) a loyal Chinese servant and an expert in martial arts. He is on a secret mission to India.
THE PLOT
The film begins with Bodhidharma's story; being an expert in martial arts and medicine, he travels to China on his mother's order, leaving his wife (Abhinaya) and two children. In China, he saves a whole village from a dreadful disease and in turn the people rechristen him as Damo. Being an expert in Kalari and Nooku Marmam he also fights for the village against the enemies.
Note: Bodhidharma is an important personality in Buddhist history. Even today, his statutes are worshiped in many Shaolin temples across the globe. According to Chinese history, he was the first person to begin the physical training of Shaolin monks that led to the creation of Shaolinquan.
Fast Forward to present era; Aravind, a talent Tamil circus artist is the main lead at 'Great Bombay Circus'. He hails from Kancheepuram and obviously falls in love (at first sight) with a young research student, Subha who is very ambitious on her studies. She has high plans on doing a detailed research on DNA and heredity, a first-of-its-kind in the world.
On the other hand a loyal Chinese army servant Dong Lee, an expert in martial arts and Nooku Marmam, who comes to India on a secretive mission which is called as 'Operation Red'. A series of events reveal that Dong Lee is on a mission to kill Subha. So why should he kill Subha? How is Bodhidharma connected to all these? What will Aravind do to save Subha? Will Dong Lee succeed in his mission? To know answers to all these questions, rush to the nearest theatre to watch 7 Aum Arivu!
THE PERFORMANCES
Actors
7 Aum Arivu is a dream debut for Shruti Haasan in Tamil; she couldn't have asked for a better launch. But she has inturn surprised us with her wonderful performance. Her character, Subha Srinivasan, is the heart of 7 Aum Arivu and she comes out with flying colors. But her not-so-perfect Tamil diction needs to be improved. As usual Suriya does everything with perfection in this thriller. The first 20 min of the film (where he appears as Bodhidharma) is a must watch and his hard work is visible on each and every scenes.
However the biggest revelation is Vietnamese actor Johny Tri Nguyen who stands out among all; he plays his part with ease. His martial art skills are clearly visible during the fight sequence (especially in the climax). The rest of the star cast (including the Chinese monks, professor and Subha's friends) have done their part well.
The Techniques
What can we expect from a super hit duo like Suriya and Murugadoss? The answer is 7 Aum Arivu. In this film Murugadoss has managed to convey the historical story of Bodhidharma and the contributions of ancient Tamilians, which has been forgot by many. The connect created between history and modern science reminds us of Kamal Haasan's blockbuster film Dasavatharam. The film creates an impact wanting you to know more about Bodhidharma and ancient science.
Murugadoss' racy screenplay is well supported by the camera works of Ravi K. Chandran and Anthony's sleek editing. However the film has three songs in it's first half which could have been reduced. Special mention to art director Rajeevan who has managed to recreate the 5th century with perfection. Harris Jayaraj's songs are already topping the charts and fits the bill perfectly. The film touches several important issues like the power of ancient science, how Bodhidharma is being ignore in his homeland, difficulties in pursuing research in India and the biggest drawback of modern science; bio-weapons.
THE VERDICT
Revisiting and recreating history on screen is one of the greatest challenge in cinema but Murugadoss and his team has managed to do it well. 7 Aum Arivu, as the name mentions, has seven sense! Worth watching on screens, perfect for this festive seasons!