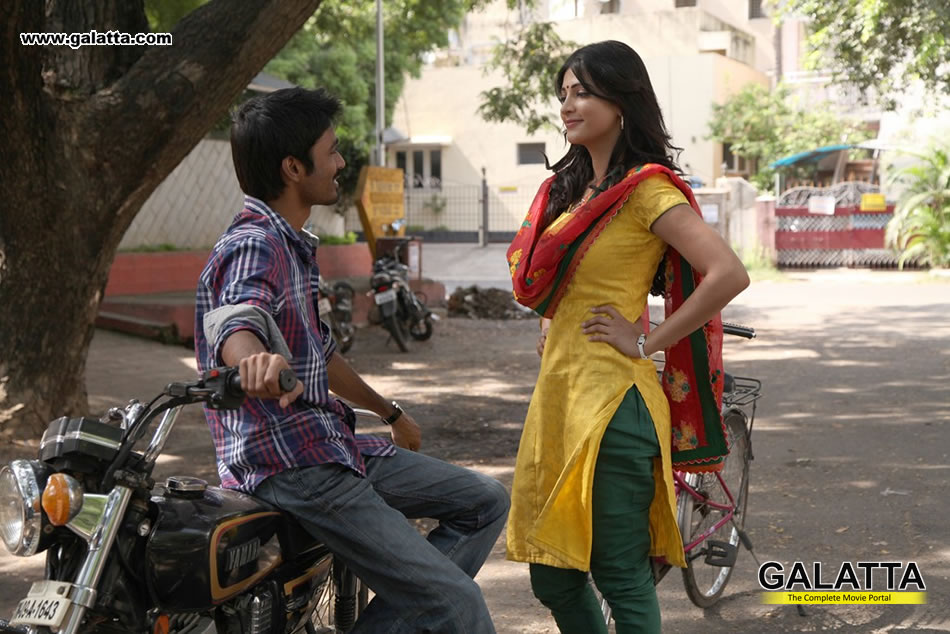 About

3
Ram and Janani's three stages of love - their attraction for each other during their school days, their love at college days, and the relationship when they mature.
3 Movie review
Over the years we have seen many super hits and blockbusters in Tamil cinema but the Kolaveri rage was definitely an unexpected miracle. The song literally took the whole world by wave; Kolaveri's Tanglish lyrics, simple music and Dhanush's desi voice did wonders. After all the song become one of the most watched video within few days of its release. So obviously expectations for 3 are sky high!

Coming back to 3, the film is the directorial debut of Superstar's elder daughter and Dhanush's wife Aishwarya Dhanush. Direction is nothing new to Aishwarya, she has earlier worked as an assistant director to Selvaraghavan in Aayirathil Oruvan. And playing the female lead is Kamal Haasan's daughter Shruti Haasan. We all know about the off screen bonding between Rajinikanth and Kamal and now it looks like the next generation is all set to continue it.

Talking about the title 3, director Aishwarya has earlier confirmed to Galatta.com that the film will depict three stages of love (school, college and current) and that is the reason why the team has decided to name the film as 3. So that means Dhanush will appear as a school and college goer on screen after a long gap. A lot has been spoken about the sizzling chemistry between Dhanush and Shruti, which is reflected well on screen. The film is produced jointly by R. K. Productions and Dhanush's Wunderbar Films.

WHAT IS IT ABOUT?

3 is a poetical tale of love between Ram (Dhanush) and Janani (Shruti Haasan). The film opens with a visibly shattered Janani remembering her memories with Ram.

And from there the flashback begins... Ram (higher secondary student) meets Janani on a rainy morning and its love at first sight for him. He begins to follow her everywhere and after a series of events she reciprocates. Ram hails from a rich family and he is pampered by both his dad (Prabhu) and mom (Banu Priya). On the other hand Janani belongs to a working class family and her parent has dreams of settling down in US.

Fast forward: Five years later Janani's parents decides to migrate to the States, at this point she breaks the suspense about her affair with Ram. Even though Janani's parents are against this relationship, Ram and Janani ties the knot to begin a new life.

Cut to present state: So why is Janani shattered? Where is Ram? What will happen next? Watch out for 3 to get the answers.

THE TECHNIQUES

We all know that romance is the soul of cinema, be it any language and 3 is one such intense romantic tale. The first half is perfect and feel-good while in the second the story deviates from its track. In fact the second half unveils a different storyline altogether. After spilt personality, developmental disorder and dyslexia, director Aishwarya has tried to address 'Bipolar Disorder' where a person experiences abnormally elevated energies levels, cognition and moods (with more depressive episodes). When handling such an intense issue, Aishwarya could have concentrated more on the story to make it more racy and interesting. Infact it gives us a feel that we are watching two different film.
3's screenplay is well supported by cinematographer Velraj, who has used different tones to capture the emotions in the first and second half. There is no doubt that debutant music director Anirudh is the biggest revelation of Tamil cinema in recent times. Music rocks; especially the intense BGM's. Interestingly none of the songs are misplaced in 3; it arrives at the right time in right style. However there is nothing new in the much-hyped Kolaveri track; the picturisation could have been better after all the song broke records globally. Editing by Kola Bhaskar is perfect in the first half but post the break it could have been better. Oscar-winning sound engineer Resul Pookutty's sound works take Anirudh's music to next level.

THE PERFORMANCE

It's a Dhanush film all the way and the actor has played his part perfectly. Insecurity, love, sacrifice, responsibilities, care, affection and so on... the actor has emoted each and every emotion with ease; more importantly no overdose of emotions. But there are shades of Mayakkam Enna, Kadhal Kondein and Thulluvatho Illam in 3. This is Shruti Haasan's second film in Tamil and she has really improved a lot in terms of acting. However the actress needs to work on her Tamil diction, which at times give an artificial touch. Photographer turned actor Sundar has a meaty role to play in this flick and he has done it well too. The rest of the star cast (Prabhu, Banu Priya, Rohini and Siva Karthikeyan) have played their part well.

VERDICT

If you thought that 3 is a feel-good romantic entertainer then get ready for a surprise post the intermission.