Release Date :
03-06-2022
Movie Run Time :
2.53 Hrs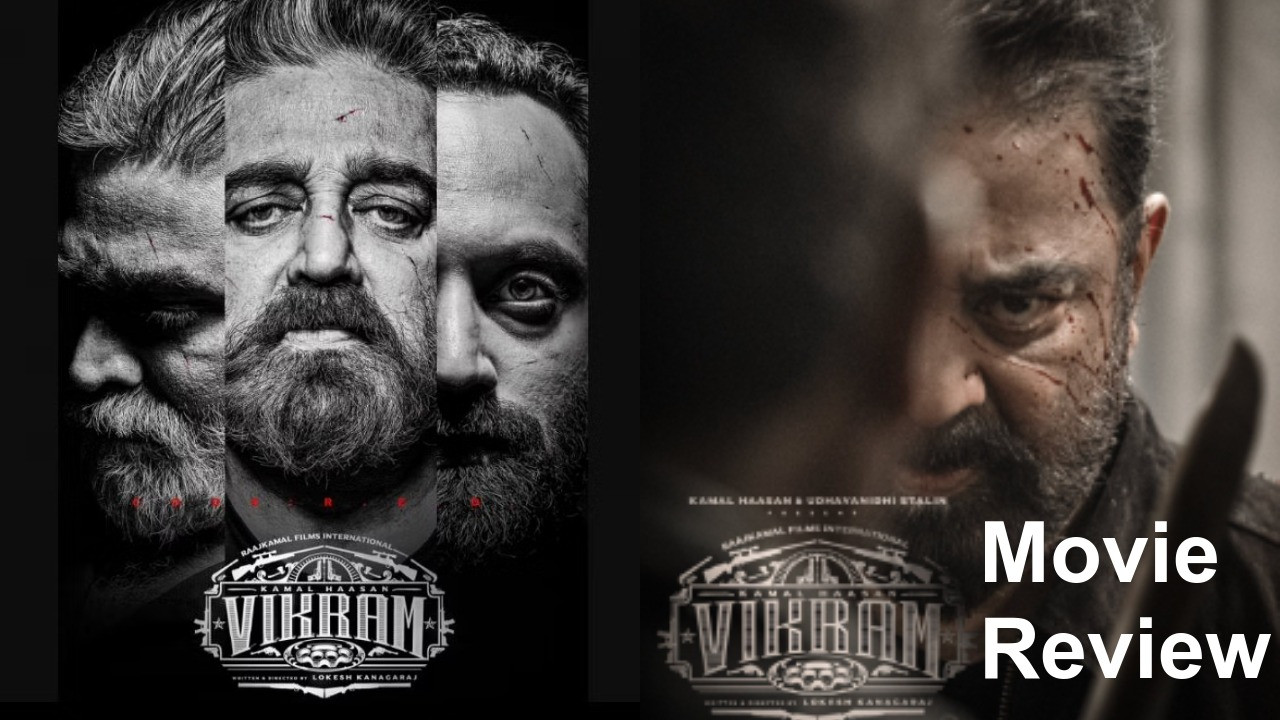 Vikram Movie Cast & Crew
Production :
RaajKamal Films
You get all the emotion you need from Kamal's eyes or from Fahadh Faasil's sly body language. Fahadh manages the considerable feat of almost stealing a Kamal movie.
If Martin Scorsese and Timothy Dalton's James Bond had a baby, it would be something like Vikram. This is a drug-filled gangster movie, filled wall-to-wall with fantastic rock-music riffs, courtesy Anirudh. This is a grim saga about secret agents who sacrifice a great deal to save the world, paying a high personal cost. This is also Lokesh kanagaraj's purest movie to date. During Master, there was talk about the film being 50% Vijay, 50% Lokesh Kanagaraj. Vikram is 100% Lokesh, while also being a 100% Kamal Haasan movie. It is not just about the fanboy, easter-egg references like the name Stephen Raj (Vetri Vizha) or Prabanjan (Kamal Haasan's writer-friend) or the umbrella shot from Sathya or the play on the most famous lines from Nayakan and Kuruthipunal. It is also that fantastic monologue about evolution, which seems plucked right out of Kamal Haasan's screenwriting / dialogue-writing brain. The spirit of Kamal Haasan hovers over the film like a… Ghost.
Vikram runs close to three hours and yet, there is very little flab. The half-hearted romance of Maanagaram - that's not there. The prolonged "family-friendly" daughter sentiment from Kaithi - that's not there. The hero-buildup college scenes from Master - that's not there. Lokesh seems to have finally made exactly the movie he wanted to make - and he has Kamal Haasan to thank for that. This is an action movie – the first real genre-specific action film of Tamil cinema, where even the hero-introduction song (Pathala pathala) becomes a small part of the larger scheme of things (It finds context later in the narrative). The sentimental moments don't kill the flow of the genre because they are not hammered home with "scenes". They are folded into the narrative in little bits. Plus, you get all the emotion you need from Kamal's eyes or from Fahadh Faasil's sly body language. Fahadh is fantastic – he manages the considerable feat of almost stealing a Kamal movie.
At first, we seem to be watching a story about the hunt for masked murderers. But gradually, we see this is about something bigger. Lokesh does not make the mistake of moralising. He simply want us to feel what the stakes are if the good guys fail – and he lets us know that these bad guys really mean business. (There is a lot of collateral damage.) The screenplay demands close attention – there's quite a bit of parallel narration. For example, we get a wife in danger and baby in danger – and we keep switching between the two tracks. It builds slowly and meticulously, adding micro-detail after micro-detail to a police procedural conducted by rogue cops, headed by the Fahadh character. And it cuts loose after the sensational interval block, becoming a full-fledged treat for action lovers, especially 80s/90s Hollywood action lovers.
Anbariv is the action director. He stages the stunts in short bursts, and he uses tight spaces (corridors, stairways) very well. The devil is in the details. When a van hits a bike, the shot feels thrillingly real – which means that the cinematographer Girish Gangadharan and editor Philomin Raj have captured and cut this collision at exactly the right angle and speed. We also get more showy stretches, like the one where the camera thrusts in and out of the space where a masked man fights a number of enemies.
Is Lokesh Kanagaraj building his own universe: the "LKU"? Because we have guns: small guns, bigger guns, and really big guns. We have characters from an orphanage. We have the endless nights – and some excellent night-scene choreography. And we have characters and the drug consignment from Kaidhi, which lead to a fantastic cameo by Suriya. This is the most electric the actor has been in years. You see in his eyes the madness you should have seen in NGK. There is not one bad performance in the bunch, and the writing adds lovely touches like Chemban Vinod Jose checking in on his bedridden father or a surprisingly agile domestic help or a gun-filled scene with Vijay Sethupathi and one of his wives. The dialogues, too, are simple and super-effective – like the lines Gayathrie Shankar utters after a disappointment.
The only issue I had with Vikram is with Vijay Sethupathi's villain. He gets a terrific entry scene and is called the "ullooru Pablo Escobar" and you expect great things from this character. But the writing is content to leave him a rather generic villain. It is left to the actor to add to the role more colour and flavour with his funky presence. And what about the big man himself? He has a ball. This is a self-aware movie, maybe even a meta-movie at some level. When Fahadh tells Kamal, "I am a big fan of your work," or when Kamal echoes the lyrics of the title song of the earlier Vikram, there is some inevitable winking at the audience. But there is no fourth-wall breaking. The film is all of a piece, perfectly realised and a perfect tribute to a great genre and a great actor. Even when absent from screen, we feel his presence. Vikram is not just a fitting big-screen comeback for Kamal Haasan. Thanks to Lokesh and team, he finally has on his resumé the Vikram he wanted to make 36 years ago.
About Author
Baradwaj Rangan
National Award-winning film critic Baradwaj Rangan, former deputy editor of The Hindu and senior editor of Film Companion, has carved a niche for himself over the years as a powerful voice in cinema, especially the Tamil film industry, with his reviews of films. While he was pursuing his chemical engineering degree, he was fascinated with the writing and analysis of world cinema by American critics. Baradwaj completed his Master's degree in Advertising and Public Relations through scholarship. His first review was for the Hindi film Dum, published on January 30, 2003, in the Madras Plus supplement of The Economic Times. He then started critiquing Tamil films in 2014 and did a review on the film Subramaniapuram, while also debuting as a writer in the unreleased rom-com Kadhal 2 Kalyanam. Furthermore, Baradwaj has authored two books - Conversations with Mani Ratnam, 2012, and A Journey Through Indian Cinema, 2014. In 2017, he joined Film Companion South and continued to show his prowess in critiquing for the next five years garnering a wide viewership and a fan following of his own before announcing to be a part of Galatta Media in March 2022.
User Review