Vaanam Kottattum Movie Review
(2020)
Vaanam Kottattum Movie Review
Release Date :
07-02-2020
Movie Run Time :
2:05 Hrs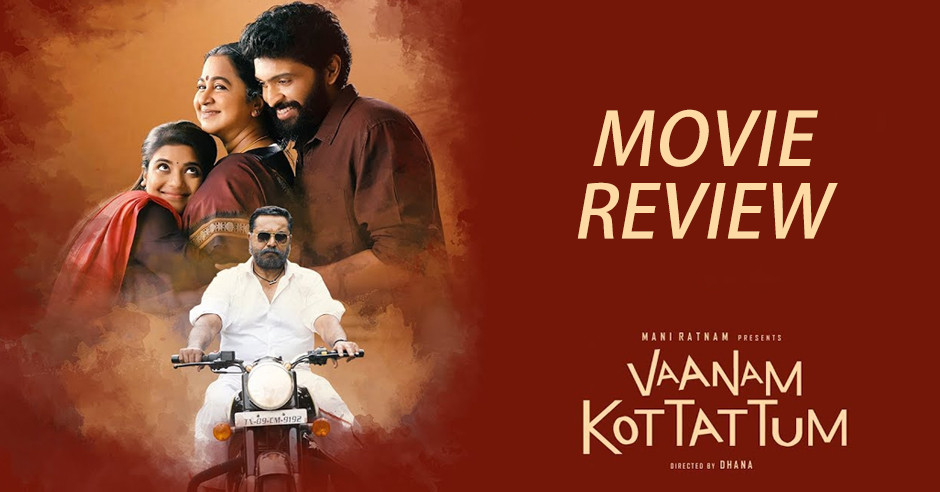 Vaanam Kottattum Movie Cast & Crew
Production :
Madras Talkies
You hardly get to see a simple feel good entertainer with very little conflicts, because our audiences are used to watching larger than life films and stories that have strong oppositions. Vaanam Kottattum is a simple, old fashioned, family drama with not many tough conflicts to battle with; even the struggles of the leads aren't shown much and all good happens to them very easily. All the people shown in the film are good and everything is very positive about the film. It even has a very straightforward treatment and that simplicity is what differentiates this from the rest.
Vaanam Kottattum has some strong characters - a father who comes back from jail after 16 years, a tough mother who struggles hard to bring up her family, an over-protective brother who wants to reach big heights to take care of his family and a smart, loveable sister who is very attached to her family and friends. How does a family accept a father who wasn't there for them while they were suffering? This is the core premise of the film. The writing part here is highly sturdy and all these characters are very believable and consistent. Some might find the narrative slow and soap-opera like but the screenplay is largely consistent and doesn't deviate much from the main track. Mandonna's love track is a little superficial though.
Aishwarya Rajesh looks absolutely effortless on screen and proves yet again that she is one of the very few heroines who can adapt well to all the characters offered to her. You can sense the effort that she is putting behind the screens to fit into each and every role that she is a part of. Vikram Prabhu on the other hand, reminds us of Prabhu from Agni Natchathiram, a short-tempered but protective family man. He does what he has to and it's a role that suits him well. Shanthnu gets a simple role and he underplays his part beautifully, without showcasing his natural cheerfulness. For Radikaa, this role is just like a walk in the park and she delivers it with her natural style. The same thing holds good for Sarathkumar too. Members of the support cast are adept in their portrayals. The pick of the lot has to be Balaji Sakthivel, who is very lively. His scenes with Vikram Prabhu and Aishwarya Rajesh are standouts. He keeps scoring whenever and wherever possible. His acting skills are as good as his direction.
To reiterate, dialogues of the film are one of its strong points with Dhana playing them with effortless ease. Preetha Jayaramanan's camera work is stylish and vibrant while Sid Sriram's songs work so much better with the visuals and though the re-recording might seem redundant, it serves the purpose. Summing it up, Vaanam Kottattum is a light-hearted film that entertains mostly and may find a lot of takers if they are able to connect with the characters on screens!
Verdict: A light-hearted, feel good family drama with some strong writing!
Galatta Rating: (
2.75

/5.0 )
User Review
Vaanam Kottattum Movie News