Triples Web Series Movie Review
(2020)
Triples Tamil Web Series Review by Galatta Jai Vani Bhojan
Release Date :
11-12-2020
Movie Run Time :
2:40 Hrs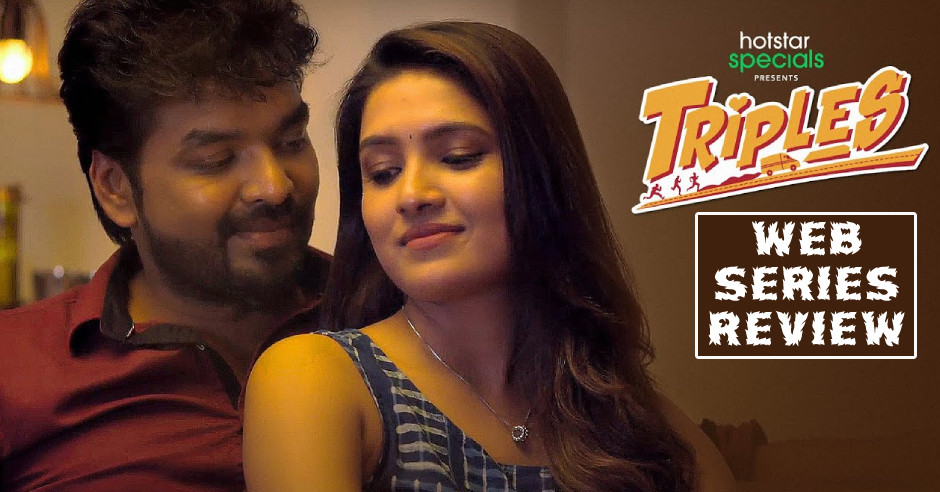 Triples Web Series Movie Cast & Crew
Production :
Stone Bench Films
The COVID-19 Pandemic has brought about a revolution in the way we satiate our entertainment needs. Though OTT (Over The Top) platforms have been around for some time now, this COVID lockdown created a huge boom of sorts for OTTs and with no other place to go for new entertainment, people turned to OTTs and this caused quite a widespread reach for OTT content! This also opened up a number of avenues for filmmakers to showcase their wares and some Original content curated by OTT platforms have been making quite a buzz! Now, DisneyPlusHotstar has come out with an original web-series, which has been produced by Karthik Subbaraj's Stone Bench banner and directed by Charukesh Sekar, who has already created a niche following for his works in the short-films segment!
Triples, as already mentioned in pre-release promotions, is about two marriages and the need to stop one of them because another already ended but the second one cannot happen due to some complications from the other! Another track involves the business dream of three men being passionate about their goals. How far would it lead them? Watch Triples on DisneyPlusHotstar to know the answers...
Director Charukesh Sekar delves into the plot almost immediately and the twists and turns coming together only goes to show that the director has the end point in view. As for the characterisation, it is inch perfect. Writer Balaji Jayaraman deserves a lot of credit for involving the current happenings in plot scenarios and also having references to Crazy Mohan's characters as well as his work from movies like Kaadhala Kaadhala. Having mourned the loss of Crazy Mohan as a writer, we can see how his work has inspired other talented writers and Balaji shows very good promise to follow in his shoes! 
Jai, Vivek Prasanna, Rajkumar and Vani Bhojan have all essayed their parts to perfection! Rajkumar and Vivek Prasanna have gotten very good scope to showcase their talent and they have maximised it. When it comes to a webseries, only the hook at the end of each episode brings in the viewer to watch the next, and we believe that the director has worked enough to maintain that! At a time when vulgarity and offensive dialogues are the norm for OTT, Triples breaks all those templates and creates a new journey! The casting has been very apt and the actors ace their parts.
Apart from playing the lead, Jai has also handled the music composition for a song in Triples. Vani Bhojan is extremely cute and has played her part well. Madhuri Jain has a meaty role and is good throughout but her lip-sync is not perfect at places. There are a number of other actors who come and go throughout the series. The plot takes some time to pick up but races ahead very fast. Namita has played a quirky role and suits her character but seems to over-express at times. Manikandan Achari, who made quite a mark with Petta has been given a solid role.
The cinematography is top-notch and the aerial shots are a treat with the colour palette being very rich in most places. Kalaiselvan Sivaji has to be commended for his camera work. Vishal Chandrasekhar has scored the original background score and one of the songs. The BGM adds to the comic scenes in most places. Though it is commendable to have songs in a web-series, they do not add much to the proceedings. GK Prasanna's editing has to also be commended for the crispness of the series. At no point do we feel the pace lagging.
However, when it comes to the cons, a little too much detailing in a few scenes dilute the proceedings. Also, in some places the humour content seems relatable only to a specific set of people and not everybody. In some scenes the actors look to have forced in comic reactions, when the scene itself naturally gives a comic slant. Towards the end, quite a few characters are introduced but seem to not serve much purpose. 
Verdict: A fun, comic entertainer that works in parts!
Galatta Rating: (
2.5

/5.0 )
User Review