Taanakkaran Movie Review
(2022)
The okayish 'Taanakkaran', by Tamizh, has Vikram Prabhu as a heroic police trainee taking on the System
Release Date :
08-04-2022
Movie Run Time :
1.57 Hrs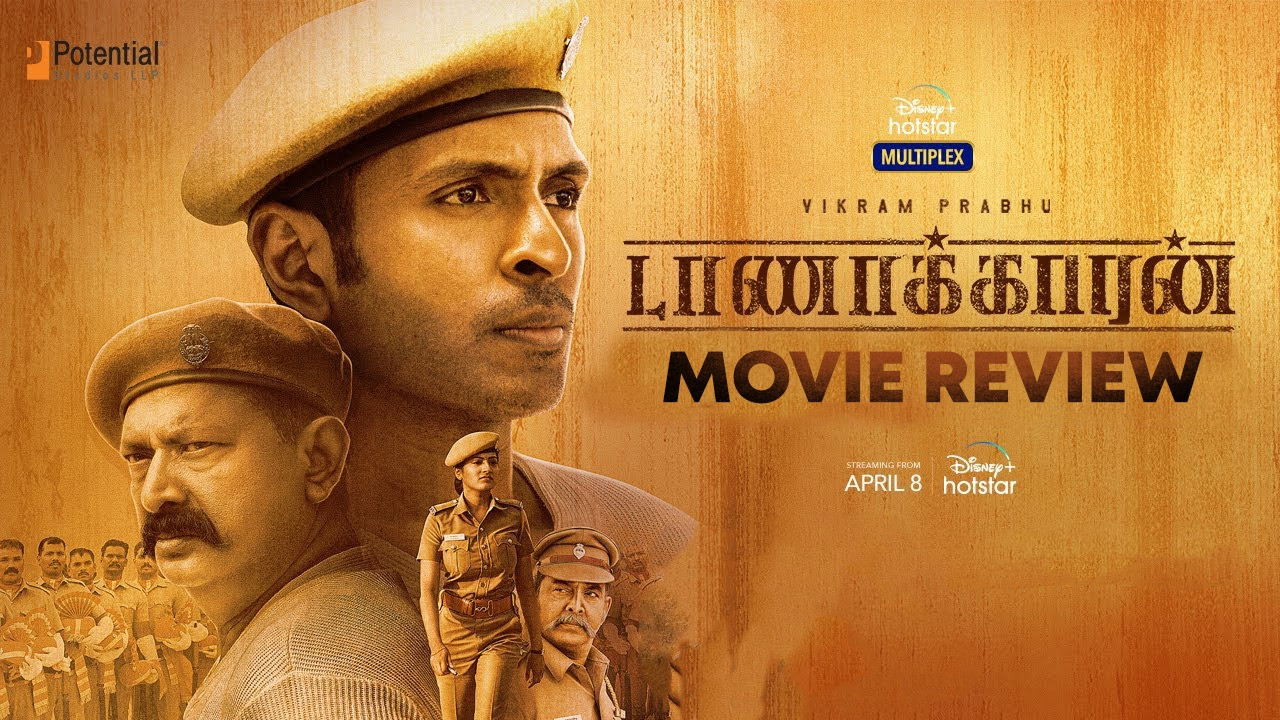 Taanakkaran Movie Cast & Crew
Production :
Potential Studios
The Tamil film industry is probably the only one where two kinds of diametrically opposite cop films exist. We have the action movie with big stars as cops. In these films, the police are glorified to no end, even if they end up looking like vigilantes. Taanakkaran is the second kind, following the footsteps of Visaranai, Kaval Thurai Ungal Nanban, Jai Bhim and the recent and most excellent Writer. In these films, we see the rot in the police system. In the first few scenes of Taanakkaran, we see how the Indian police force was created by the British and how their training methods were intended to keep the police as servants to the System, which at that time was the British empire. Apparently, very little has changed.
Except for one flashback, all of Taanakaaran is set inside a police training school for new recruits. Some are young, like the Vikram Prabhu character. Some are middle-aged, and have come here after appealing to courts. And all of them will be pushed to the extreme, because the senior cops – played by Lal and Madhusudhan Rao – are like the British. Their mission is to create bootlickers, not people who challenge them or the System.
Taanakkaran is interesting mainly as a document of what police training is like. There are very few toilets, creating long lines of people waiting with a bucket – and yet, they will have to reach the parade ground by 4.59am. Bribery is encouraged. The good cops – played by Bose Venkat and an excellent MS Baskar – are constantly overruled. Through them, you see what happens to the cops who don't bow before the System. The story gets going when Vikram Prabhu gets on the wrong side of Lal and Madhusudhan Rao. And when they realise this man is not going to be a bootlicker, it becomes personal. It becomes: One man against the System.
The film, though, is not as intense or hard-hitting as Visaranai or Writer because Tamizh follows a very traditional mainstream template: he has made an underdog story like Lagaan. That in itself is not a problem. But where we got the sense of a team in Lagaan, here Vikram Prabhu plays the solo-hero who does everything – so the sense of a combined effort by his squad is missing. Right from the start, he questions the system. When asked what his caste is, he replies, Podhu edathula saathi sollra pazhakkam illa. That is, he will not disclose this information in a public place like the training ground. No wonder, at one point, we see him reading Karl Marx. No one else gets this kind of heroism.
The writing is very broad, without much specifics and with some abrupt transitions. There are two songs (especially a really random love song, featuring Anjali Nair) that kill the mood. I mean, this must be the first film I've seen where there is a love song but no love angle. There is also a lot of unconvincing and ill-fitting melodrama, like in the flashback of the Vikram Prabhu character, or in a suicide attempt by one of the trainees. The first half has a disjointed, episodic feel. But the second half is better, with more focus and a climax that's not bad. And I was impressed by the way Tamizh has it both ways: he says you cannot beat the system, and yet, he says, as an individual, you can try. That's a good thought to think about.
About Author
Baradwaj Rangan
National Award-winning film critic Baradwaj Rangan, former deputy editor of The Hindu and senior editor of Film Companion, has carved a niche for himself over the years as a powerful voice in cinema, especially the Tamil film industry, with his reviews of films. While he was pursuing his chemical engineering degree, he was fascinated with the writing and analysis of world cinema by American critics. Baradwaj completed his Master's degree in Advertising and Public Relations through scholarship. His first review was for the Hindi film Dum, published on January 30, 2003, in the Madras Plus supplement of The Economic Times. He then started critiquing Tamil films in 2014 and did a review on the film Subramaniapuram, while also debuting as a writer in the unreleased rom-com Kadhal 2 Kalyanam. Furthermore, Baradwaj has authored two books - Conversations with Mani Ratnam, 2012, and A Journey Through Indian Cinema, 2014. In 2017, he joined Film Companion South and continued to show his prowess in critiquing for the next five years garnering a wide viewership and a fan following of his own before announcing to be a part of Galatta Media in March 2022.
User Review