Soorarai Pottru Movie Review
(2019)
Suriya Soorarai Pottru Tamil Movie Review Sudha Kongara GV Prakash
Release Date :
12-11-2020
Movie Run Time :
2:29 Hrs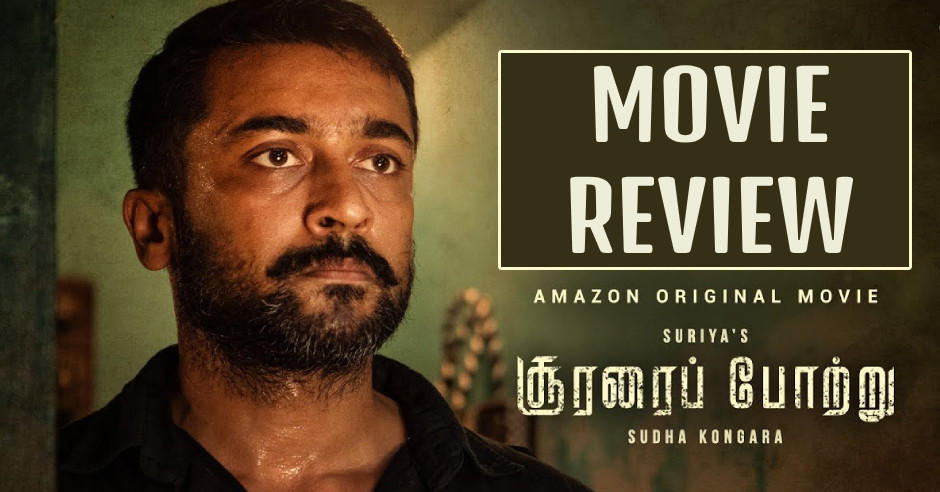 Soorarai Pottru Movie Cast & Crew
Production :
2D Entertainment
Amidst huge expectations, Suriya's Soorarai Pottru has now released and here are our thoughts about the movie. Based on the life story of Captain GR Gopinath, Soorarai Pottru revolves around the journey of Nedumaaran Rajangam aka Maara, a man full of dreams and passion. Maara dreams of running a low-cost airline that can be accessed by anyone and everyone, including the lesser privileged communities. However, his dreams are opposed and shattered at every possible juncture by his own idol, Paresh Goswami (Paresh Rawal), a pioneer in the aviation industry. How Maara defends against all the odds and succeeds in his journey forms the crux of Soorarai Pottru. 
First things first, Suriya is in blazing form as Maara and his energy is absolutely enjoyable. He has lived in the character of Maara and he makes us root for him. His eyes convey varied emotions and director Sudha Kongara has used him to his best potential. Soorarai Pottru indeed showcases Suriya in a different dimension and he is a delight to watch. He stands out in the airport scene (where he begs for money), hospital scene, interval sequence and the confrontation scenes with Paresh Rawal. Suriya delivers a strong performance and the film will surely have an important place in his filmography. 
Aparna Balamurali's performance as Bommi is beautiful and she is a talent to watch out for. She has not just acted, but has also dubbed neatly for her character. Urvashi and Karunaas bring in their experience into play and make the film look complete. Paresh Rawal in a negative shade delivers what the character demands and justifies it. However, as a character, it turns out to be a bit cliched. Veteran actor Mohan Babu leaves a good impact in a neat cameo. The film stands tall on performances and it is the performances of these actors, that has made the film appeal visually. 
The Real Captain of the Flight, Sudha Kongara needs to be applauded for deciding to tell this story and executing it neatly. Films of this kind usually will face issues in the translation from paper to screen, but Soorarai Pottru escapes those problems in style, thanks to Sudha Kongara's execution. Her conviction in telling the story and the command over her craft is what has made Soorarai Pottru what it is now. Despite being a story about the aviation industry, Sudha manages to give it a rooted touch and makes it understandable to all sections of the audience and her packaging is impressive.
The relationship between Maara and Bommi is beautifully written and kudos to Sudha Kongara and Shalini Ushadevi, the writers of the film. It is heartwarming and endearing to see Bommi being a strong pillar of support to Maara in his tougher times. Sudha has written and executed scenes that sound interesting and exciting. The Udupi Hotel scene and the airport ticket begging scenes are some examples. The film has many more such scenes to watch out for. 

GV Prakash is in beast mode as a composer. He has given it his all for Soorarai Pottru and his music transports us to the world of Maara in a striking manner. While his songs have already created a good impact, he makes things even better with his background score. GVP's music is an asset to Soorarai Pottru. Niketh Bommi's visuals makes the film look rich and classy and his compositions are neat. The usage of the colour palette is also very impressive. Sathish Suriya's cuts supplement Sudha's vision and helps in the smooth flow of the film. 
The final minutes of the movie will surely leave you moved. The emotional visuals, supplemented by GV Prakash's fantastic bonus song, gives Soorarai Pottru the perfect final touch. 
In a nutshell, Soorarai Pottru is an inspirational film that has enough moments to keep you hooked! After watching the film, one would definitely feel bad about missing the theatrical experience. Soorarai Pottru would have had a blast in the theatres! 
Verdict: Soorarai Pottru is inspiring, beautiful, emotional, and heartwarming. Don't Miss!
Galatta Rating: (
3.5

/5.0 )
User Review
Soorarai Pottru Movie News