Release Date :
30-08-2019
Movie Run Time :
2:20 Hrs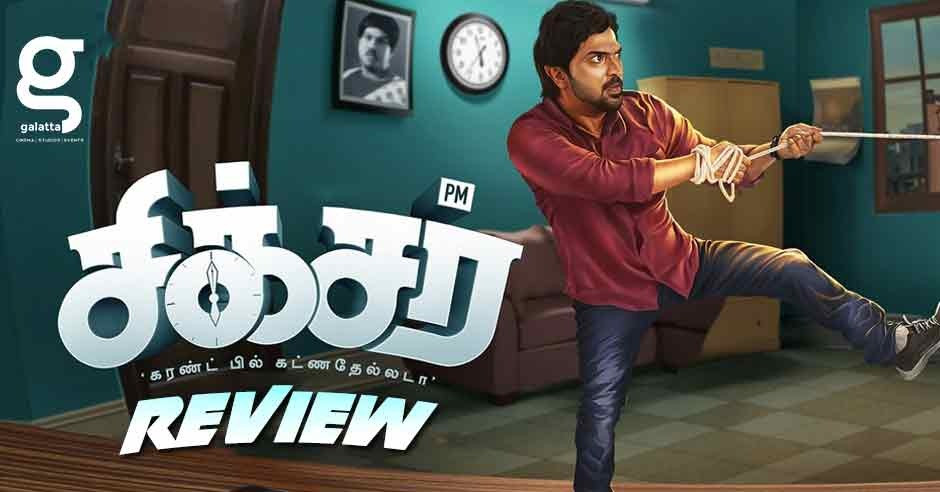 Sixer Movie Cast & Crew
Production :
Wallmate Entertainment
After tasting success through the romantic comedy Meyaadha Maan, Vaibhav is back with his next - Sixer, a comedy entertainer directed by newcomer Chachi. Produced by Wallmate Entertainment, this film has music by Ghibran and features Pallak Lalwani as the female lead. How has this film fared? Does it engage the audience as promised through the teaser and trailer? Read on to know. 
Our protagonist - Aadhi (Vaibhav), suffers from night blindness and loses his vision after 6 PM in the evening. His parents fix an alliance with a girl Krithika (Pallak Lalwani), whom he was also in love with already. What are the hiccups that the couple face due to Aadhi's night blindness problem and did the marriage happen as planned, forms the rest of the plot.
Vaibhav looks casual on-screen and carries off a very light-hearted performance. He delivers what comes best to him and brings in some natural laughs through his gimmicks and body language. Sathish succeeds with a few counters and misses on the rest. Pallak Lalwani fails to leave an impression in a character that has a good screen space and there are also lip-sync issues with her performance. The rest of the cast is okay.
Sixer holds a very interesting premise that is inspired from the classic Goundamani character in Chinna Thambi. With a plot of this style, the film has the potential to score big with humour. However, the film succeeds only partially in that aspect. Agreed, when it comes to comedies, logic takes a backseat but in Sixer, it crosses the acceptability line. If you are a fan of mindless logic-less comedies, then Sixer will work for you. Why did RNR Manohar and gang have to shut Vaibhav inside a godown for that one night, when they could have attacked him right at that moment itself? The writing has been very convenient in those places.
The antagonists in Sixer are designed just for the sake of it and this doesn't lend a helping hand. The film also falls to be predictable majorly, thereby putting down the engagement factor. The homosexual comedy track with Chaams is worrying and ridiculous and we do not know how long this is going to be made fun of. The makers could have played a lot more with this premise but they settle down for something very thin and normal. A major share of the comedy scenes, is unfunny.
On the positive side, there are genuinely well written and executed scenes that bring the roof down. The witty dialogues and one-liners work well. There are a few comedy scenes that are impressive individually. Unfortunately, on an overall picture, Sixer is a middling affair that works only in parts. It fails to engage the audience, especially post the interval. The treatment is light-hearted throughout and director Chachi is clear with his intentions. The film never delves into melodrama at any place and even a serious scene ends with a comic touch. Having said that, this film might be enjoyed by the mainstream audiences since there are crowd pleasing moments that cater to them.
Ghibran scores to an extent with his background score but it does feel like Sixer isn't his cup of tea. PG Muthaiah's cinematography and Jomin's editing are functional and they deliver what is expected of them. Sixer, on the whole, could have been much better with some properly written scenes and an engaging enough screenplay without any logical loopholes.
Verdict Sixer is a middling comedy entertainer that works in parts!
Galatta Rating: (
2.25

/5.0 )
User Review
Latest Tamil Movie

Reviews