Sivakumarin Sabadham Movie Review
(2021)
Hiphop Tamizha's Sivakumarin Sabadham Movie Review - film co-starring Madhuri and others
https://www.galatta.com/assets/review/sivakumarin-sabadham-movie-review.jpeg
30-09-2021
Hiphop Tamizha
Release Date :
30-09-2021
Movie Run Time :
2:19 Hrs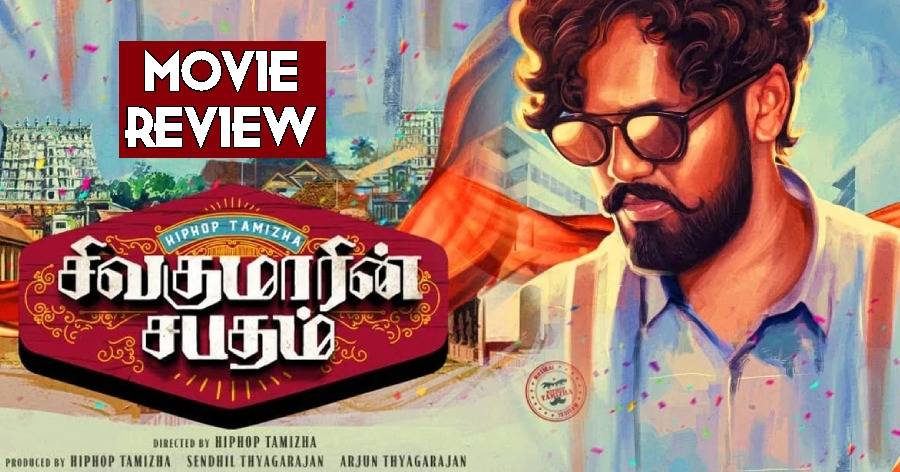 Sivakumarin Sabadham Movie Cast & Crew
Production :
Sathya Jyothi Films,Indie Rebels Productions
Following the box office success of Meesaiya Murukku, Natpe Thunai, and Naan Sirithal, Hiphop Tamizha's fourth outing as an actor -  Sivakumarin Sabadham has released and the film also marks Adhi's second outing as a director (after Meesaiya Murukku). Co-starring Madhuri, Elango Kumanan, VJ Adithya Kathir, Prankster Rahul, VJ Paaru, and others, the film is produced by Indie Rebels Production, in association with Sathya Jyothi Films. Here is what you need to know about the movie. 
STORY: 
Sivakumarin Sabadham follows the life of Sivakumar (Hiphop Tamizha Adhi) and his grandfather Varadharajan (Elango Kumanan) who share an unbreakable bond. Varadharajan, who was once a reputed handloom weaver, had to shut down his profession due to various issues. 20 years later, a series of incidents make Sivakumar realise the authenticity and importance of handloom sarees and he along with his grandfather decides to restart the art of handloom weaving. However, they face several hurdles through Chandrasekhar, an old disciple of Varadharajan who is now a silk company entrepreneur. How Sivakumar overcomes the odds and revives the ancient art of weaving forms the plot of Sivakumarin Sabadham. 
SCREENPLAY, DIALOGUES & DIRECTION: 
Adhi is quite clear with his intention to deliver an emotional family entertainer with a message. However, whether the intention and message are clearly delivered with effectiveness, is something that is debatable. Adhi and the team have touched the subject of handloom weaving only on a surface level and as a result, you don't get a scene that packs a punch. Sivakumarin Sabadham doesn't have a strong plot to support its message and hence the final product becomes flat. The drama/conflict between the protagonist and the antagonist don't appeal in an exciting manner and it would have been better if the film had treated itself more seriously.
In addition, the comedy portions don't work for the major part of the film and it might come as a disappointment for a section of the audience. At the same time, the emotional sequences also don't lend solid support as it looks flat, lacking effective staging and execution. Adhi's Meesaiya Murukku, despite not having a strong storyline, managed to engage the audience with its effective packaging and solid entertainment factor and, that goes for a miss in Sivakumarin Sabadham.
Adhi has taken a simple premise that has the potential to connect well with audiences and he has played to his strengths. The emotional scenes might strike a chord with the family audiences. 
CAST: 
Hiphop Tamizha Adhi is as full of energy and charm as Sivakumar and his performance has a fun vibe. Brownie points to Adhi on scoring well with the dance moves. On the contrary, he finds it difficult to emote in scenes that are high on emotional quotient. Madhuri looks cute and pretty on screen and the young talent has also delivered a neat performance. Elango Kumanan, as the highly respected Varadharajan, fits the bill and his majestic screen presence adds good value. VJ Adithya Kathir helps with a few laughs, while Prankster Rahul is a pretty good find. Barring the overdramatic performance in a few scenes, Rahul's performance looks fine.  
TECHNICAL: 
Though the songs don't have the magic of Adhi's previous chartbuster songs, the musical duo (Adhi - Jeeva) manage to level the equation to an extent with the background music. Arjunraja's visuals look neat and colourful, and Deepak's edit is functional.  
SO? 
Solid writing with better execution would've made Sivakumarin Sabadham a quality entertainer, but what we've got is an average drama.
Verdict Hiphop Tamizha's Sivakumarin Sabadham is well-intentioned, but not well-executed.   
Galatta Rating: (
2.25

/5.0 )
User Review
Sivakumarin Sabadham Movie News
Latest Tamil Movie

Reviews