Sanga Thamizhan Movie Review
(2019)
Sangathamizhan Tamil Cinema Review Vijay Sethupathi
https://www.galatta.com/assets/review/1573824591gbvrf.jpg
15-11-2019
Vijay Chandar
Release Date :
15-11-2019
Movie Run Time :
2.30 Hrs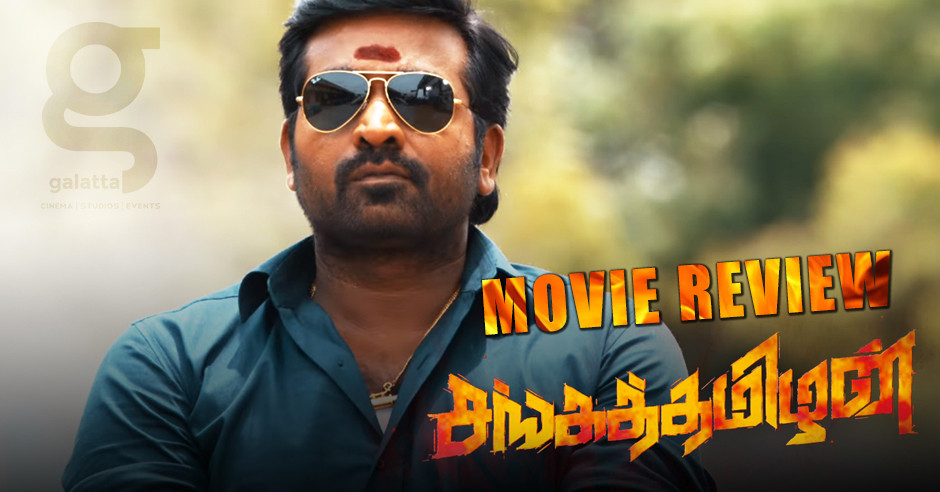 Sanga Thamizhan Movie Cast & Crew
Production :
Vijaya Productions
With quite a star-studded cast in the form of Vijay Sethupathi, Raashi Khanna, Nivetha Pethuraj and Soori, Sangathamizhan makes no big bones about delivering anything different or epic. It is a quintessential commercial film about a man who fights against a major corporate giant who fraudulently purchases land from a small village. With Vijay Sethupathi playing a mass action hero role after a long gap, you would expect a gripping and interesting screenplay to save the day but sadly the film hardly excites us at any point.
Sangathamizhan is disoriented and clumsy from the very start. It is very predictable and the audience are ahead of the proceedings right through. Despite the 'deja vu' factor and the shallow story, Sangathamizhan is watchable for the sharp dialogues sprinkled across by the director and of course Vijay Sethupathi's screen presence. The actors aren't required to exert much, given the easy nature of the film.
It's a cake walk for Vijay Sethupathi who has done similar roles in the past. He is dynamic in a few scenes and his usual mannerism is the USP of the film. Even Soori is not in his usual best as his typical sarcasm and counters don't work. Raashi Khanna gets a solid little role and she makes use of it well. None of the scenes in the film is fresh and the story is very similar to Vijay's Kaththi with a few changes here and there.
When it comes to a mainstream mass film like this, the BGM score plays a key role in lifting the heroic 'build-up' moments. The re-recording sounds strictly average and repetitive. Coming to the songs, 'Kamala' stands out. The set work for this song is also good with appropriate backdrops and props. But all the other tracks fail to make any impact. The film is on the longer side, at more than 2 hours 30 minutes, and the elaborate people suffering sequences towards the second half definitely needs some chopping. The stunt choreography, in general, is over-the-top.
Verdict With a tried and tested script and a lacklustre screenplay, Sangathamizhan has nothing exciting to offer!
Galatta Rating: (
1.75

/5.0 )
User Review
Sanga Thamizhan Movie News
Latest Tamil Movie

Reviews