Parris Jeyaraj Movie Review
(2021)
Santhanam Parris Jeyaraj Tamil Movie Review by Galatta K Johnson
Release Date :
12-02-2021
Movie Run Time :
2:15 Hrs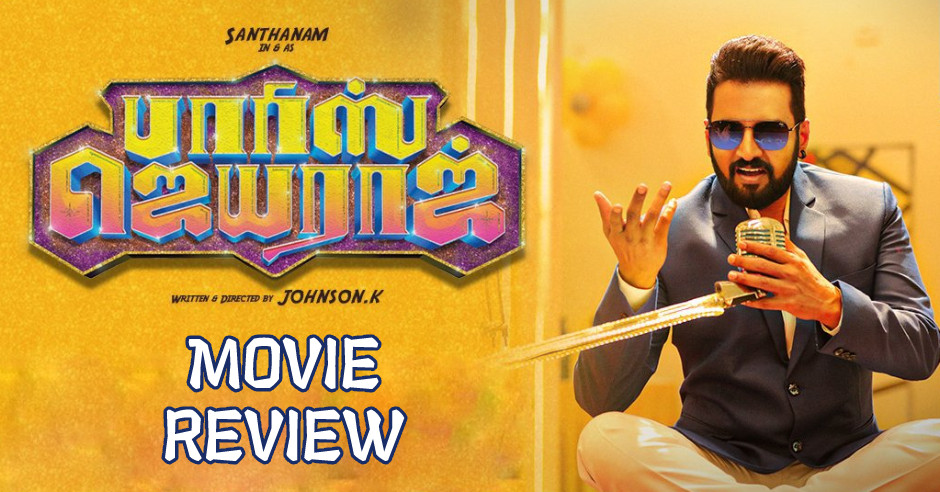 Parris Jeyaraj Movie Cast & Crew
Production :
Lark Studios
Produced by K Kumar for Lark Studios, Parris Jeyaraj brings back the A1 duo of Comedy Superstar Santhanam and director K Johnson, who has also written the story. This movie, having Santhosh Narayanan's music, has cinematography by Arthur A Wilson and editing by Prakash Mabbu!

Popular Youtuber and Gana singer Parris Jeyaraj falls in love with a girl and tries hard and wins her hand, only for the relationship to be spoiled by the girl's father, with the help of a notorious lawyer, famous for breaking relationships! A desolate Jeyaraj becomes a drunk but when college girl Divya (Anaika Soti) seeks out Jeyaraj to come and sing in her college, he falls in love with her! After overcoming a lot of hurdles, Jeyaraj convinces Divya to fall in love with him and just as their relationship seems to be taking off, trouble arrives again, in the form of the fathers of both Jeyaraj and Divya. However, there is a common thread and a huge surprise awaiting the two. Will Jeyaraj be able to succeed in this relationship atleast? What will happen next? What is the huge surprise? Watch Parris Jeyaraj for the answers!

Director Johnson K has taken an age-old plot and made this movie. Similar to A1, the entire movie is highly predictable with some unexpected twists and turns along the way. Santhanam is a treat for the viewers and is in full flow. His looks, dance & action moves and counter punches, are on point. The whole comedy gang, with Motta Rajendiran to boot, are a laugh riot. Some comic sequences fall flat but most work well. The first half, where the director takes some time to get the plot moving, seems a tad slow and when peppered with a number of songs, looks to drag a bit.
However, the second half moves along rapidly and we get to see a number of earlier missing faces in this half. Anaika Soti looks ravishing but her lip sync is off in a number of places and this could have been worked on. Vivanth Vivin has gotten a good role and played it well. Prudhvi Raj, who has gotten a very meaty role, carries it off with elan. Santhosh Narayanan's music is refreshing and the songs are peppy, except that they feel to be a bit too many in number.

Some scenes & situations seem to be too cliched and ones that we have seen repeatedly in a number of movies over the years. However, the light-heartedness with which the screenplay takes the scenes along, ensure that the viewers get to enjoy them. Arthur A Wilson's cinematography is functional and Prakash Mabbu's editing is good but a little more trimming of the first half would have surely helped! Santhanam seems to be on a roll, playing to his comfort zone and Parris Jeyaraj falls well within that category.
Verdict: Parris Jeyaraj is packed with an average first half and a hilarious second half!
Galatta Rating: (
2.5

/5.0 )
User Review
Parris Jeyaraj Movie News