Paava Kadhaigal Movie Review
(2020)
Paava Kadhaigal Netflix Anthology Review Vetri Maaran Gautham Menon
Release Date :
18-12-2020
Movie Run Time :
2:20 Hrs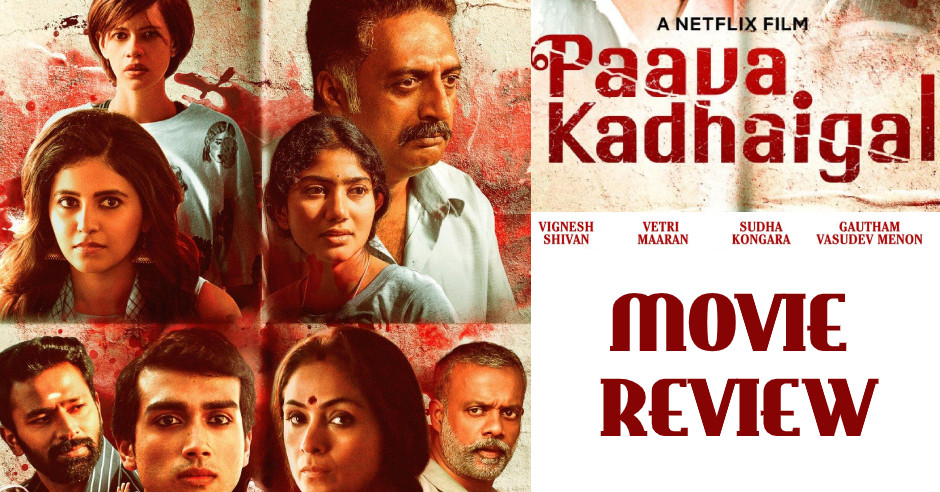 Paava Kadhaigal Movie Cast & Crew
Netflix brings to us an anthology with four different episodes, directed by four top directors of Tamil Cinema. Just the names of Sudha Kongara, Vetrimaaran, Gautham Vasudev Menon and Vignesh Shivn are enough to make viewers watch their works for each filmmaker has earned a name for themselves and have scores of fans and followers for their work. Now, each of these directors has made a movie and it is being presented to us together as Paava Kadhaigal. As the title itself suggests, each of these 4 stories is about a sin. The teaser had already given an inkling of what each story is going to be about but the actual movies themselves are hard-hitting and tug at the heartstrings.

Thangam (Directed by Sudha Kongara)

Satthar (Kalidas Jayaram) is an effiminate guy who feels and treats himself like a girl. When his own family and the whole village Satthar lives in is prejudiced against him, he finds support in only one friend - Saravanan (Shanthnu Bhagyaraj), who doesn't discriminate against Satthar. Saravanan loves Satthar's sister Sahira but Satthar is initially against the love as he has feelings for Saravanan. Thangam is about what happens next, to Satthar and Saravanan. Kalidas Jayaram steals the show with his brilliant portrayal and Vinodhini once again proves what a powerful performer she is.
This is definitely one of Shanthnu's best performances till date. The direction, handling of the story and extraction of performances are all amazing and Sudha Kongara deserves all credit for this. Though the movie claimed to be set in 1981, there seemed to be not enough effort gone into setting up the period.

Love Panna Uttranum (Directed by Vignesh Shivn)

A village headman Veerasimman (Padam Kumar), claims to publicly believe in equality but very strictly discriminates between castes and also has very low tolerance for people of other castes. He has twin daughters - Adhilakshmi & Jothilakshmi (both played by Anjali). Jothilakshmi is away from home in a different town while Adhilakshmi stays with her father. However, Adhilakshmi falls in love with their own driver. Adhi and Jothi do not talk to each other for over a year, due to some differences of opinion. When Veerasimman comes to know about Adhi's love, he publicly agrees to get her married to the driver.
Upon knowing this, Adhi asks Jothi also to come home and tell their father about her love, stating that he has changed now and would agree to Jothi's love too. However, Veerasimman's gang of henchmen are not ok with Adhi's love for the driver and take a drastic decision. Know what happens next, by watching Love Panna Uttranum. Anjali has done a commendable job, portraying the twins. Kalki Koechlin is impressive as Jothi's friend. Padam Kumar has maintained his character throughout. It is Jaffer, who portrayed Narikutty, who steals the show. He has delivered a very good performance. Vignesh Shivn has ensured to bring in his trademark humour into this project, despite the subject being dark. The end seemed to have diluted the journey of the story.

Vaanmagal (Directed by Gautham Vasudev Menon)

A middle class family consisting of the parents - Sathya (GVM) & Madhi (Simran), 2 girl children - Vaidehi and Ponnuthayi and a boy child - Bharath, are leading a happy life. When one of the girl children attains puberty, a horrific incident happens to disrupt the entire family's peace and happiness. The shattered family do not even want to talk about this incident amongst themselves, nor share anything about it to the outside world. The thought of living up to some ideals set by the society and the thoughts it leads, to when not being able to live up to it, have been shown wonderfully in this segment.
GVM is adept as the head of a middle class family and Simran has delivered an outstanding performance, bringing to our minds, the classic Simran of yore. The child who played Ponnuthayi, is simply amazing. She has excelled in all aspects, delivering a brilliant performance. Though the subject is not anything new, the treatment definitely is. Towards the end of this project, a link to the next portion of the anthology has been given.

Oor Iravu (Directed by Vetrimaaran)

Sumathi (Sai Pallavi) has eloped from her house and married the guy she loves but her entire family is against her decision. Sumathi's father (Prakashraj), goes in search of her and when he finds her, he gets to know she is pregnant. When Sumathi's family comes to know that she is pregnant, they invite her back home for the baby shower function and she too returns. However, since Sumathi's family has not completely accepted her husband Hari (Harikrishnan), he asks them to hold the function at a neutral venue so that his family can also attend.
When everybody is getting ready to go to the function, Sumathi's father has other plans. What happens next, forms the plot of Oor Iravu. Sai Pallavi shows off she can pull a variety of characters with ease and aces her role as Sumathi too. Prakashraj, the power-packed actor, delivers once again. The story revolves around these two actors and they live up to their reputations. Vetrimaaran has used a before-after narration style, which keeps the viewers guessing.
Verdict: The coming together of the 4 movies as Paava Kadhaigal on Netflix, is quite an interesting watch, which is sure to hit our senses hard!
Galatta Rating: (
3.25

/5.0 )
User Review
Paava Kadhaigal Movie News