Ner Konda Paarvai Movie Review
(2019)
Thala Ajith's Nerkonda Paarvai Movie Review by Galatta
https://www.galatta.com/assets/review/1565082543NKP.jpeg
08-08-2019
H Vinoth
Release Date :
08-08-2019
Movie Run Time :
02.38 Hrs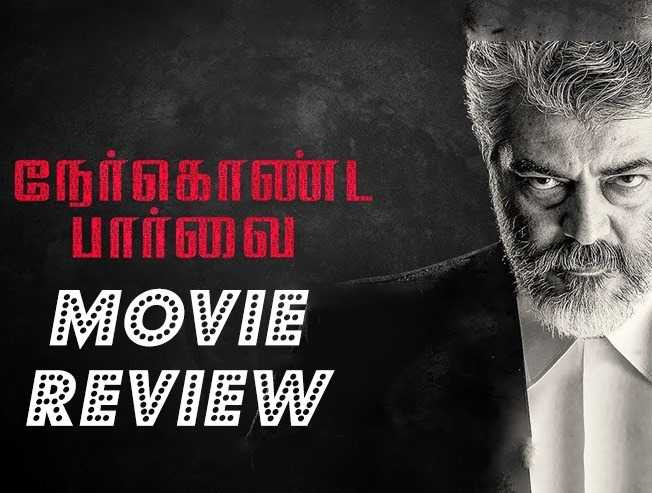 Ner Konda Paarvai Movie Cast & Crew
Production :
Bayview Projects LLP
A bipolar lawyer with a tormented past assists three women who are harassed after a violent incident. When a girl says NO, it means a clear NO; she could be anyone, your wife, girlfriend or even a commercial sex worker. This is exactly the point which Ner Konda Paarvai (NKP) states. This is a debatable topic that will shake up our conscience and make us question if we look at its core issue with an open mind or not. NKP will question the society's mindset which thinks girls with short hemlines and those who enjoy a drink with men are low on morals. 
It is a brave decision by Ajith to have chosen a script like this without thinking about his image and stardom. Ajith has tried to live up to the role in his own strides. After a long time, he has got a role to perform and he has done it so well especially during the court room scenes. His fitness is still an issue and he isn't convincing enough in the line fight scene in the film. Other than that he is magnificent.
Though, he has adapted the story from Pink, Vinoth has infused NKP with a few commercial elements for Ajith fans without disrupting the flow of the film. Maybe, Vidya Balan's portion could have been placed before the intermission because the flashback is a slight setback to the flow of event. Other than that, all the characters and the emotions are all in tact as in the original. H Vinoth does not deviate from the plot with inane sub plots. Right from the word go, he ensures every scenes grips our conscience and tugs us into self- examination.
Shraddha Srinath gives the best performance of her career; her body language, her mumbling and frightened looks, everything is perfect. NKP is populated with a bunch of relatively inexperienced supporting cast who bring just the right history to their roles. Rangaraj Pandey is just perfect, a gutsy decision not to go with some known big actors for his role. He is just ideal for the role. As regards Yuvan Shankar Raja, this is another valuable addition to his repertoire. 
Overall, NKP is a consistently engaging melodrama which is modest in its aims and is effective in avoiding clichés when it comes to looking at modern Indian women. It is a hard movie to like if you are rigid with your traditional ideas but it's an impossible one to ignore as well. If a content rich film like NKP with a strong relevant message taken up by an actor like Ajith emerges successful, it would be a lot of hope for all those directors who want to give quality content.
Verdict An intense courtroom drama that grips you from start to finish!
Galatta Rating: (
3.25

/5.0 )
User Review
Ner Konda Paarvai Movie News
Latest Tamil Movie

Reviews