Naadodigal 2 Movie Review
(2020)
Naadodigal 2 Tamil movie review Sasikumar Anjali
Release Date :
01-02-2020
Movie Run Time :
2:16 Hrs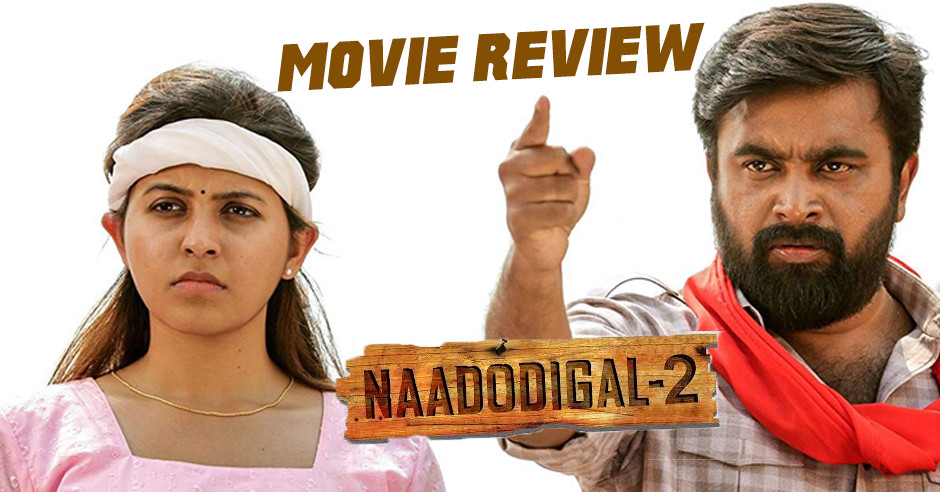 Naadodigal 2 Movie Cast & Crew
Production :
Madras Enterprises
If Naadodigal was about three youngsters who had go extremes to save their friend's marriage, the sequel is about Sasikumar trying to make his ex-wife's relationship work. If it was politicians who stood against Sasikumar's gang last time, they are fighting a bigger enemy here in the form casteism. But the film also preaches a lot about uniting people irrespective of caste. Had Samuthirakani treated this film more like the first part, the impact would have been much better. Too many cooks spoil the broth similar too much message at unwarranted situations spoils the script.

Samuthirakani wastes no time to establish the mood of the film with the very first scene. We have seen similar storylines in films like Kadhal and Pariyerum Perumal in the past but Samuthirakani's treatment here is slightly preachy especially in the first half whereas the second half is far more engaging and follows a similar pattern to Naadodigal 1. Samuthirakani is known for making films that talk about oppressed people, misguided individuals and corrupt politicians. Naadodigal 2 is no different and even the making is in typical Samuthirakani style. It moves in a leisurely pace initially with nothing much happening apart from protests and fights laced with some occasional comic relief that doesn't work at large. And the second half is largely about how a caste fanatic family and their relatives react to an inter-cast marriage and what they do to keep their pride intact.

Naadodigal 2 is more moralising than any other Samuthirakani's film in the past, it has a relationship based issue intertwined with social issues. It preaches more about the social cause rather the relationship side. Samuthirakani has played to the gallery with a template screenplay with plenty of age-old beaten up scenes. Sasikumar and Anjali's romance portion looked a little stretched and superficial. Though sparse in number, the action scenes in the film are what keeps the audience buzzing. The screenplay is much tighter in spite of being formulaic and predictable.

Justin Prabhakaran's music is loud and irritating. After albums like Dear Comrade and Monster, you expect something special from Justin but the album offers nothing but disappointment. The BGM might give a headache to a few that's how noisy the score his. The only place the BGM clicks is when the 'Sambo Sivasambo' score is played. The cinematography and other technical works are strictly functional. Sasikumar plays his part well, roles like these are turning out to be a cakewalk for the actor. Anjali finally gets a good role and she scores well. Bharani, as usual, tickles a few bones now and then but as a performer, he has improved a lot over the years. The woman who play Athulya's aunt stands out, she gets a well etched out character which gets enhanced with an irreproachable performance.
Verdict: Yet another loud anti-caste drama in Samuthirakani's style!!!
Galatta Rating: (
2

/5.0 )
User Review