Mookuthi Amman Movie Review
(2019)
Nayanthara Mookuthi Amman Movie Review RJ Balaji Urvashi
Release Date :
14-11-2020
Movie Run Time :
2:14 Hrs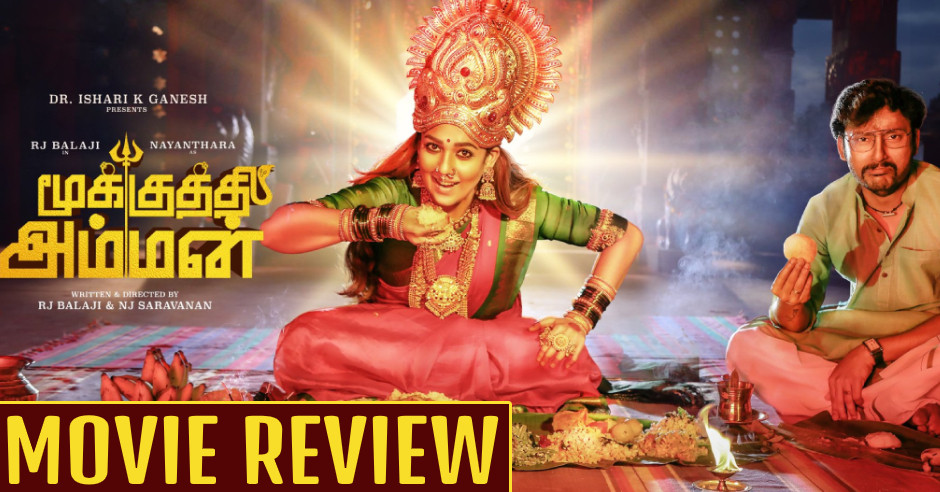 Mookuthi Amman Movie Cast & Crew
Production :
Vels Film International
Nayanthara's Mookuthi Amman was a film that excited the fans ever since its announcement because of its theme and genre. It has been more than 15 years since the Tamil audience saw an Amman film and that has been the USP of Mookuthi Amman. The film features Lady Superstar Nayanthara in the titular role and has RJ Balaji, Ajay Ghosh, Urvashi, Moulee, Smruthi Venkat and others supporting her. Mookuthi Amman marks the directorial debut of RJ Balaji along with NJ Saravanan and the film has now been released on Disney + Hotstar OTT platform. Here is our take on the film. 
 
Mookuthi Amman revolves around a middle class family, led by Engels Ramasamy (RJ Balaji). He is a television host and news presenter who works hard for his livelihood and to take care of his family. He takes care of his mother (Urvashi), three younger sisters, and his grandfather (Moulee). In an unusual turn of events, their family deity - Mookuthi Amman (Nayanthara) appears in front of them as a woman. Mookuthi Amman to make use of this family's help to end a fake Godman's false propaganda and fraudulent activities. Did Mookuthi Amman help the lives of Engels Ramasamy's family and did she succeed in her mission against Bhagavathi Baba, forms the rest of the plot. 
 
Right from the word go, Mookuthi Amman sticks to its characters and doesn't deviate much. As writers, RJ Balaji and friends have shown betterment and this story has got unique detailing to each character, unlike the team's previous venture, LKG. The story, as such, is simple and thin, but the packaging is what makes Mookuthi Amman a good watch. Debut directors RJ Balaji and NJ Saravanan maintain the positive and fun vibe throughout. Balaji's intention to say good things to the audience through his film is evident and thankfully, he has not overdone in that aspect. The messages go along with the film. The strong message against fake Godmen is presented neatly with a good mix of humour and other elements.
The writers garner attention for addressing the daily struggles in the lives of household women, who do not get a break throughout their life. Moments like these would appeal unanimously to everyone. The final confrontation between Mookuthi Amman and Bhagavathi Baba gives the film a fitting closure and RJ Balaji and team need to be appreciated for executing their thoughts through a commendable display. 
 
Nayanthara as Mookuthi Amman is a perfect fit and she aces the role with dignity. If it was Ramya Krishnan and Roja who made a mark as an Amman in the previous generation, it is Lady Superstar Nayanthara for this generation and she does her role perfectly. RJ Balaji as Engels Ramasamy is impressive and he shows good promise. Not just as a writer, even as an actor, one can say that RJ Balaji has upped his game. Urvashi is the main highlight among the other actors and she is delivering her best with every single film that she is a part of. If it was Putham Pudhu Kaalai last month and Soorarai Pottru a few days back, it is Mookuthi Amman now and she is a delight to watch. Ajay Ghosh as the antagonist delivers what is expected of him. His characterisation is quite cliched, though. A legendary actor like Moulee could've been put to better use. 
 
On the flipside, the latter half of the film involving Bhagavathi Baba does not engage much and the proceedings could've been made more interesting. The film falls flat post his entry and picks up only towards the final act. For those who thought Nayanthara would appear throughout the film, it might be a disappointment for them as she has a comparatively lesser screen time than RJ Balaji. 
 
Dinesh Krishnan's visuals and Selva RK's editing go hand in hand and make the directors' vision flow in the right manner. Except for the 'Aadi Kuththu' song by LR Easwari, Girishh's songs and background score is a letdown as it does not deliver the intended impact anywhere. 
 
Mookuthi Amman is yet another film that would've given an even more complete experience if it had released in the theatres. 
Verdict: A time pass entertainer with commendable performances and a topical message!
Galatta Rating: (
2.75

/5.0 )
User Review
Mookuthi Amman Movie News