Kutty Story Movie Review
(2021)
Kutty Story Tamil Movie Review by Galatta Gautham Menon Vijay Sethupathi
Release Date :
12-02-2021
Movie Run Time :
2:10 Hrs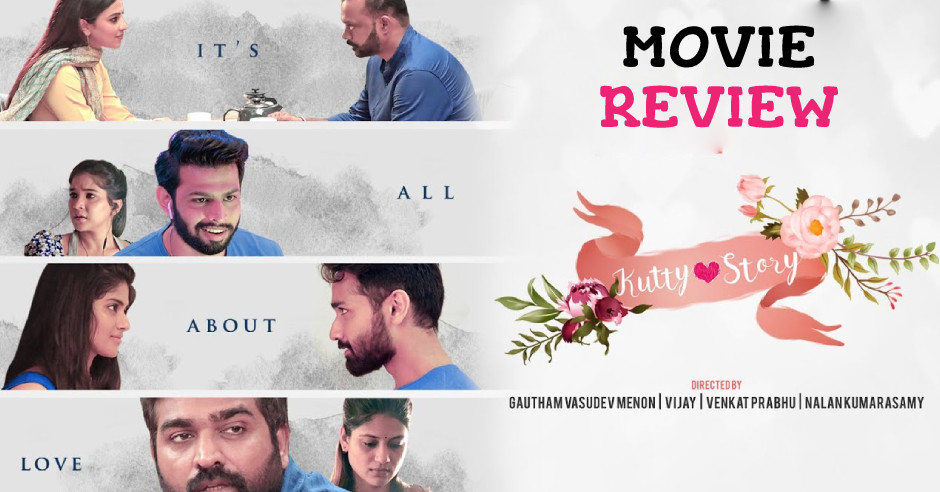 Kutty Story Movie Cast & Crew
Production :
Vels Film International
This is the season for anthologies and yet another one is all set for release tomorrow (February 12)! Love is a subject that has often been explored in movies from different angles and Kutty Story is an anthology, produced by Vels Film International and having segments directed by Gautham Vasudev Menon, Vijay, Venkat Prabhu and Nalan Kumarasamy! Each of these accomplished directors have proven themselves over their stellar career and now, they present their take on relationships, especially between a man and a woman with a power-packed star cast to boot!

Ethirpara Mutham (Gautham Vasudev Menon)

Adhi (Vinoth Kishan) and Mrinalini (Amala Paul) are collegemates and best friends. One day, Adhi invites Mrinalini for lunch and cooks for her. At the end of the day, he unexpectedly kisses her initiating totally different feelings in the two. Years down the line, Mrinalini is married and settled down abroad and Adhi (Gautham Menon), reminisces about this incident to his friends and wife and states that his relationship with Mrinalini has always remained platonic. However, Adhi's friend Prabhakar (Robo Shankar) disagrees with him. Due to a sudden turn of events, Mrinalini happens to meet Adhi again. How does this meeting affect Adhi and Mrinalini? What happens next, forms the rest of Ethirpara Mutham!
GVM has handled his segment in his typical style and has a classy setting. Vinoth Kishan as the younger Adhi, has done a wonderful job and Amala Paul is rock solid as ever. Robo Shankar's presence is enjoyable and the class(y)ic GVM treatment is visible throughout! Karthik's music and Manoj Paramahamsa's cinematography are a big plus to this segment!

Avanum Naanum (Vijay)

Preethi (Megha Akash) and Vikram (Amitash Pradhan) are lovers in college. When Preethi learns that she is pregnant, she immediately calls Vikram and informs him about it. However, he immediately switches off his phone and is not reachable in any way! Preethi's friend Shruthi (Ayra), asks her to abort the pregnancy and move on with life. When Preethi goes to the hospital to get aborted, she has a shock in store which makes her take a strong decision. What Preethi does and what happens next, forms the rest of Avanum Naanum! There is nothing new or different in this segment and director Vijay seems to have chosen a safe bet.
However, his handling of the general perception towards all men, needs a special mention. Megha Akash essays her role very well and Ayra is an actor look out for. Amitash Pradhan has played his part well. Arvind Krishna's cinematography and Antony's editing bolster this segment while Madhu R's music also good.

Logam (Venkat Prabhu)

Director Venkat Prabhu has taken up the concept of love that arises without seeing a person, in person! A gamer (Varun) develops feelings for a fellow player he has met only on games. When he tries to trace & identify her in real life, she keeps evading him. There seems to be an air of mystery around the girl, which Varun tries to see beyond! Who is the girl and why is she avoiding Varun? Logam will provide the answers! The star cast for this segment includes Varun, Sakshi Agarwal and Sangeetha, who have all given good performances.
The animation for the game sequences is top-notch and sets high standards. However, despite taking off on a great note, some clichés seem to have letdown the segment. Some performances seem contrived and do not live up to the mark. The trademark pull and pace of a Venkat Prabhu movie seems missing.

Aadal Paadal (Nalan Kumarasamy)

A normal couple's (Vijay Sethupathi & Aditi Balan) life takes a disastrous turn when the wife finds her husband cheating on her. The wife then confronts the guilty husband and states that she too has had an affair and cheated on him. What happens to their marriage and how the couple handle these unpleasant surprises in their life, forms the rest of Aadal Paadal! The super successful duo of Nalan Kumarasamy and Vijay Sethupathi (Soodhu Kavvum & Kadhalum Kadandhu Pogum), is reunited in this segment!
Easily the best segment of Kutty Story, Aadal Paadal stands out in a number of ways! Vijay Sethupathi, yet again proves what a powerful performer he is, with a dazzling display of a variety of emotions and Aditi Balan matches him in all scenes! Kudos to Nalan Kumarasamy for exploring a touchy subject and extracting such wonderful performances and the flawless technicality throughout! Edwin Louis's BGM adds to the director's vision and N Shanmuga Sundaram's camera work needs to be lauded for the lovely visuals. Sreekar Prasad's editing needs no mention as he stamps his class once more!
Verdict: A varied take on relationships from the eyes of 4 different filmmakers with some hits and misses!
Galatta Rating: (
2.5

/5.0 )
User Review