Release Date :
14-04-2022
Movie Run Time :
2.48 Hrs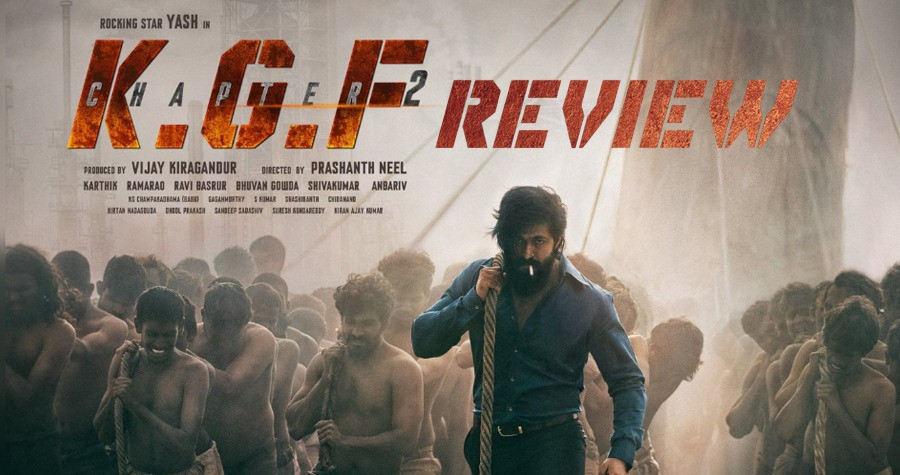 KGF 2 Movie Cast & Crew
Production :
Hombale Films
Prashanth Neel returns as writer-director in KGF: Chapter 2, starring Yash as the gold-hearted gangster named Rocky. But first, a recap. The first chapter was a Deewar-like story of a young boy coming to Bombay and becoming a famous gangster. And then, he is sent to Karnataka, where he becomes even more famous: he becomes the messiah of the people of a secret mining town called KGF. We met Rocky's enemies like Shetty bhai in Bombay and Inayat Khalil in Dubai. We met the Indian Prime Minister, a woman whose face was never revealed, a woman who spoke of unleashing the army on Rocky while signing the death warrant of the man she considered "the biggest criminal in India."
But the film began with a television anchor played by Malavika Avinash. She listens to the KGF story as told by a senior journalist, played by Ananth Nag – and that is the same framing device Prashanth uses in the sequel as well. There's just one change. The narrator now is Prakash Raj, who plays the Ananth Nag character's son. I did not realise this while watching Chapter 1, but these conversations provide two things: a breather between the hectically paced events, and they are also a small bit of spoon-feeding for the audience, because the story is so deep and dense. No, let me correct that. The story is fairly uncomplicated. It's the narrative that's deep and dense. And we'll come to this later.
So what does Chapter Two have in store for Rocky? He still  cares for his people, who worship him. But he wants them to mine for gold day and night. "The work should not stop," he says. Why? I'll just tell you that it has to do with a mother and a bedtime story she tells her son. Watch the first scene carefully, because this makes the closing images so powerful, so mythical. And between this beginning and this ending, we get a film that works at two levels. One, we get a huge action spectacle with very inventive set pieces, superbly shot by Bhuvan Gowda in dark tones that indicate that we are watching a darker sequel. And two, we get a style-filled masala movie, filled with whistle-worthy dialogue and scene after scene with twists and surprises for the audience.
In Chapter Two, Rocky has two new enemies: the Prime Minister, whose face is finally revealed and is played by Raveena Tandon, and a Viking-style brute named Adheera and played by a terrific Sanjay Dutt. His entry scene on a burning bridge is one of the film's many epic highlights. In fact, every bit of this film is epic: Yash is epic and wonderfully larger-than-life, the dialogues are epic, Ravi Basrur's score is epic, and the action is epic, especially a car chase that keeps cutting to a black screen – but that is why I wished for some quiet, intimate moments between Rocky and his love interest, played by Srinidhi Shetty. We get an epic moment involving a helicopter, but we get no real idea about their relationship. Their great romance – if it is that – does not register at all. The second issue I had with the film was that the unmasking of the criminal mastermind was done too hastily.
But that apart, I had no complaints, and we can now talk about the narrative being deep and dense. In Chapter One, the combination of the fast cutting and slow motion created a stylised effect. We get some of that in Chapter Two as well, but Prashanth really pushes himself as a screenwriter and he also pushes his editor Ujwal Kulkarni – to the extent that every sequence plays like the legendary baptism stretch from the first Godfather. The visuals come at us very fast, but this is not just the usual quick cutting for an attention-deficit audience. This is carefully planned stylisation. Take the scene where the Raveena Tandon character is sworn in as Prime Minister. She reads out a line or two. And then we see her elsewhere, barking orders to sack the Home Minister. And then, we are back at the swearing-in ceremony. So there is a sense of playing with time. We see her in the present. We cut to her actions in the future. And we return to the present. And there is also a sense of playing with geography, because these two events are happening in two different locations.
This happens again and again. We have a no-confidence motion playing out in the Parliament. Simultaneously, we see a shootout. Rocky's wife has a bad dream. We move to a major action set piece, after which we return to the bad dream being narrated. The closing part of this narration is one of the few genuinely emotional moments in KGF: Chapter Two, along with the opening and closing imagery. The one thing that I wished was we had more of an emotional connect with the characters. But I didn't mind. The action and the masala flavour and the precision of the cuts are fantastic, and even if the story arc feels familiar, the denseness from the screenplay/editing makes it all seem new. Chapter Two improves on its predecessor: it is an epic times two.
About Author
Baradwaj Rangan
National Award-winning film critic Baradwaj Rangan, former deputy editor of The Hindu and senior editor of Film Companion, has carved a niche for himself over the years as a powerful voice in cinema, especially the Tamil film industry, with his reviews of films. While he was pursuing his chemical engineering degree, he was fascinated with the writing and analysis of world cinema by American critics. Baradwaj completed his Master's degree in Advertising and Public Relations through scholarship. His first review was for the Hindi film Dum, published on January 30, 2003, in the Madras Plus supplement of The Economic Times. He then started critiquing Tamil films in 2014 and did a review on the film Subramaniapuram, while also debuting as a writer in the unreleased rom-com Kadhal 2 Kalyanam. Furthermore, Baradwaj has authored two books - Conversations with Mani Ratnam, 2012, and A Journey Through Indian Cinema, 2014. In 2017, he joined Film Companion South and continued to show his prowess in critiquing for the next five years garnering a wide viewership and a fan following of his own before announcing to be a part of Galatta Media in March 2022.
User Review