Release Date :
20-09-2019
Movie Run Time :
2:44 Hrs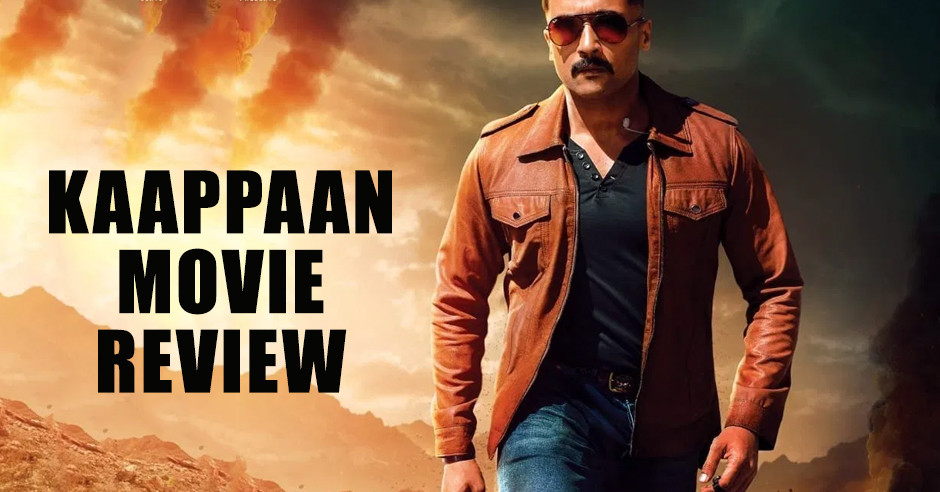 Kaappaan Movie Cast & Crew
Production :
Lyca Productions
Kathir (Suriya) is an undercover intelligence officer who assumes charge after a hostage situation forces him to intervene. Prime Minister Chandrakanth Varma (Mohanlal) is an honest politician who is faced with a number of issues plaguing the country - including frequent terrorist attacks, protests by different segments of society and internal conflict in his cabinet. When Pakistani insurgents carry out another attack on the Indian Army, a powerful businessman Magadev (Boman Irani) advises the PM to take drastic action. However, Kathir and his Special Protection Group (SPG) friends - Joseph (Samuthirakani), Prem (Prem) and Vivek (DRK Kiran) and their families are threatened by an unknown person who has the power to create panic across different places. When the PM is killed in a terrorist attack, his son Abhishek (Arya) reluctantly assumes the post. Even the former PM's close assistant - Anjali (Sayyeshaa), who also happens to be Kathir's lady love, is a suspect. What happens next? Who killed the PM? What is the major threat that our country's backbone - agriculture, is facing? Watch Kaappaan for the answers...

Director KV Anand is back to direction after 2 years from the release of his last movie Kavan. As is usual in all his movies, the expectations on the screenplay being racy are high for this movie too. However, it is not just in that department, in all departments, there seem to be something amiss. The storyline, though seeming very complex and intricate, is very simple and too predictable. The usage of too many characters to throw red herrings does not work and only seems to confuse the viewers. The punch is missing throughout the movie and this impedes the intensity. The crude double meaning dialogues and double entendres might appease a few sections of the audiences but that is something that is generally not expected in KV Anand's movies and don't seem to be in great taste.

Suriya is perfect as an intelligence officer and undercover agent. His action sequences are spot on, as are his emotions and dialogue delivery. Mohanlal is a legend and he proves once again why with a powerful performance within the limited scope that he has. Arya and Sayyeshaa provide able foil to Suriya. Boman Irani makes a memorable debut in Tamil Cinema and Nizhalgal Ravi's dubbing for him, though good is still not a convincing fit. Chirag Jani has a very good screen presence as the vengeance seeking Ranjith and his performance is good. The songs don't impress much but the biggest letdown is the BGM. The chemistry that Harris Jayaraj's music usually does to elevate KV Anand's scenes, is absent and that is one of the biggest cons for the movie. Editor Anthony could have trimmed a lot more scenes and the overall duration of close to three hours can be reduced quite a lot. MS Prabhu's cinematography and DRK Kiran's artwork as well as the graphics in quite a few sequences have worked out very well.
Verdict: Kaappaan is a treat for Suriya fans which could have worked for everybody else too, if it had been handled better!
Galatta Rating: (
2.5

/5.0 )
User Review