Dhanusu Raasi Neyargale Movie Review
(2019)
Harish Kalyan Dhanusu Raasi Neyargale Movie Review
https://www.galatta.com/assets/review/1575701281tu (1).jpg
06-12-2019
Sanjay Bharathi
Release Date :
06-12-2019
Movie Run Time :
2:01 Hrs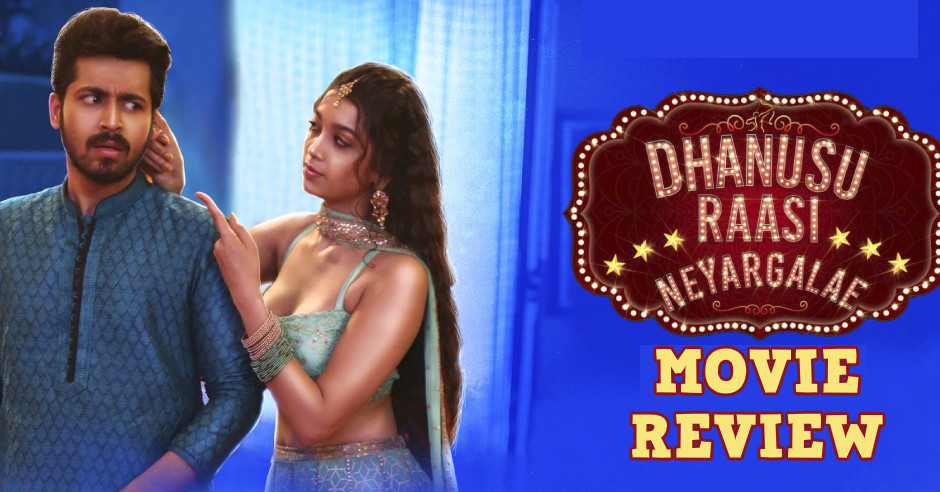 Dhanusu Raasi Neyargale Movie Cast & Crew
Production :
Sree Gokulam Movies
Dhanusu Raasi Neyargalae is Harish Kalyan's next outing as an actor and he is backed by actors like newcomer Digangana Suryavanshi, Munishkanth, Reba Monica John, Renuka, Pandiarajan and others in this romantic astrological drama. The film is directed by debutante Sanjay Bharathi, son of yesteryear director and actor Santhana Bharathi. With the teaser and trailer, the makers established the premise of the film.
As the title suggests, Dhanusu Raasi Neyargalae (DRN) deals with the life of Arjun (Harish Kalyan) a youngster who blindly follows astrology and horoscope. You will definitely not find someone like him (that too, in 2019) who asks the raasi of every girl he meets and even blames the horoscopic signs for his earlier break-up. He finally comes across a girl - KR Vijaya (Digangana), who matches his requirements on the grounds of astrology. However, KRV is an ambitious girl who loves her own self more than anyone else and is all set to pursue her dream of flying to Mars to explore the possibility of living there. What impact does astrology make in the life of Arjun and how does he change his perspective of life after an incident, forms the rest of the story.
Harish Kalyan is neat and does a pretty good job. He gets to play a light-hearted character and he justifies it to an extent. Digangana fails to impress with her performance and she is a letdown. However, it was good to see a woman character that demands her own personal space and values her dream without compromising for anyone. Ample credits to Sanjay Bharathi on that note. Seeing Reba playing a mere friend character was disappointing. Munishkanth and Renuka bring in their experience and add value to the film's casting. Yogi Babu is completely not needed and it was probably a bad decision to make him narrate the story. The film could have probably been slightly better without a narrator.  
The premise sounds fresh and quite interesting but the way it is put out and knit together isn't engaging. Had that freshness been there in the screenplay, we'd have got a fulfilling romantic entertainer. The film lacks a neat screenplay and suffers from cliched writing. When are our filmmakers going to stop using the horse sounds whenever an actor gets sexually aroused. This old school treatment coming from a new-gen youngster like Sanjay is definitely worrying. The first interaction between the lead pair intends to be trendy but it isn't so and also lacks beliavability.
Unlike Harish's previous two films (Pyaar Prema Kaadhal and IRIR) there is no chemistry between the lead pair and you don't feel the emotions. The romance is just not felt and the couple's conflict also makes no impact at all. Despite having a runtime of just 2 hours, the film does test your patience due to its boring screenplay. The treatment is very old-fashioned and the protagonist realizing his mistake after one dramatic incident is not convincing. The film could have escaped with a solid packaging and an engaging screenplay.
As for the positives, the premise is fresh and a few comedies work. Mayilsamy's double entendre comedy will entertain the youngsters.
Ghibran finds it difficult to set himself in the commercial masala zone of films and this will not be a memorable work for him. Neither the songs nor the background score lend a helping hand. Cinematographer PK Varma's work is functional.
Verdict An old-fashioned uninteresting romantic drama that couldn't be saved by any Raasi!
Galatta Rating: (
1.75

/5.0 )
User Review
Dhanusu Raasi Neyargale Movie News
Latest Tamil Movie

Reviews